No Bake Cheesecake features a light and fluffy cheesecake filling paired with a crumbly graham cracker crust that lends the perfect amount of sweetness. Forget about the oven with this easy-to-prepare dessert!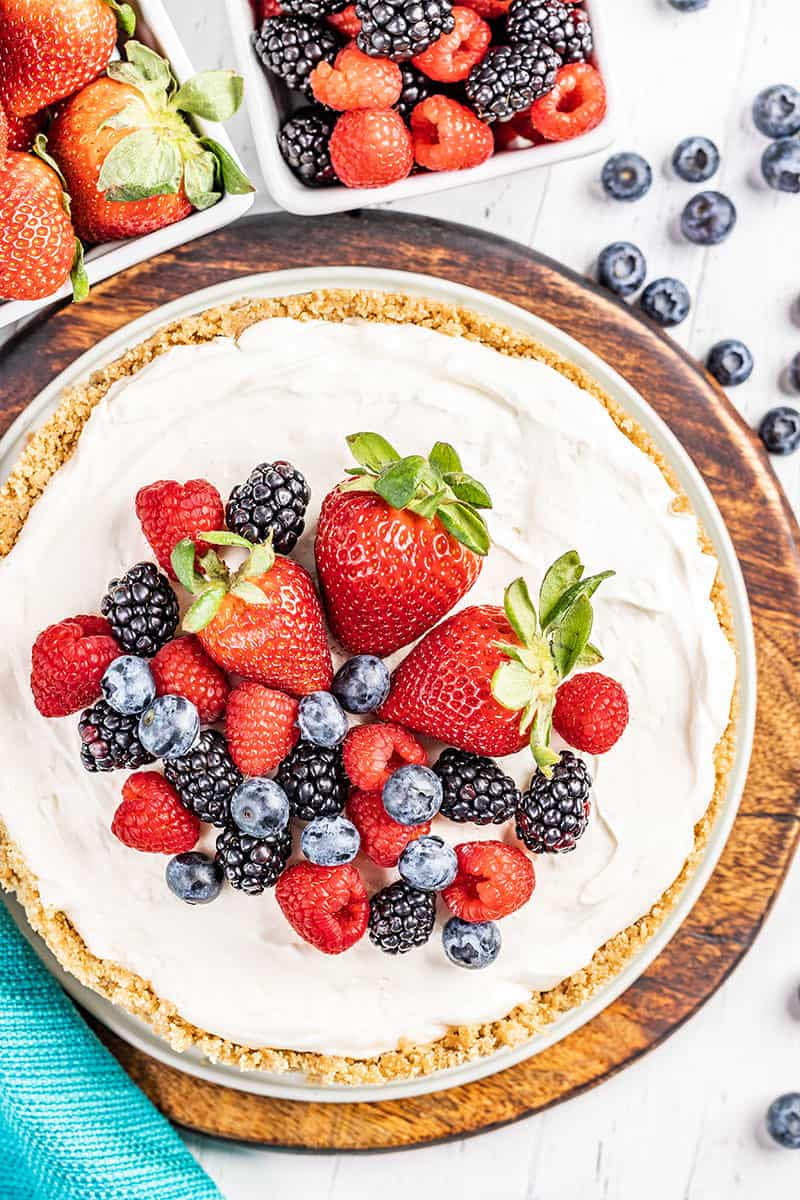 These days it's extremely easy to find store-bought cheesecake. Perhaps that's why we hold our homemade cheesecake recipe so near and dear! There's just something special about taking a bite of something delicious that you know is made from scratch. It's a completely different eating experience! Cheesecake is not a difficult recipe in theory, but you always run the risk of overcooking it. This no bake version takes away a lot of the guesswork involved in baking a cheesecake in the oven. The filling is so fluffy, light, and tasty, it will melt in your mouth. Paired with a bit of crunch –thanks to the graham cracker crust– you really can't go wrong!
Graham Cracker Crust:
The graham cracker crust in this recipe is second only to the cheesecake filling! The recipe tastes much better than store bought, and only takes minutes to make. You can always sub in a store bought crust for homemade, but it's never quite as good. Trust us – when you see how easy it is to make yourself, you'll want to try it.
Add in some melted butter and sugar, and then place in a springform pan. Press down firmly so it doesn't fall apart and then place it in your fridge. There you have it – that's all you need to do to whip up a delicious graham cracker crust at home!
Heavy Cream Substitute:
If desired you can substitute fresh cream with 1 cup of cool whip.
Add-Ins for Easy No Bake Cheesecake:
One of our absolute favorite ways to make no-bake cheesecake is to add Reese's candy bar crumbles to it! Simply add 1/2 cup into the final mixture, making sure to mix well to combine. You can do this with your favorite candy bar crumbles.
Not a fan of the added candy? Turn this into a citrus extravaganza by adding 2 tablespoons of lemon, lime, or orange zest to the final mixture. You can also make this a berry cheesecake by adding 1/2 cup of fresh berries.
How Long Does This Take to Set?
Once you've finished preparing your filling and crust, it's time to let your dessert set in the refrigerator. Don't be tempted to cut corners and let it set in the freezer. The texture won't be the same and trust us – you won't regret taking the time to wait! You should leave your dessert in the fridge for at least four hours. The longer you let it settle the better it will be. Overnight is ideal.
What's a Springform Pan?
You will want to use a springform pan for this homemade cheesecake recipe. A springform pan features a small clasp on the side that will allow it to expand and separate from whatever you put in it – in this case, your no bake dessert. This will help your dish retain its tall and flat form, without all of the hard work involved in removing it from a traditional pan.
If you do not have a springform pan, you can use a pie plate or a 9×9 baking dish instead.
Troubleshooting: Grainy Cheesecake
This sweet treat can take on a grainy texture if the sugar hasn't properly dissolved. That's why we love using powdered sugar in our homemade cheesecake recipe. You won't have to worry about dissolving the sugar as it already has a silky smooth texture.
How to Tell If a No Bake Cheesecake Has Set?
While it's always best to let your dish set overnight in the fridge, we know that sometimes it just isn't possible to wait that long. You may be in a time crunch and have to jet off to the event that you made your dessert for – or you could just be impatient and are itching to try out your creation! Either way, it's essential to let your homemade cheesecake set in the refrigerator for at least four hours. You'll know it's ready by its appearance: if it's shiny and firm to the touch, feel free to dig in.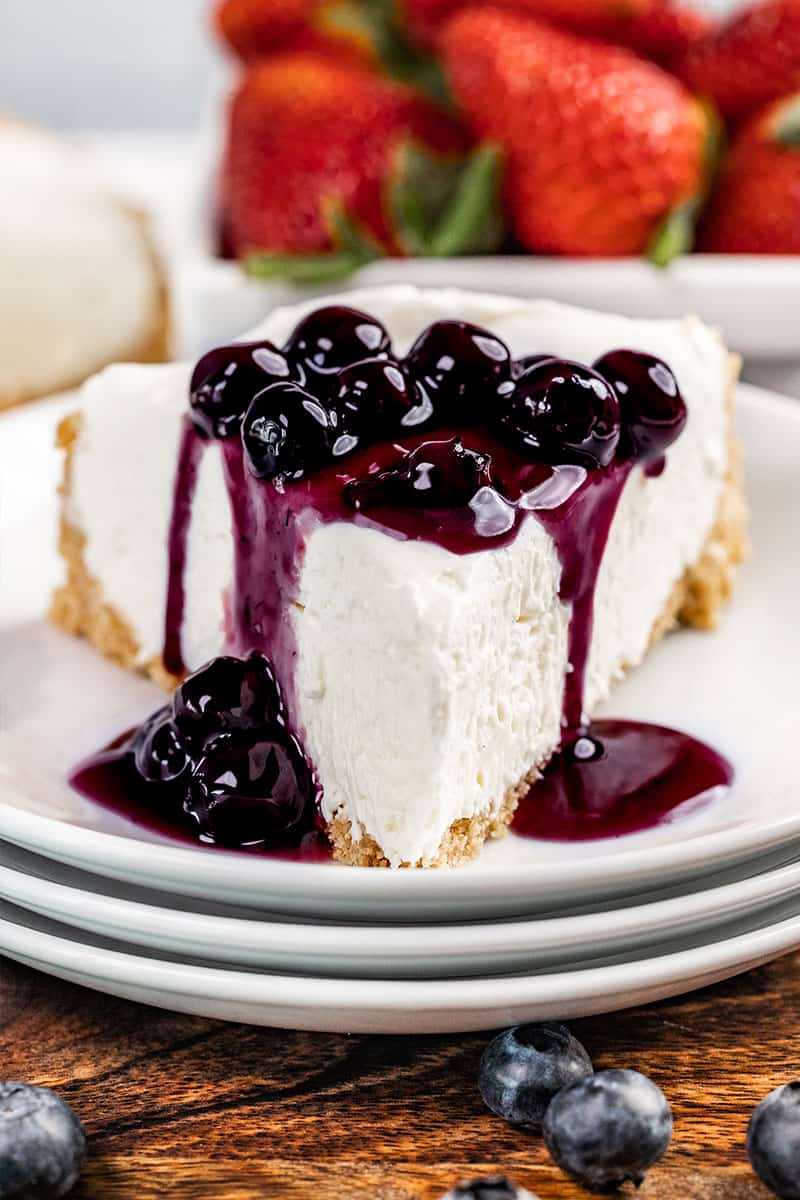 Storage Instructions:
Can you freeze cheesecake? The answer is a resounding yes! While you shouldn't use the freezer to set your dish (you should always let it set in the fridge!), you can definitely freeze after it's already settled. Wrap the pan in plastic wrap, and then add a layer of aluminum foil once your dish has completely set in the fridge for at least four hours. Place in the freezer for up to three months. Thaw overnight in the fridge when you're ready to enjoy.
Short term storage? Store in an airtight container in the refrigerator for up to 5 days.
If you like this recipe, you may be interested in these other delicious cheesecake recipes:
Watch the video below where Caytlin will walk you through every step of this recipe. Sometimes it helps to have a visual, and we've always got you covered with our cooking show. You can find the complete collection of recipes on YouTube, Facebook Watch, or our Facebook Page, or right here on our website with their corresponding recipes.