Flavorful, juicy, and cooked with the perfect amount of browning and char, grilled chicken thighs are a fan favorite. We're giving you 5 flavoring options to choose from for the best grilled chicken thighs ever!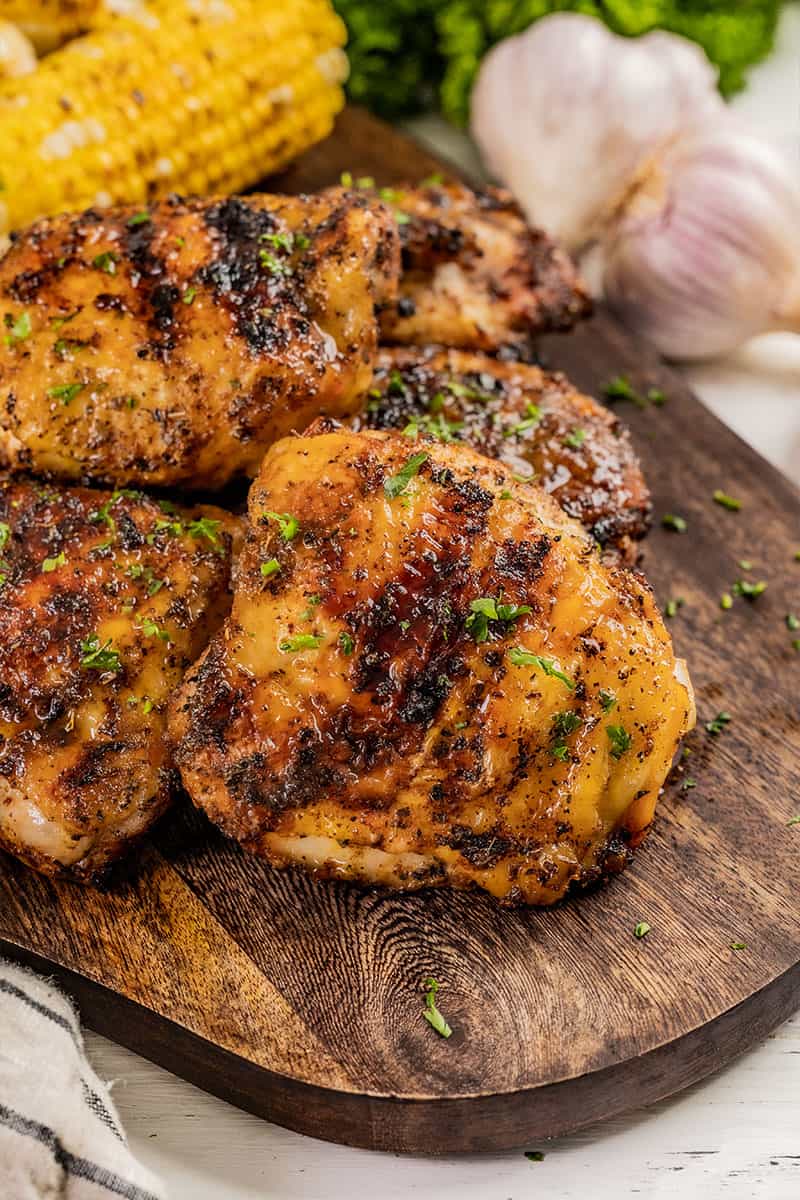 We love chicken thighs here at The Stay at Home Chef. It's so easy to prepare, and there are so many different directions you can take it in. It's also extremely budget-friendly! Whether you're working with bone-in and skin-on or boneless and skinless, chicken thighs feature a lot more dark meat than other parts of a chicken. They tend to be more flavorful and juicy because of the higher fat content. That said, it's also more nutrient-rich. There are several different cooking methods that you can use on chicken, and grilling just happens to be our preference, especially in those warmer months. Simply season, marinate or glaze it, throw it on the grill, and you'll be munching on the final results in under 30 minutes. It's the perfect recipe for hectic weeknights as well as more relaxed weekend lunches or dinners. These are the best grilled chicken thighs ever!
Chicken Options:
This recipe will work with bone in chicken thighs with the skin on or boneless, skinless thighs. Use whatever you can find, or your personal preference! If you do use skin-on varieties, make sure to trim off any excess skin for the best results.
How Long Does It Take To Grill Chicken Thighs?
Every grill is different so you may need to play around with the cooking times. The best grilled chicken thighs will typically take about 7-10 minutes per side. What's important here is that they have an internal temperature of at least 165 degrees F. Although, we like our dark meat cooked to a temp of 175 degrees F! You can determine whether or not they are fully cooked by using a food-safe thermometer.
How Do You Make Chicken Crispy On The Grill?
We love to use our grill to make this recipe specifically because it gives us the crispiest and crunchiest results. One way to make your grilled bone in chicken thighs (or boneless) as crispy as possible is to make sure to preheat the grill before placing them on top. The high temperature will sear the skin if you let it sit for about 5 minutes on both sides. Lower the temp a bit and continue to cook until they reach that safe internal temperature of 165 degrees F.
Troubleshooting: Why Is My Chicken Rubbery?
You need to be really careful about keeping an eye on your grilled boneless or grilled bone in chicken thighs as they cook. If you end up with rubbery chicken, it means that you cooked it for too long and all of the juicy goodness has dried up! Follow the cooking time instructions on the recipe card and don't forget to use your trusty thermometer to measure the internal temp.
Serving Suggestions:
This dish goes well with so many different sides. The meat has a fairly neutral taste, and you can use various sauces or seasonings to give them the particular flavor you're after. Here are some suggestions for sides to serve for the best grilled chicken thighs, based on some of the variations we share on the recipe card below: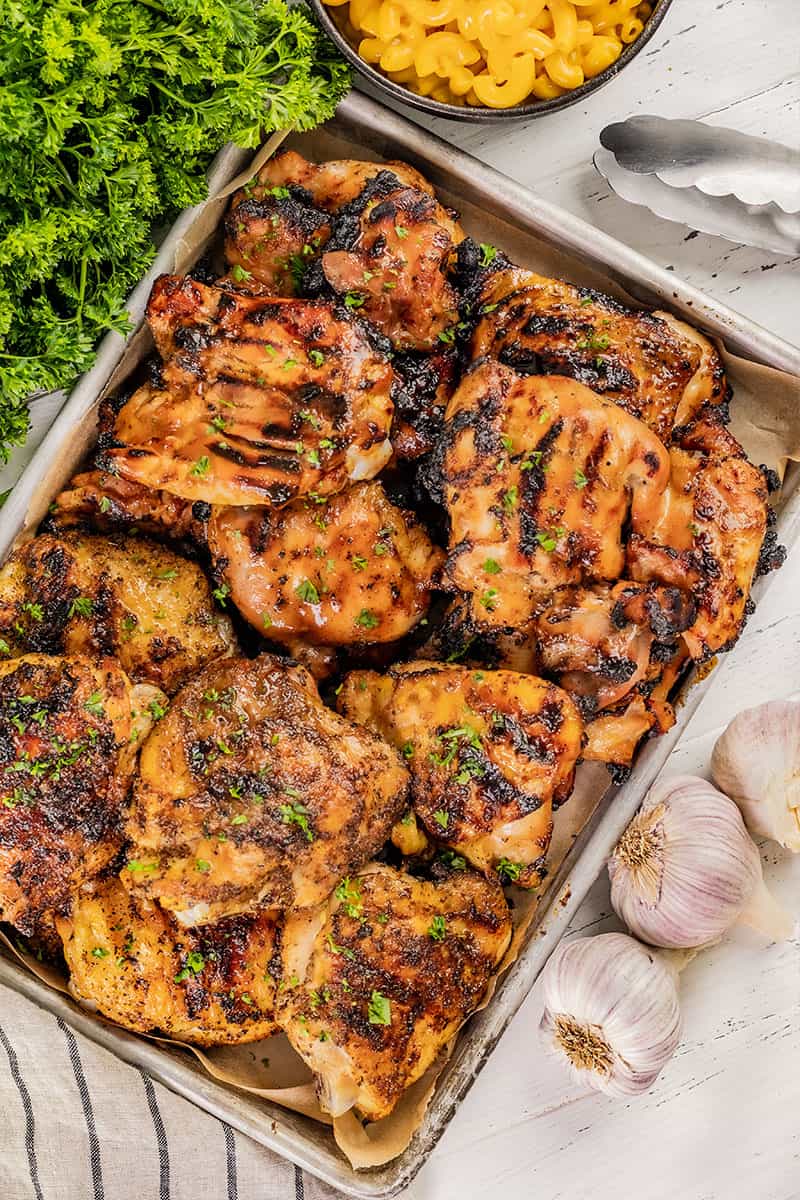 Storage and Reheating Instructions:
You can store your leftover grilled bone in chicken thighs in an airtight container in the refrigerator. You can do the same for boneless varieties. Leftovers will keep for up to 3-4 days. You can enjoy them cold, or if you'd like, you can reheat them in the microwave. Heat at 30-second increments until they are completely warmed through. You could also reheat them in the oven at 325 degrees F for 5-10 minutes or until warm.
If you like this recipe, you may be interested in these other delicious chicken recipes: