Chicken coconut curry is a warm and filling meal that's simply bursting with flavor. Serve on its own over rice or add some yummy fresh veggies into the mix. The coconut milk balances out the spices beautifully!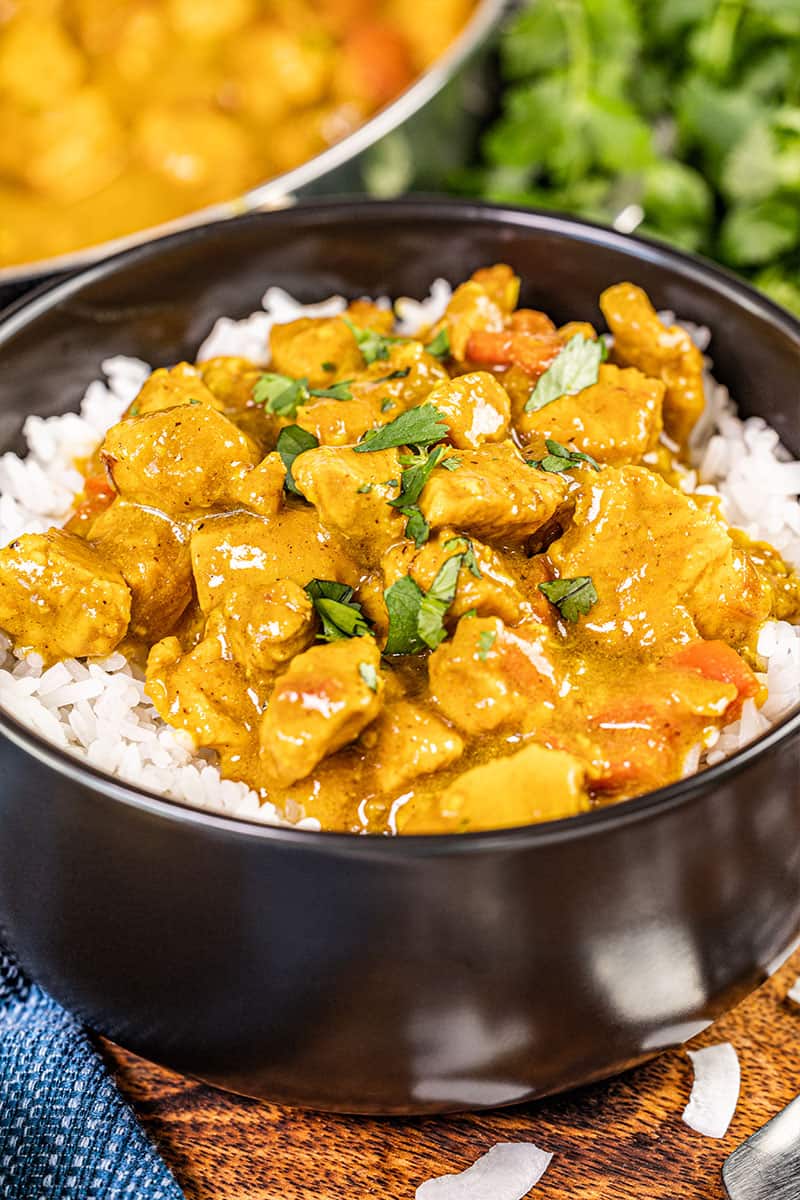 Curry is one of those dishes that will warm you up instantly! We love Asian-inspired dishes in the Stay at Home Chef household, and Thai food is one of our favorites. What do we love most about this easy coconut curry recipe? It's simple to prepare with ingredients that you may already have in your pantry. It's filled with tons of spices, tender chicken, and creamy coconut milk. You can also get really creative with this dish. Add in fresh vegetables like bell peppers and carrots or crunchy nuts like cashews or peanuts. When you try this coconut milk curry recipe at home, spicy and warm aromas will fill your kitchen as it cooks. It's a delicious meal to come home to!
Coconut Milk Options:
For the creamiest and thickest results, opt to use full-fat coconut milk. That said, you can also use low-fat if that's your preference. If you find that your dish isn't as creamy as you'd like, you can add ½ tablespoon of corn starch to thicken the sauce.
You can also sub in coconut cream for coconut milk. They are almost always interchangeable. Not surprisingly, coconut cream will make your easy coconut curry even more thick, creamy, and rich.
Meat Options:
While this recipe is made with chicken, you can feel free to sub in your favorite meat or plant-based option instead:
Lamb
Shrimp
Tofu
Tempeh
Chickpeas
Fish Sauce Substitutes:
Some chefs are immediately turned off by the idea of using fish sauce – we get it! No one wants a fishy-tasting curry. Rest assured that fish sauce won't give this dish a funky flavor. Rather, it lends a wonderful umami taste!
If you really don't want to use fish sauce, or if you have an allergy, you can try these instead:
Soy sauce
Soy sauce and rice vinegar
Anchovies
Soy sauce and lime juice
Add in a little of your preferred substitution at a time and taste test until you get the flavor profile you're after!
Add-on Possibilities:
The beauty of this dish is that you can adapt it to your liking. Use this coconut milk curry recipe as a base, and get creative. Here are some of our favorite vegetable add-ons:
Red, green, or yellow bell peppers
Potatoes
Chickpeas
You could even add in some spinach and peas to load up this dish with even more greens.
Topping Suggestions:
Looking to add a bit more crunch and flavor? Try adding:
Peanuts
Cashews
Fresh chopped cilantro
Spice Level: How to Adapt It
Thai curry is traditionally served spicy, which is why we've included a dash of cayenne pepper and chili garlic sauce in this recipe. Traditional recipes call for some sort of protein, curry paste, coconut milk, and plenty of herbs and spices. If you want to crank up the heat, add more cayenne or chili garlic sauce. If you don't like spicy foods, you can omit them. Keep in mind that coconut milk will bring down the spice level a bit on its own. Add the spices a bit at a time to achieve the spice level that works for you.
Slow Cooker Instructions:
Interested in whipping up our coconut milk curry in your slow cooker? Great idea! You can easily turn this dish into a "set it and forget it" recipe! You'll need to brown the chicken on the stovetop first. Then, add in all of the remaining ingredients into your slow cooker and cook on high for 2-3 hours, or low for 4-6 hours.
Troubleshooting: I'm Worried My Coconut Curry Will Curdle
If you're an experienced chef, you may be concerned about your dish curdling. When you combine dairy products like milk or cream with lime, curdling can occur. You won't have to worry about that with this easy coconut curry dish! Coconut milk is a non-dairy product, so it doesn't have the same proteins as dairy milk. No proteins, no curdling, no problem.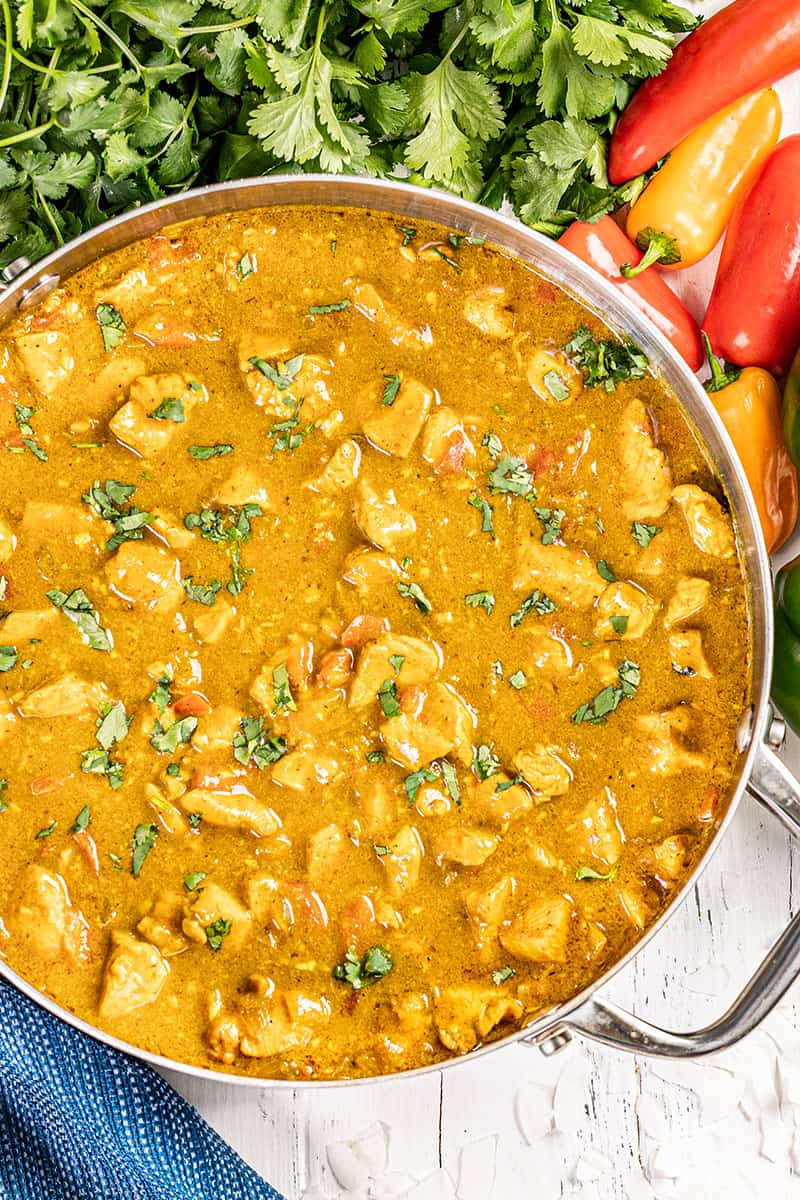 Storage and Reheating Instructions:
You can store any leftovers in an airtight container in the fridge, where they will keep for 3-4 days. When you're ready to reheat, you can do so on the stovetop. Place your leftovers in a skillet and heat over medium-low heat until warmed through. You can also reheat in the microwave in 30-second increments until fully heated.
This dish is best enjoyed fresh, but you can reheat refrigerated leftovers with good results. However, we don't recommend freezing this dish. The coconut milk can take on a funny texture when reheated from frozen.
If you like this recipe, you may be interested in these other delicious Thai-inspired recipes:
Watch the video below where Caytlin will walk you through every step of this recipe. Sometimes it helps to have a visual, and we've always got you covered with our cooking show. You can find the complete collection of recipes on YouTube, Facebook Watch, or our Facebook Page, or right here on our website with their corresponding recipes.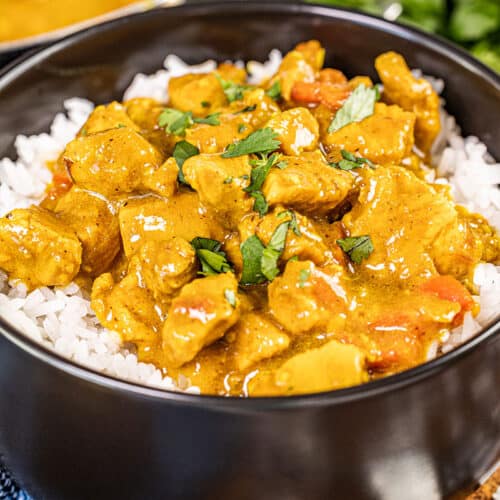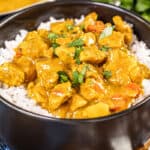 Chicken coconut curry is a warm and filling meal that's simply bursting with flavor. Serve on its own over rice or add some yummy fresh veggies into the mix. The coconut milk balances out the spices beautifully!
Ingredients
2

tablespoons

vegetable oil

1 1/2 – 2

pounds

chicken

cubed

1

large white onion

diced

1

red bell pepper

diced

2

tablespoons

garlic

minced

1

tablespoon

ginger

minced

2

tablespoons

yellow curry powder

1

teaspoon

turmeric

1

tablespoon

ground coriander

1

teaspoon

salt

2

cups

chicken broth

1

(15 ounce can)

full-fat coconut milk

1

tablespoon

Asian chili garlic sauce

1

tablespoon

fish sauce

2

teaspoons

brown sugar

2

tablespoons

lime juice

1/4

cup

cilantro

chopped or ripped for garnishing
Instructions
In a large pot, over medium high heat, heat the vegetable oil. Add in onion and bell pepper and sauté for about 5 minutes until softened and turning golden. Add in garlic, ginger, curry powder, turmeric, and coriander, and sauté for another 3-4 minutes.

Add in chicken and salt and sauté in the mixture for about 5 minutes, getting the chicken coated in the seasonings.

Add in chicken broth, coconut milk, chili garlic sauce, fish sauce, brown sugar and lime juice, and scrape along the pan to loosen up any cooked bits along the bottom and sides of the pan. Bring to a boil then reduce down to a simmer. Simmer for 25-30 minutes.

Serve over rice and garnish with cilantro.
Nutrition
Calories:
305
kcal
|
Carbohydrates:
9
g
|
Protein:
24
g
|
Fat:
19
g
|
Saturated Fat:
6
g
|
Polyunsaturated Fat:
4
g
|
Monounsaturated Fat:
8
g
|
Trans Fat:
1
g
|
Cholesterol:
90
mg
|
Sodium:
1125
mg
|
Potassium:
579
mg
|
Fiber:
2
g
|
Sugar:
4
g
|
Vitamin A:
392
IU
|
Vitamin C:
19
mg
|
Calcium:
96
mg
|
Iron:
2
mg