Creamy, velvety, and oh-so comforting, our Cream of Broccoli Soup is the perfect simple yet satisfying recipe. With just a handful of ingredients, you can easily recreate the flavor of mom's homemade soup. Serve it as a side or enjoy it as a light lunch – either way, it's sure to hit the spot!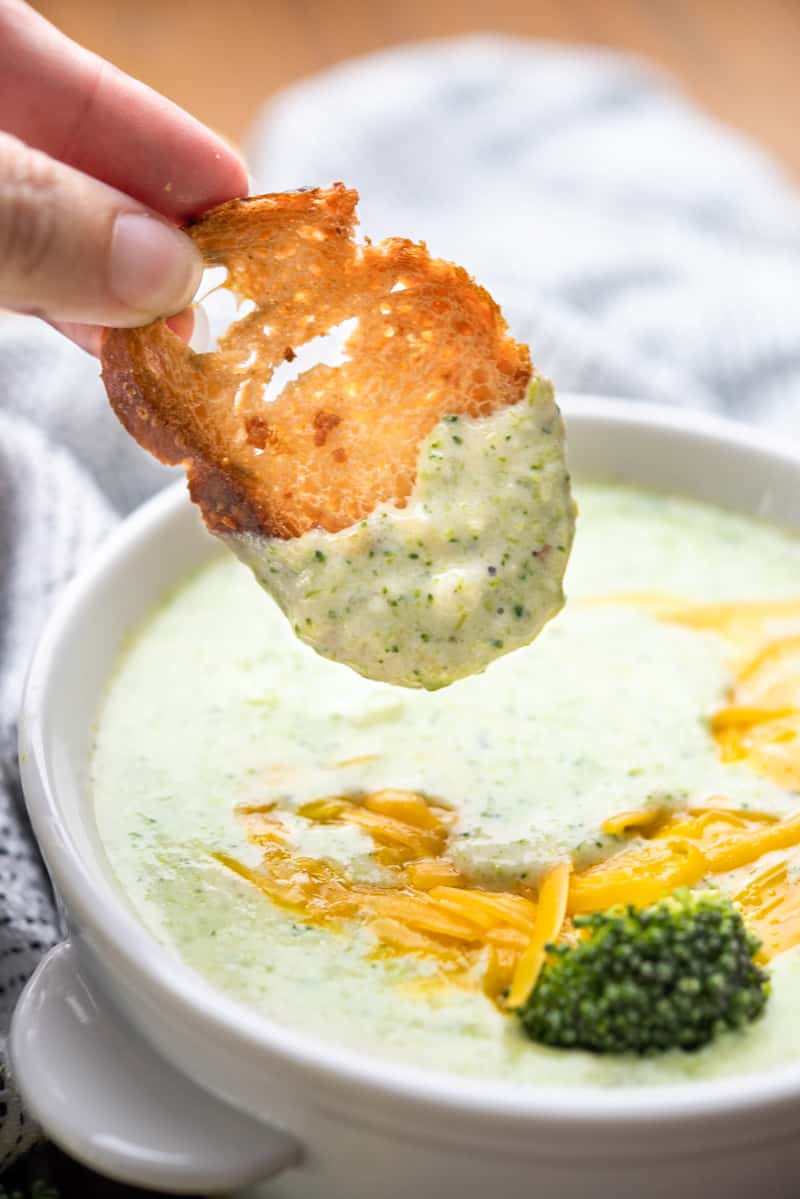 There's something so comforting about cream of broccoli soup, isn't there? We grew up on the canned version, and you know us: we love to recreate store-bought and restaurant-style meals. Not only are we huge believers in knowing exactly what's in the meals we serve our families…it's fun to play around in the kitchen! Not to mention, it also brings back all of those childhood memories. Old-fashioned cream of broccoli soup was always a staple, and when we discovered just how easy it was to make from scratch, we were hooked! You'll only need a few ingredients, and to be honest, you likely already have most of them at home. Better yet, it takes just over half an hour to make! It pairs wonderfully with your favorite bread and a fresh salad, or you can enjoy it on its own for a lighter meal. No matter how you decide to eat it, we know you'll be coming back for seconds.
Ingredient Notes
Can I Use Frozen Broccoli Instead Of Fresh?
We always prefer using fresh broccoli for this recipe. It's really easy to find, and the price is almost always right! That said, if you have a big bag of frozen florets in the freezer you'd like to use, that's okay too. Just know that your soup may be a bit more watery due to the extra moisture. In that case, you can always add a bit more flour to thicken it back up!
How Do I Thicken Cream Of Broccoli Soup?
The addition of flour does a lot for the consistency that you all know and love. Add it to the sautéed onions in order to create a roux, and you'll end up with a perfectly thick and creamy soup every time. The heavy cream will also thicken it up nicely.
To use cornstarch as a thickening agent in place of flour in soup, you will need to first make a slurry. To make a slurry, mix equal parts cornstarch and cold water in a small bowl until the cornstarch is completely dissolved. Once your slurry is ready, slowly whisk it into your soup while it is simmering on the stove. Be sure to add the slurry slowly and continue to stir the soup as you add it to avoid clumps. You may need to let the soup simmer for an additional few minutes to allow the cornstarch to fully thicken the soup. Taste the soup and add more cornstarch slurry if needed to reach the desired thickness.
Can I use something besides heavy cream?
If you're heavy cream-averse, you can try using half-and-half instead. We don't recommend using extra milk as it is just not creamy enough. While half and half will not make your soup as creamy as heavy cream, it will still be absolutely delicious!
Blending Options
Equipment Options:
One of the keys to a creamy and velvety, old-fashioned cream of broccoli soup is blending it all together once it's cooked. The easiest way to do so is with a handy immersion blender. We absolutely love ours and get so much use out of it. If you have a traditional blender at home with a vented lid, you can use that instead! Purée your soup until you get the consistency you're after.
Serving Suggestions
Enjoy this soup on its own for a light meal, or add some yummy garnishes or a few sides to round out your meal! We suggest that you try:
Garnish: Shredded cheddar cheese, bacon bits, or a dollop of sour cream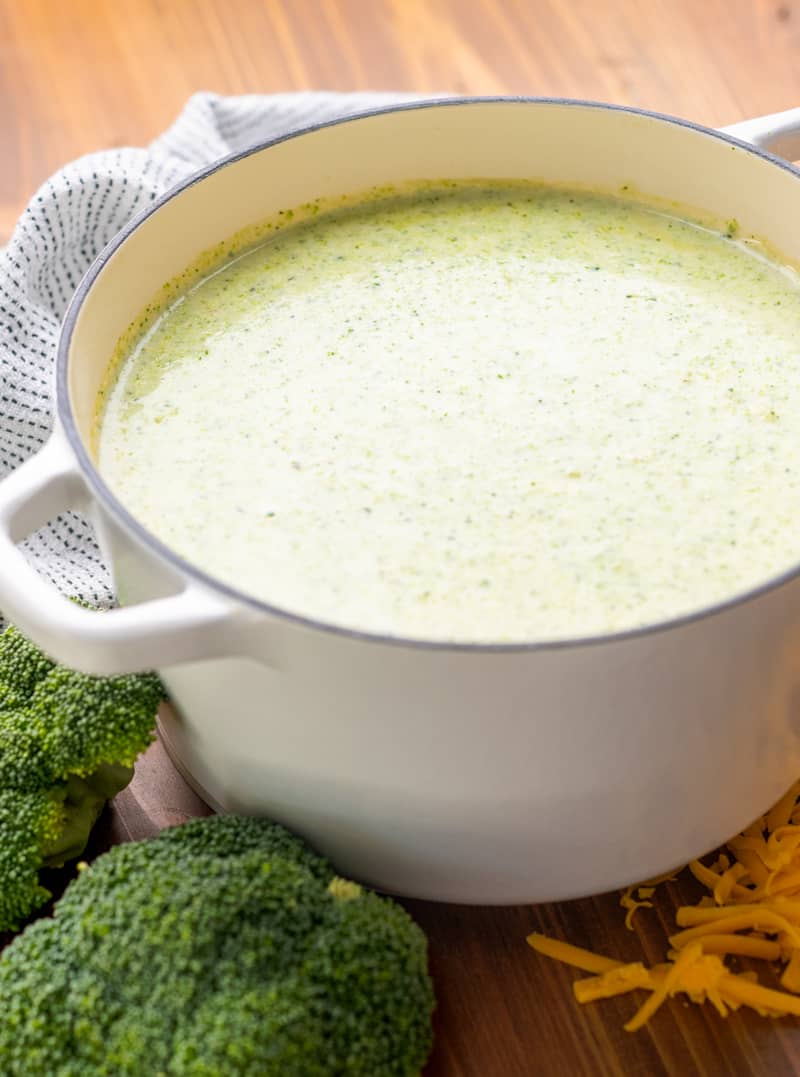 Storage and Reheating Instructions
You can store any leftover soup in an airtight container in the fridge for up to 4 days. Reheat single servings in the microwave in 30-second increments until warmed through. You can also reheat on the stovetop in a saucepan over medium-low heat. Make sure to stir as it heats so that it doesn't stick to the pan — it should take 5-10 minutes.
Related Recipes
If you like this recipe, you may be interested in these other delicious soup recipes and some delicious breads to go with them!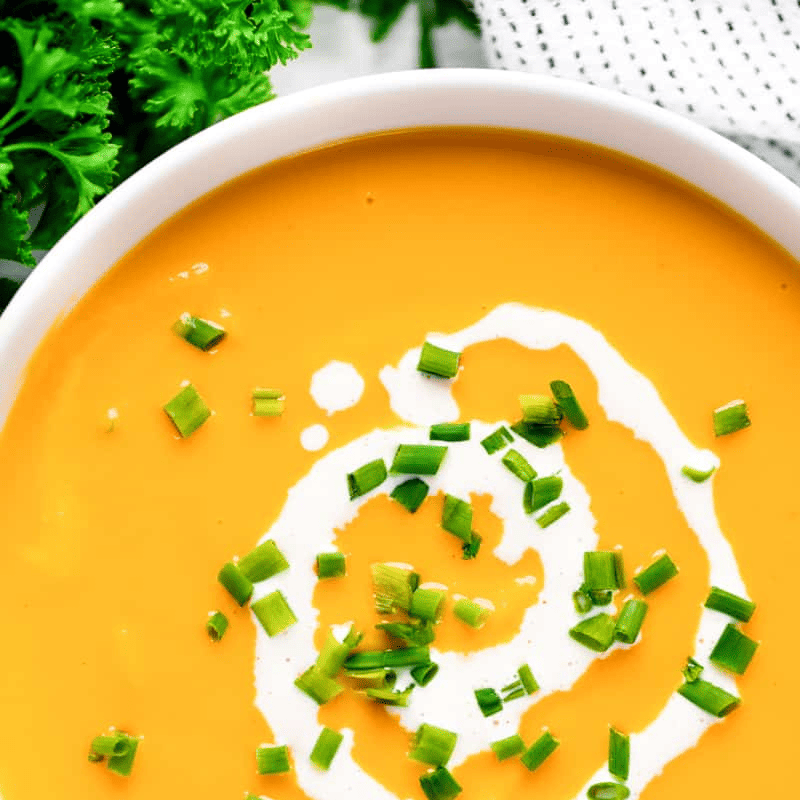 Simply click on an image above to take you to even more restaurant-quality recipes you can easily make at home.
Watch the video below where Caytlin will walk you through every step of this recipe. Sometimes it helps to have a visual, and we've always got you covered with our cooking show. You can find the complete collection of recipes on YouTube, Facebook Watch, or our Facebook Page, or right here on our website with their corresponding recipes.