Creamy Vegetable Soup is a hearty, comforting soup thats perfect if you are vegetarian or just want something light and easy.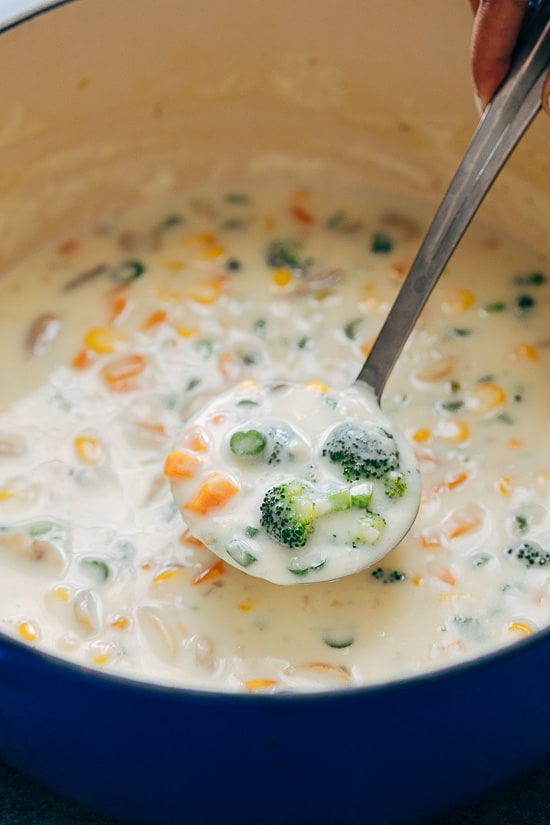 Who else agrees that winter is just an excuse to have more soup?
Hey there! This is Richa from My Food Story and I'm a huge soup fan. Its one thing to enjoy soup but another to love it so much that sometimes I get soup cravings. There is nothing better than holding a bowl of warm soup when it's chilly and making sure the bowl is full to the brim. Thats me.
This creamy vegetable soup is a house favourite, even though my husband usually prefers everything meaty. But this vegetable soup is always a hit even with him! Because its plain delicious and I know thats a tall claim to make, but when this soup is perfect in every way – its super creamy, its loaded with veggies and ready in under 30 minutes (even with the prep!).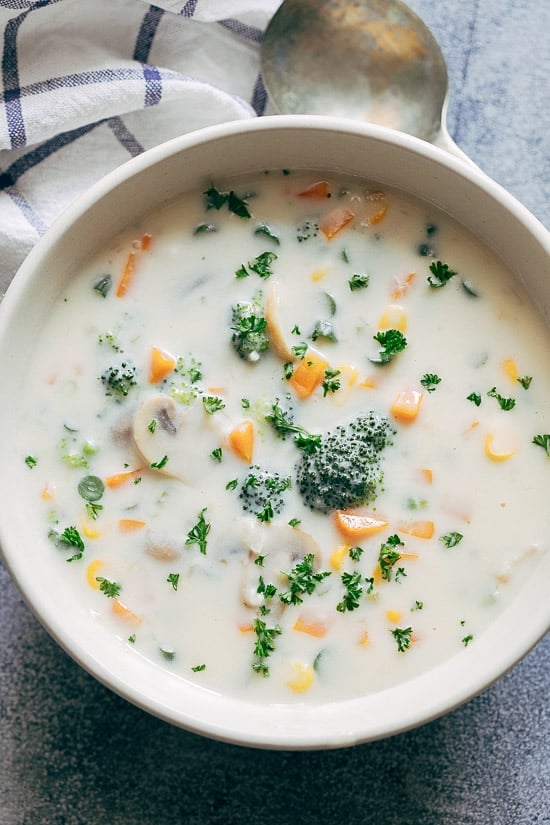 This is really the simplest vegetable soup you'll ever make, because the most effort you'll do is the prep. And our supermarket usually has pre cut veggies so I just buy a pack and then this becomes a breeze. You can easily use frozen veggies too because, and add them straight from the pack without thawing them.
My favourite veggies are carrots, celery, mushrooms, bean, corn and broccoli. But peas work well too. And if you absolutely hate the sound of a 100% vegetarian soup, just add some cooked, shredded chicken and this becomes a delicious creamy chicken soup. I'm all about eating what you like!
You could also try other combinations like ham and cheese, or shrimp. Really, go with your favourite protein and you won't be disappointed!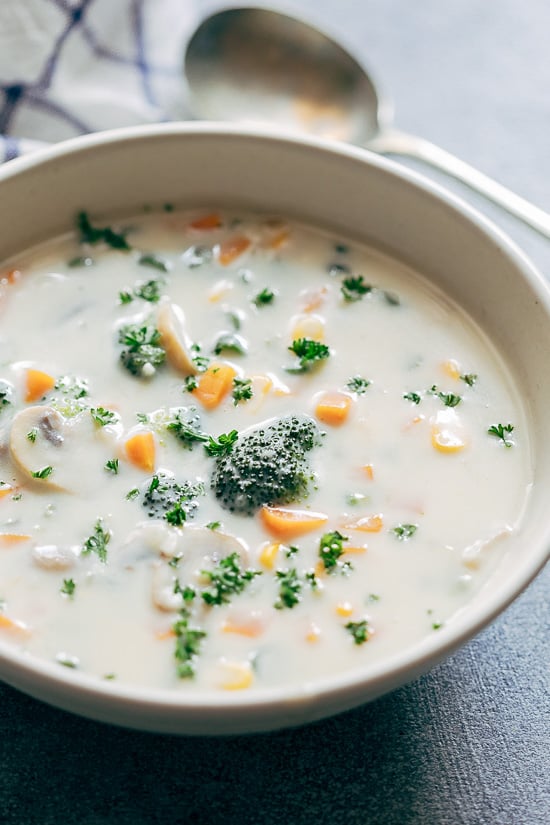 But if you are looking for a vegetarian meal, this is it. This creamy vegetable soup is filling, feels like comfort soup and one serving will never be enough which is why we always make a big pot. It also makes for great leftovers!
If you enjoy soups, also check out Thai Butternut Squash Sweet Potato Bisque and Healthy Cream of Mushroom Soup

Creamy Vegetable Soup
Creamy Vegetable Soup is a hearty, comforting soup thats perfect if you are vegetarian or just want something light and easy.
Ingredients
2 tablespoons Butter
1 tablespoon Olive Oil
½ cup chopped Onions
½ cup chopped Celery
1 cup chopped Carrots
1 tablespoon minced Garlic
1 cup chopped Green Beans
1 cup sliced Mushrooms
1 cup Broccoli Florets
1 cup Corn Kernels
1 teaspoon dried Thyme
1 teaspoon dried Oregano
3 tablespoons All Purpose Flour
4 cups Whole Milk
Salt and Pepper to taste
Instructions
Heat butter and olive oil in a dutch oven and add onions, celery and carrots. Cook for a few minutes till the onions soften, making sure not to brown them.
Add the garlic, beans, mushrooms, broccoli and corn and saute for 2-3 minutes. Mix in the thyme and oregano and add the flour.
Cook the flour along with veggies for a minute and a half. Add the whole milk slowly, while stirring continuously. Keep stirring while you bring this to a boil, and then reduce to a simmer.
Add salt and pepper and let everything simmer for 6-7 minutes or till the soup thickens. Add a little broth or more milk to thin it out if its too thick for you. Serve hot.
Get New Recipes Sent To Your Inbox 😃
Join my newsletter and get new mouth watering recipes sent directly to you weekly!