Fudgy, crackled, powder-sugar coated chocolate cookies topped off with milk chocolate kisses!  These chocolate kiss cookies are chocolate overload (in the best possible way!) and would make a great addition to your holiday cookie tray!!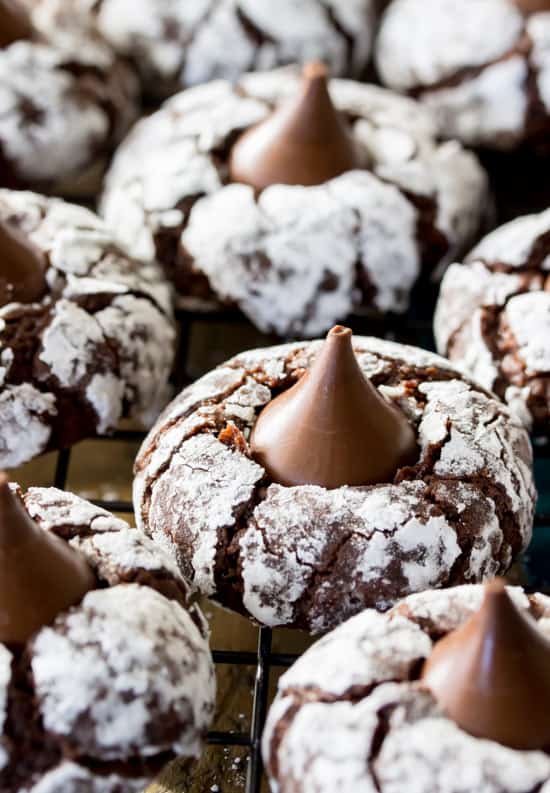 Hello again!  Sam here from Sugar Spun Run with another sweet recipe for you today: Chocolate Kiss Cookies!
After making so many batches of peanut butter blossoms earlier this month, I knew that I wanted a more intense chocolate version of these classic cookies, and so chocolate kiss cookies were born! These cookies are perfect anytime of the year, but they would also be a great addition to your holiday Christmas tray; I know that I'll be serving them alongside some of my all-time favorites (like these chocolate chip shortbread cookies and my oatmeal cookies).
My husband took a batch of these into work to share with his co-workers, and he said he couldn't believe how many compliments they got for how soft, fudgy, and just all around delicious they are.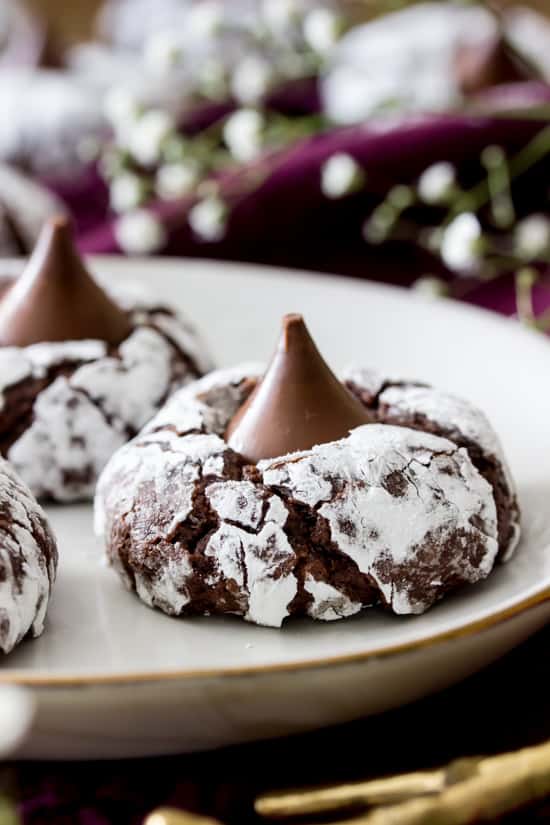 The bases for these chocolate kiss cookies were inspired by classic chocolate crinkle cookies.  I definitely recommend rolling them in powdered sugar, but you can also play with other options — in the past I've also rolled the cookie dough in granulated sugar and in colored nonpareils (gives them a great texture!).
This recipe does require some chilling, as the chocolate cookie dough will be too sticky to roll in your hands right away.  Once the dough has chilled, you'll roll the cookie dough through powdered sugar until it's completely covered.
I recommend baking these cookies so that they're still just slightly under-done when you pull them out of the oven.  I've found that one of the worst things that you can do with these chocolate kiss cookies is over-bake them, as the centers will come out too dry.  If the centers are still a bit under-done, though, they can finish baking on the cookie sheet while they cool, and the cookies will stay nice and soft and fudgy.
I just used classic milk chocolate kisses to top off these chocolate kiss cookies, but you can definitely play with different flavors as well.  Dark chocolate, peppermint, and white chocolate would all be great options!
Enjoy!