Roasted Poblano White Cheddar Soup is total comfort food! The smokey warmth of poblano peppers mixes with sharp cheddar and the perfect spices in this creamy, flavorful soup that is worthy of a restaurant!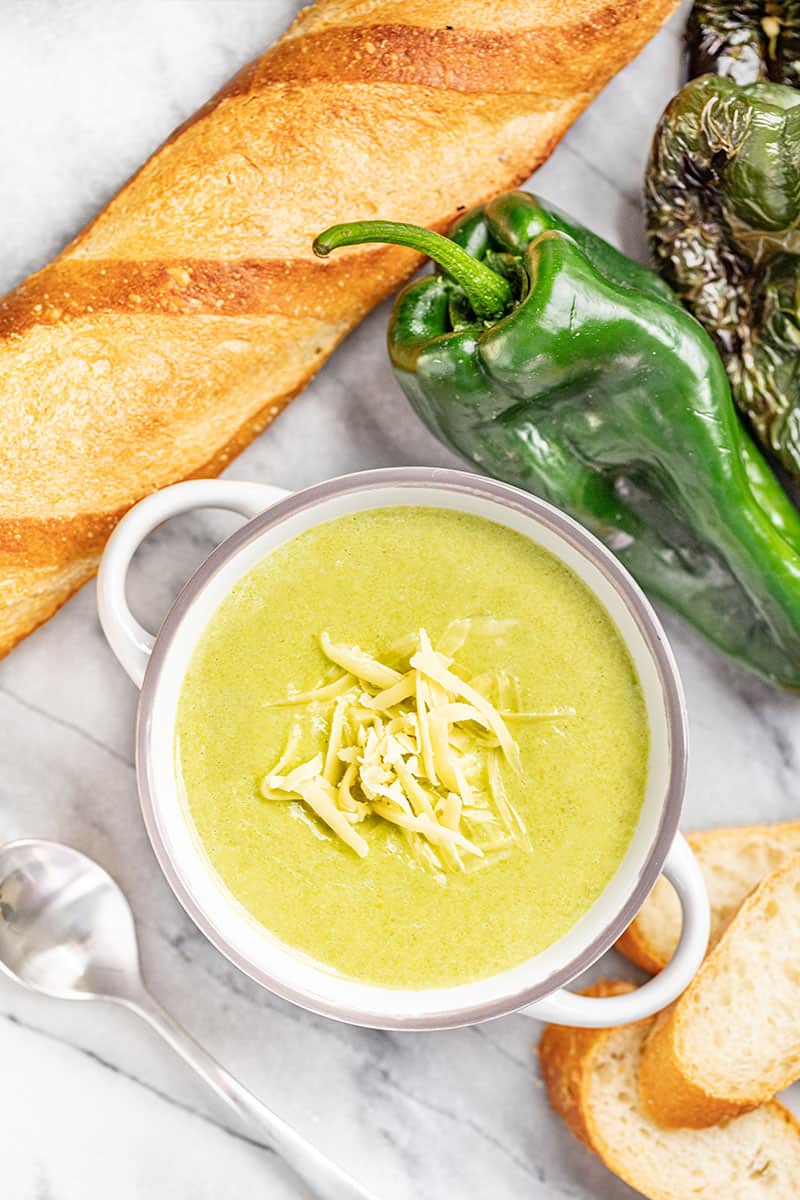 We love soup any time of year, but there is something about fall or a rainy day that makes it that much better. This soup is good any time and pairs well with any Latin American dish. Poblano peppers give this soup a smokey flavor and a little spice—not too much. The white cheddar cheese is perfectly sharp and creamy and also tames the heat from the peppers. The zippy and cheesy and creamy together make this soup not only super flavorful, but a delight for the senses. Get ready to fall in love with this soup!
Roasting Pepper Instructions:
Grill: Heat an outdoor grill to a high heat. Make sure the grilling rack is well oiled. Toss peppers onto the grill and let roast until the skins are cracked and blackening, turning occasionally so that all sides get roasted.
Gas Stove: Toss the peppers directly onto the grates of your gas stove so they get in direct heat from the open flame. You don't want the flame to actually touch the peppers (they do catch on fire) so adjust the heat accordingly. Use tongs to turn occasionally so all sides are roasted and slightly blackened and the skin begins to peel away.
Broiler: You can place your peppers on a baking sheet directly beneath the broiler in your oven. Roast under the broiler, turning occasionally, until peppers begin to blacken and the peel begins to crack.
Once you've roasted your peppers using one of these three methods, place them immediately into a sealed plastic bag. The heat from the peppers will create steam within the bag. The trapped steam will loose the skins from the peppers and make them easy to peel off. After about 1 hour of sitting, they should be cooled and the skins should slip off easily. You can then proceed with the recipe.
Do I have to roast peppers?
Don't want to roast poblano peppers? No problem! You can substitute with two (7 ounce) cans of diced green chilies.
How hot are poblano peppers?
Poblano peppers are somewhere between warm and hot. To give a good idea about the heat ratio, a poblano pepper registers at 1,000 to 2,000 on the Skoville heat scale. A jalapeño pepper usually registers around 7,000. One of the hottest peppers, the Ghost pepper, registers at 1,041,427.
Can I use sharp cheddar cheese in Roasted Poblano White Cheddar Soup?
Absolutely. White cheddar cheese is already on the sharp side, but if you enjoy sharp cheese, you can always opt for it—it will go great in this soup. Additionally, if you like a milder cheese, you can substitute with a mild white cheddar. Yellow cheddar will combine with the green poblano to create an unpleasant brown color, but it will still taste great.
Can I make this in advance?
This soup is best fresh. If you are thinking of making it in advance, it would be best to roast the peppers in advance and puree them with the sautéed garlic, cumin, and onion. You can refrigerate this mixture for up to two days. That alone will significantly reduce prep time when making this soup.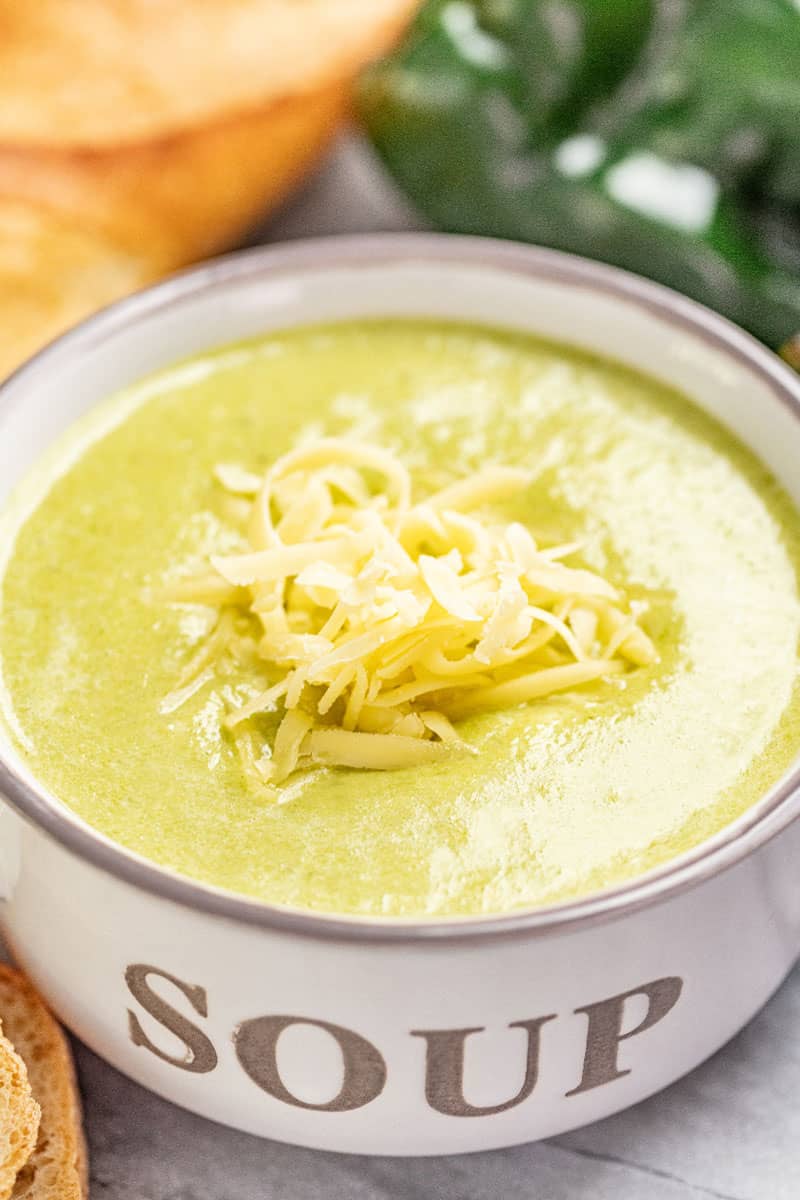 Storage and Reheating Instructions:
Store any leftovers in an airtight container in the refrigerator for up to 5 days. Reheat in a saucepan on the stovetop over medium-low heat until warmed through.
If you like this soup, check out some of our other delicious soup recipes: