Butternut Squash Soup is a creamy bowl of comfort food goodness! It's easy to make, full of healthy vegetables, and ready in under 30 minutes.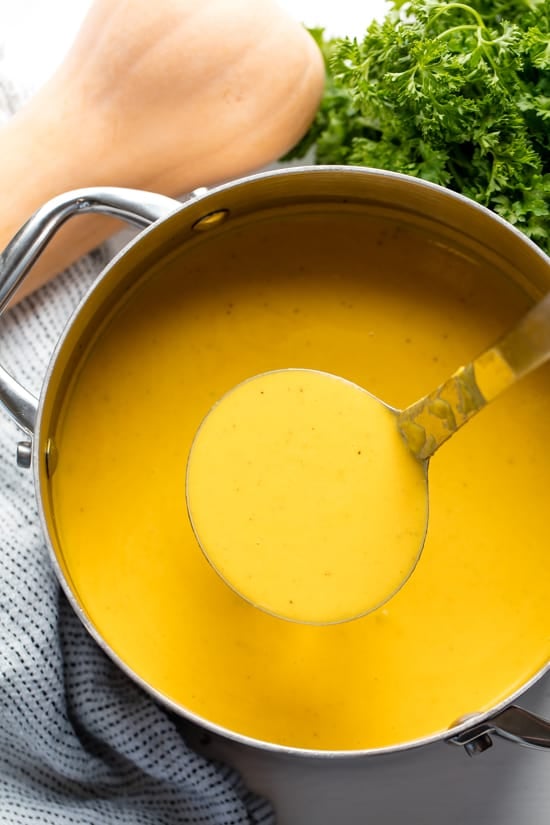 Butternut Squash Soup is a classic soup dish. It's smooth and creamy and total comfort food. This butternut squash soup recipe is full of vegetables which means it's also full of vitamins and nutrients. The heavy cream in this soup is optional so you can enjoy it as healthy as you'd like, or add in a bit of indulgence for a richer soup.

MY OTHER RECIPES
How do you pick out a butternut squash?
When picking out a butternut squash, first look for color. It should be a solid beige color and not have any deep cuts or bruises. Sometimes they get a little scratched during shipping and at the grocery store. Small surface only scratches are fine. Next, pick up the squash. If it feels heavy for its size, it is a good one to pick.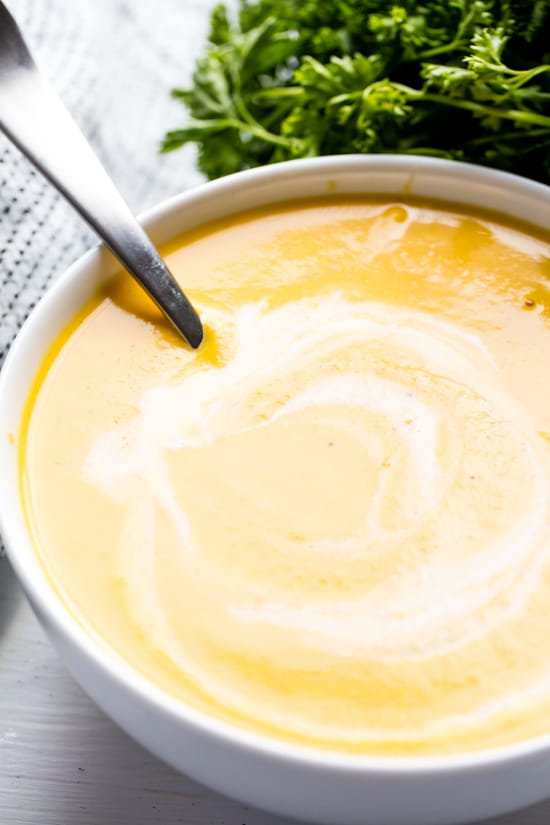 Is butternut squash soup good for you?
Yes! Well, at least it can be. Watch what goes into it. This particular recipe calls for cream which can be left out if you are watching your fat and calorie intake. For those watching their sodium, use a reduced sodium vegetable broth.
What can you do with leftover butternut squash soup?
Butternut squash soup stores really well. You can freeze it, or store it in the fridge to reheat. It will stay good in the fridge for about 5 days, and it will stay good in the freezer for up to 3 months. Another fun option is to turn it into a pasta sauce. Simmer it over medium low heat until the sauce reduces and thickens up. Then serve over pasta.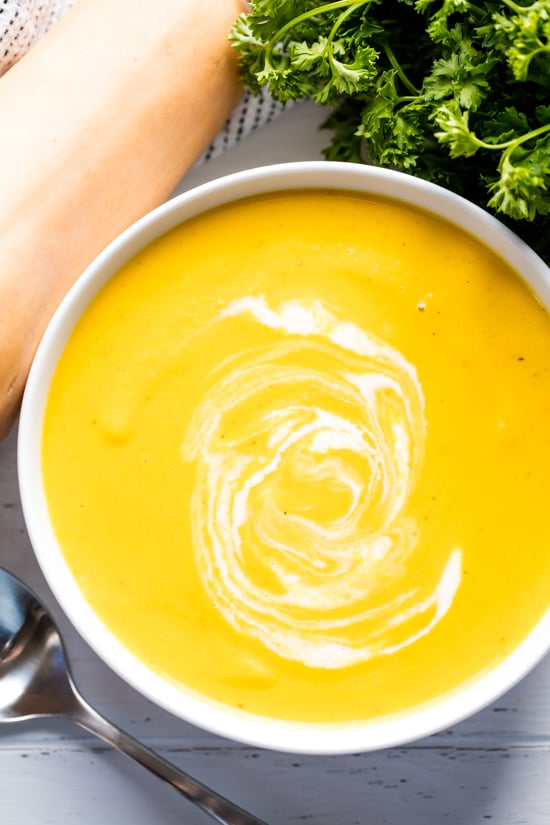 If you enjoyed this recipe, you may enjoy these other classic soup recipes:
Watch the video below where Rachel will walk you through ever step of this recipe. Sometimes it helps to have a visual and we've always got you covered with The Stay At Home Chef cooking show. You can find the full collection of video recipes on YouTube, or right here on our website with their corresponding recipes. Happy cooking!
Butternut Squash Soup
Butternut Squash Soup is a creamy bowl of comfort food goodness! It's easy to make, full of healthy vegetables, and ready in under 30 minutes.
Author:
Rachel Farnsworth
Ingredients
3 tablespoons salted butter
1 yellow onion, peeled and diced
1 butternut squash, peeled, seeded and cubed
4 medium carrots, peeled and diced
3 stalks celery ribs
1 apple, peeled, cored, and cubed
4 cups vegetable broth
1 teaspoon salt (to taste)
½ teaspoon ground nutmeg
¼ teaspoon black pepper
1 cup heavy cream
Instructions
Melt the butter in a large pot over medium-high heat. Add in onion and saute for 5 minutes, until onions are soft and translucent.
Add in butternut squash, carrots, celery, apple, and vegetable stock. Season with salt, nutmeg, and black pepper. Bring to a boil.
Reduce heat to medium-low and simmer for 15 to 20 minutes, until all vegetables are tender.
Puree using an immersion blender, or transfer in batches to a food processor or blender. Blend until smooth. Stir in heavy cream and serve hot.
Get New Recipes Sent To Your Inbox 😃
Join my newsletter and get new mouth watering recipes sent directly to you weekly!