You'll be amazed at how easy it is to make Classic Roast Beef! Perfect for any holiday meal or Sunday dinner, this recipe is always a winner. The whole family is going to love this one!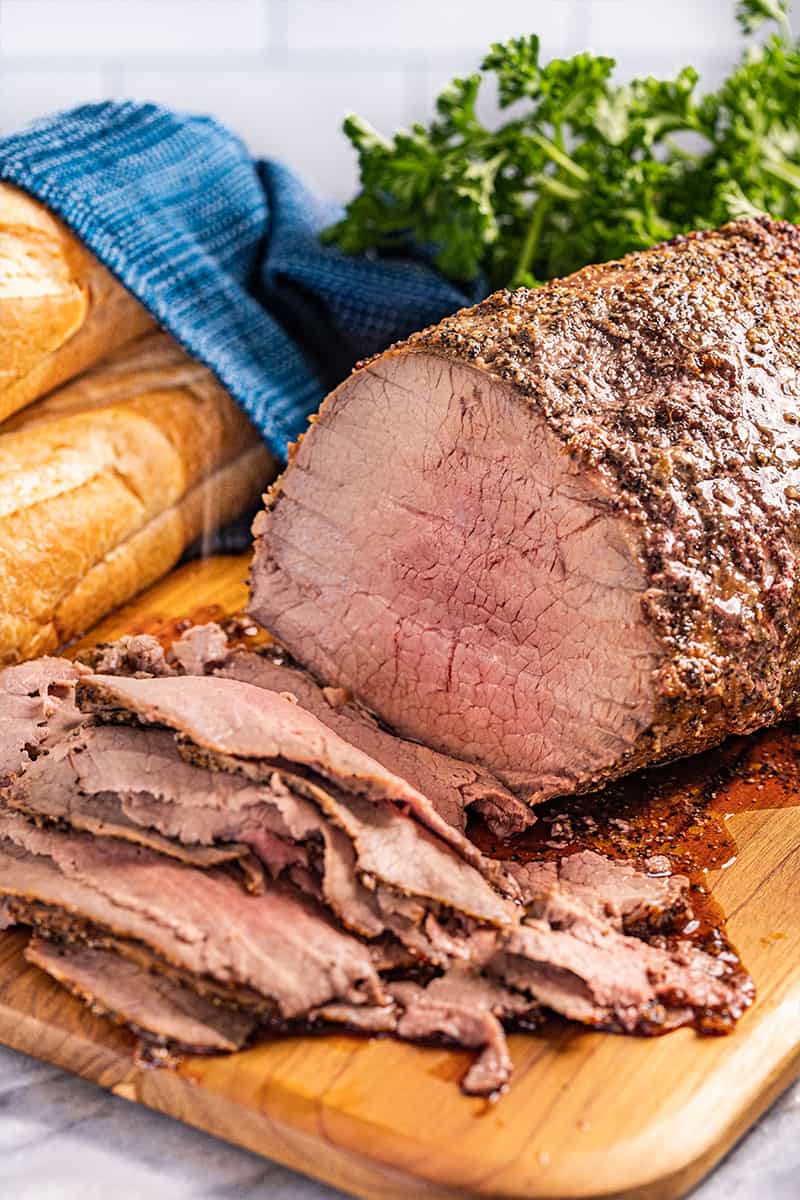 Every holiday season, the Stay At Home Chef family, young and old, sits down to a feast. And we feast! And we feast! And we FEAST! FEAST! FEAST! FEAST! We start on pudding, and rare roast beast! Not to worry, outside of Whoville, the Grinch can't get to our roast beast —er, we mean roast beef. We love the rich flavor that comes out of such a simple recipe, and we especially love that we aren't spending all day in the kitchen preparing the main course! Simply rub a delicious mixture of oil and herbs on your roast, pop it in the oven, and forget it! The oven will take care of the rest while you get to relax. Keep your eye on beef sales, because once you try this you will want to FEAST! FEAST! FEAST! FEAST!
Cuts of Beef:
You have quite a few options when it comes to which cut of beef is best. Some of our favorites include:
Top Round
Sirloin Tip
Center-Cut Sirloin
Bottom Round
Eye of Round
How long will Classic Roast Beef take to fully cook?
The total cooking time will depend on the size of your roast and desired doneness. Smaller roasts will cook faster, while larger roasts may need more time. Use a meat thermometer for complete accuracy for food safety and doneness preference.
Roast Doneness:
We know that everyone has a different preference on how they like their meat cooked. You should always cook your roast according to your own personal preferences.
Rare: 120 degrees
Medium Rare: 130 degrees
Medium: 135 degrees
Medium Well: 140 degrees
Well: 150 degrees
Resting Time:
Make sure to allow your roast the entire 10 minutes to rest once removed from the oven. This resting time ensures the juiciest roast.
Can I make this in a slow cooker?
We do not recommend cooking roast beef in the slow cooker. If you're looking for a great slow cooker roast, our recipe for Classic Sunday Pot Roast can easily be made in the slow cooker!
Do I need to cover the roast while cooking?
You do not need to cover the roast with this cooking method for roast beef. You can always cover your roast with foil while it is resting.
Can I tie up the roast with twine?
Tying your roast up with butcher's twine to make it nice and round rather than flat is completely up to you. It will not affect the final result.
What's the difference between pot roast and roast beef?
We know these two look very similar, but the cooking process and end result are actually quite different. Pot roast is cooked in liquid and is fall-apart tender, while roast beef is cooked dry and is better for slicing.
Reverse Sear:
If you'd like to give your roast a nice reverse sear finish, turn up the oven temperature to 500 degrees Fahrenheit for the final 5 degrees until your roast reaches 135 degrees Fahrenheit.
Leftovers:
Leftover roast beef is the absolute best! We like to cook a larger roast than necessary just to ensure we have plenty leftover for lunches. We like to finish slicing the entire roast before storing for easy sandwiches the next day!
Serving Suggestions:
We love to serve this up thinly sliced, topped with gravy, with a side of mashed potatoes and our favorite roasted veggies.
Storage and Reheating Instructions:
Store leftover roast beef in an airtight container in the refrigerator for up to 5 days. Reheat in an oven preheated to 325 degrees Fahrenheit, wrapped in foil, until warmed through. Reheating in the microwave tends to overcook and dry out the meat, so we do not recommend this method.
If you like this recipe, you may be interested in these other delicious roasting recipes: