You can now achieve the perfect Italian-style Pizza Dough at home with our complete guide that includes simple tips and tricks, and a full video tutorial.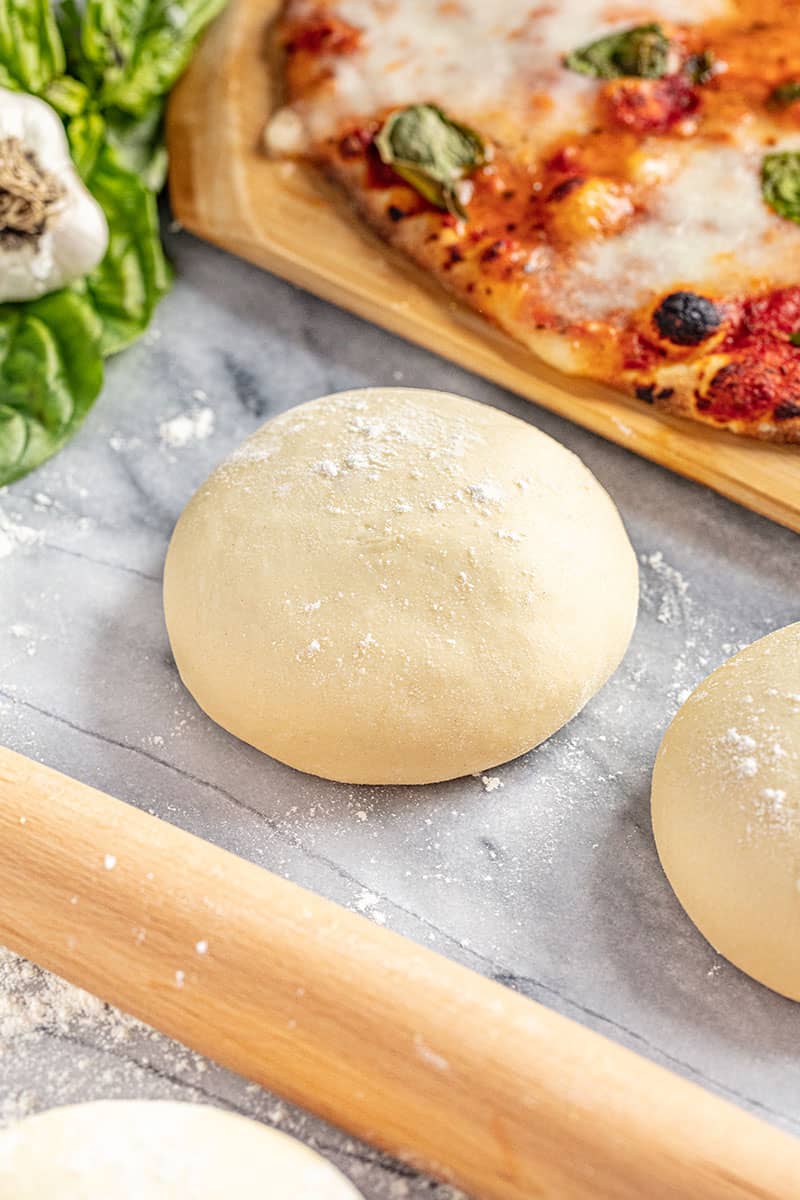 Buckle up everyone, because you're about to get a crash course on how to make the best Italian-style Pizza Dough. Pizza dough does not have to be complicated, and we're here to help you feel confident enough to take on this culinary feat. To fully appreciate pizza today, you have to understand and appreciate where it came from.
So, let's talk authentic Italian-style pizza, straight out of Naples. If you've never had an authentic Italian pizza, you may be surprised by its simple, whole ingredients. The crust is thin, yet soft. It bubbles up nicely while baking, and you will see charred spots if done properly and baked at a high enough temperature. Those charred spots are the mark of a truly authentic Italian-style pizza crust. From there, you can expect to find freshly pureed tomatoes, fresh mozzarella, basil, and extra-virgin olive oil. If you only take away one thing from this recipe, make it this: fresh, high-quality ingredients matter. Bottom shelf olive oil and dried basil will not do here. If done well, this could be the best pizza you've ever had the privilege of eating, and you won't be able to look at pizza the same again.
What size pizza will this make?

This is a large recipe! When rolled into 4 balls, it makes 14-16 inch pizzas; rolled into 6 balls makes 10-12 inch pizzas. If you can't eat that much (trust us, you'll be tempted!), still roll into the size of pizza you prefer, let it rise for 4-5 hours, and then freeze the extra balls you won't use that night. Spray some nonstick oil and either double wrap in plastic wrap or put in a gallon size Ziploc bag.

How to Freeze Pizza Dough:

After the dough has been rested for 4 to 5 hours, you can freeze any extra dough in two layers of plastic wrap sprayed with nonstick oil. Next time you're in the mood for pizza, simply thaw the dough overnight in the fridge, let it then sit out for 30 minutes to come to room temp, and you're ready to form it into your crust.

Best Flour Types for Pizza Dough:

Caputo Tipo 00 Flour is a specially milled flour that is superfine, almost like baby powder. It has a protein content of 12.5%. This is the preferred type of flour used to make Italian style pizza crusts and absorbs less liquid than all-purpose flour and creates the classic chewy crust.

All-purpose Flour can be used in place of Caputo Tip 00 Flour. You have probably eaten many a pizza made from all-purpose flour already. The flavor is good, though you may notice the dough tears easily with all-purpose flour.

Bread Flour is second only to Caputo Tipo 00 Flour. You won't have the same dough tearing fiasco that all-purpose flour can have, and the texture will be better. However, be prepared for a more difficult shaping process. The higher gluten content causes it to spring back while trying to shape.

Rising versus Resting: Developing Gluten

This method calls for a 4 to 5 hour resting period. The best texture for pizza comes from resting your dough rather than rising. Gluten continues to develop as the dough rests which will create that classic chewy crust.
Creating a Pizza Oven at Home

Place a pizza stone in the center rack of your oven and preheat to 550 degrees Fahrenheit (or as high as your oven will go). When ready to bake, slide the pizza onto the stone and close the oven. Change the oven setting to broil to create a top heat. The pizza stone will cook your pizza from the bottom with the risidual heat and the broiler heating element cook the top. Keep a close eye on your pizza and let bake until toppings begin to brown.
If you like this recipe, you may be interested in these other delicious pizza inspired recipes: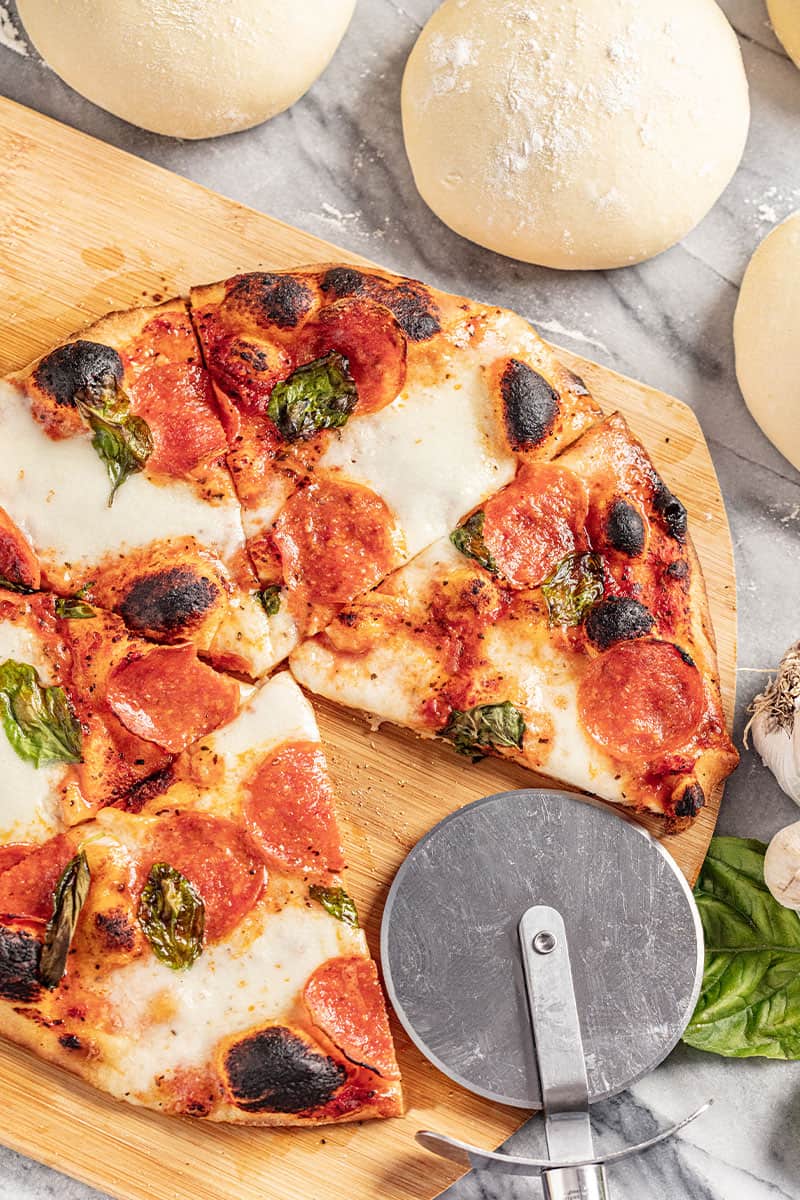 Watch the video below where Rachel will walk you through every step of this recipe. Sometimes it helps to have a visual, and we've always got you covered with our cooking show. You can find the complete collection of recipes on YouTube, Facebook Watch, or our Facebook Page, or right here on our website with their corresponding recipes.