Homemade Frozen Pizzas are easy to make. Stock up your freezer with a quick meal full of homemade goodness. It's better than take-out!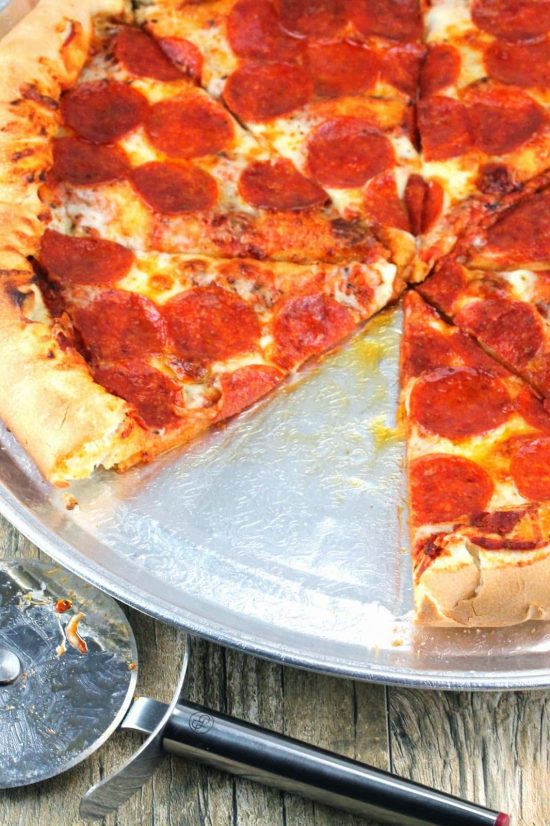 When you are a food blogger and a cookbook author people are always asking you what your favorite thing to make is, or what your favorite food is. I hate this question, not because I don't know the answer, but because I do. I'm worried my answer will disappoint them.
Shoot, are you disappointed? I hope not. I'm never disappointed by pizza. There are endless combinations of toppings and cheese and sauces. I could eat pizza every day for the rest of my life and never get bored. Well, maybe I'd get bored, but it'll never happen so that is my story and I'm sticking to it.
So since I love pizza that means we eat a lot of pizza. It's my favorite freezer meal. That's right, I make my own frozen pizza. I wouldn't have it any other way. It's way better than most take-out or delivery places, and I'm sorry, but the store bought frozen pizzas would be absolutely ashamed to sit next to my pizza. I've been making frozen pizzas this way for years. It was such a popular thing that I even sold them to my friends and neighbors because they loved having a stockpile. I did all sorts of flavors.
Seriously, you need to incorporate this into your life. Pick a morning or afternoon when you have a bit of spare time and make a bunch. Whatever your freezer can handle. You'll be thanking me in a few days when you get slammed with life and have no time for dinner. Instead of dropping a bunch of money on take-out, just whip out a couple of these babies and have yourself some restaurant-quality pizza.
MY OTHER RECIPES
Watch the video below for a demonstration on how I make these pizzas including several great tips and tricks for best results. It should answer a lot of your questions, but I've also included a FAQ below.
Homemade Frozen Pizzas

Homemade Frozen Pizzas + Video
Homemade Frozen Pizzas are easy to make. Stock up your freezer with a quick meal full of homemade goodness. It's better than take-out!
Author:
Rachel Farnsworth
Yield:
2 extra large pizzas
Ingredients
1½ tablespoons instant dry yeast
1½ tablespoons brown sugar
1½ teaspoons salt
2 cups warm water
3 tablespoons olive oil
5 cups flour
Pizza sauce
Cheese
Toppings
Instructions
In the bowl of a stand mixer, combine yeast, brown sugar, salt, water, and flour.
Knead on low until dough starts to come together. Continue kneading until the dough forms a nice, soft dough ball and the sides of the bowl are clean.
Let rise in a lightly greased bowl, covered, for 1 to 2 hours, until doubled.
Divide the dough in two and roll out into pizza crusts.
Place crust on a tray for freezing.
Top with desired sauce, cheese, and other toppings.
Freeze.
Once solid, wrap with plastic wrap and store in the freezer. Pizzas stay good for 1 to 3 months.
To bake, preheat a pizza stone in the oven at 500 degrees. Bake until cheese is browning and bubbly, about 10 to 15 minutes.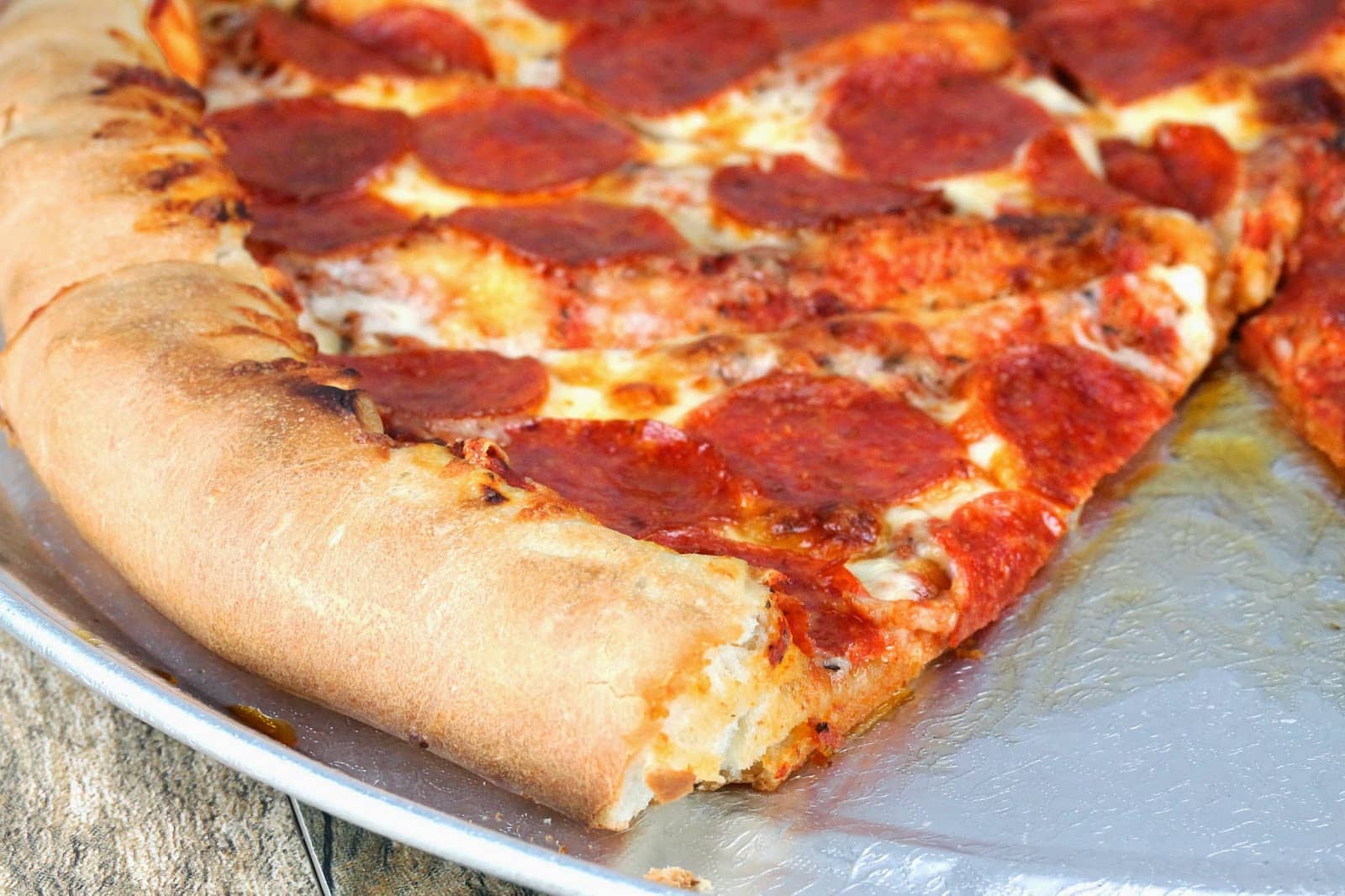 FAQ


Can I double this recipe?
Absolutely! Tripling it can be done if your have a heavy duty, large capacity stand mixer. I don't. I burnt out the motor in mine once from trying to make too many pizzas at once.
How long do they stay good in the freezer?
1 to 3 months. We eat enough pizza that even if I fill my garage freezer, we still go through them within 3 months. They might last longer.
Can I do this with other toppings?
Yes, any topping that is freezable will work just fine. I even make a cilantro-lime chicken pizza that freezes quite well.
Where did you buy those pizza trays?
Aren't they fabulous? I found them at Smart and Final. Before that I used cardboard cutouts. I just put my pizza stone down on some clean cardboard, traced it, and cut it out.
How do I transfer the dough to a tray for freezing?
If you are worried about it sticking, dust it with a little flour before you try and transfer it. I like to pick mine up and stretch it out a little more by hand. Ball your hands into fists and slide the dough along your fists working in a circular fashion. If you want to get fancy you can try tossing it, but my husband always laughs at me when I toss dough.
What if I have a side by side refrigerator/freezer?
Well then, a large circular pizza like this just won't fit. Make it a different shape and use a different kind of tray. Doesn't matter what shape it is. All that matters is that it is still thin enough that it won't require par-baking.
In the video it shows you rolling your dough out on a silpat. Why is that?
Did you see those hideous tile countertops? Ya, that's why I use a silpat. I've found that it gives me a fairly smooth surface to work on. Seriously, who thought tile countertops in a kitchen were a good idea? I'd like to slap them! We're in a rental right now so there's no changing them. I'm stuck!