Creamy Pasta Primavera is full of delightful spring vegetables for a light and fresh pasta you can easily serve up for dinner with or without meat.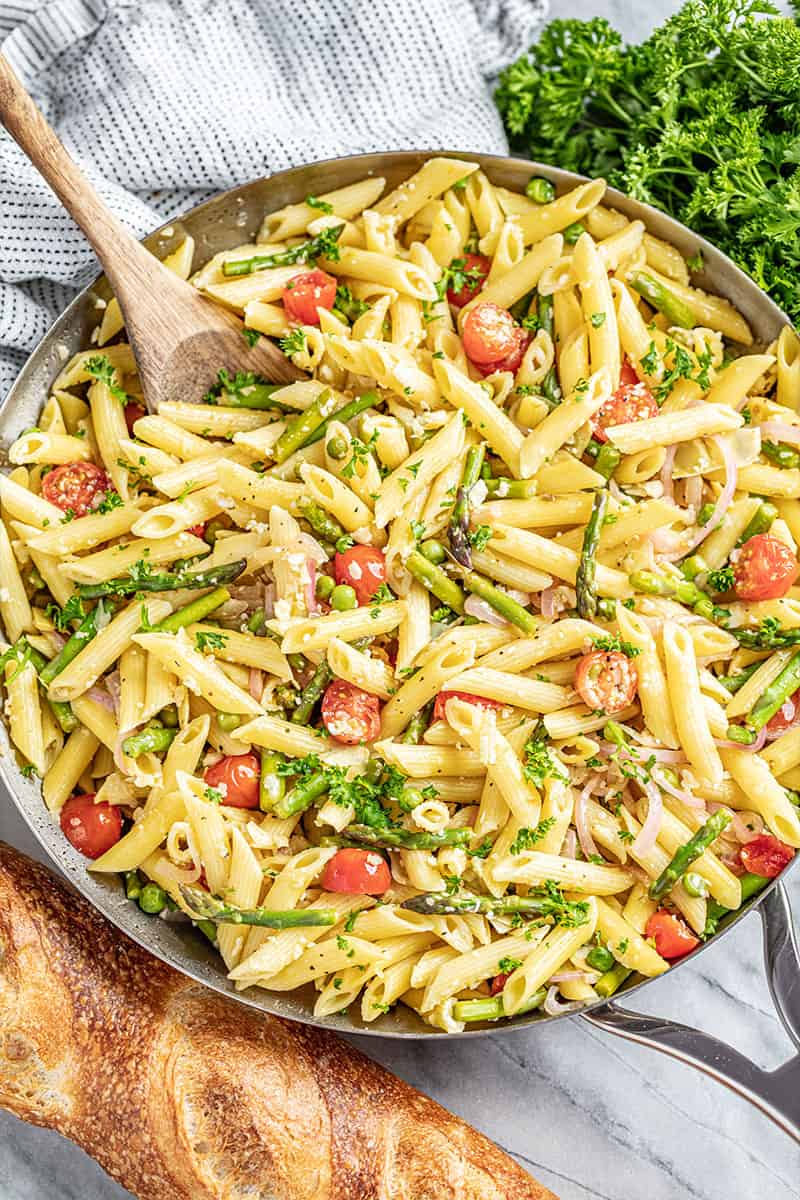 Primavera translates in English to Spring. So, Pasta Primavera simply means "Spring Pasta." We love the Spring, when fresh vegetables are growing and plentiful, and dinners are light and satisfying. If you are the gardening type, you can pull your inspiration from what's growing in your backyard. What's better than a classic pasta primavera? Only one made with home-grown tomatoes, asparagus and spinach. We know, not everyone loves their veggies, but you will love them in this classic pasta dish!
We know, sometimes you just want a bit more substance to your pasta. If you love a really creamy sauce, you can easily turn this into an extra creamy pasta primavera by adding 1 cup of heavy cream to this recipe. Allow it to heat through and then add the lemon juice and parmesan cheese and stir until melted. Whichever variation you prefer, this is sure to be a hit!
Meat Options:

Looking for a more substantial meal? Grilled chicken or shrimp are delicious in pasta primavera. Season the chicken or shrimp with salt and pepper, and sauté in butter or olive oil until cooked. Add to the pan when everything else is finished cooking. Or, try my recipe for Chicken Pasta Primavera.
Vegetable Options:

Pasta Primavera is all about spring veggies. You can mix and match with as many different spring vegetables as you like. Spring vegetables include: artichokes, asparagus, bok choy, carrots, fava beans, garlic, herbs, leaks, morel mushrooms, onions, peas, potatoes, radishes, ramps, scallions, and spinach.
What kind of pasta should I use?

You can use any shape of pasta that you'd like. Penne has a similar shape to the vegetables you add to the dish, making it convenient and easy to eat, but don't be afraid to switch things up with any shaped pasta you like.
If you like this recipe, you may be interested in these other delicious pasta recipes: