This Pasta Primavera is full of spring vegetables for a light and fresh pasta that you can easily serve up for dinner.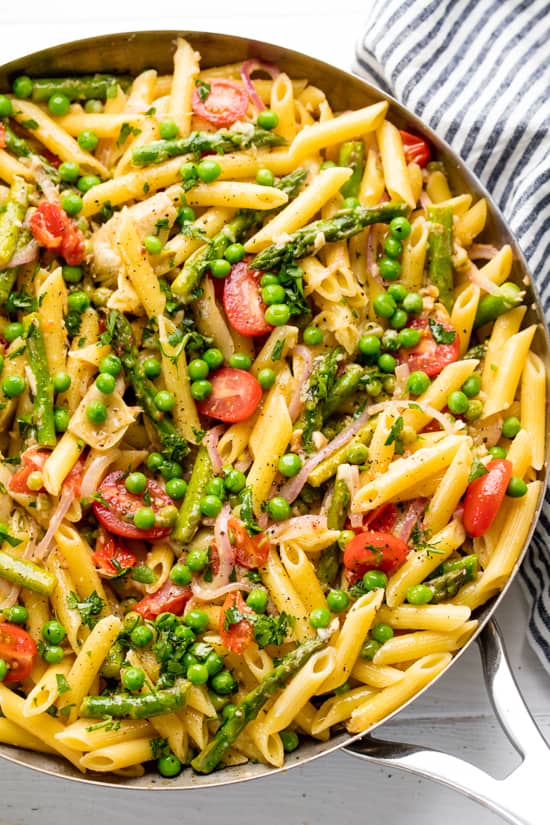 What does Pasta Primavera mean?
Primavera translates in English to spring. So Pasta Primavera simply means "Spring Pasta."
What vegetables go in Pasta Primavera?
Pasta Primavera is all about spring vegetables. You can mix and match with as many spring vegetables as you like. Spring vegetables include: artichokes, asparagus, bok choy, carrots, fava beans, garlic, herbs, leaks, morel mushrooms, onions, peas, potatoes, radishes, ramps, scallions, and spinach.
What kind of pasta should I use to make Pasta Primavera?
You can use any shape of pasta that you'd like. Penne is a great options because it has a similar shape to the vegetables you add to the dish, making it convenient and easy to eat. Try switching things up with any pasta you'd like.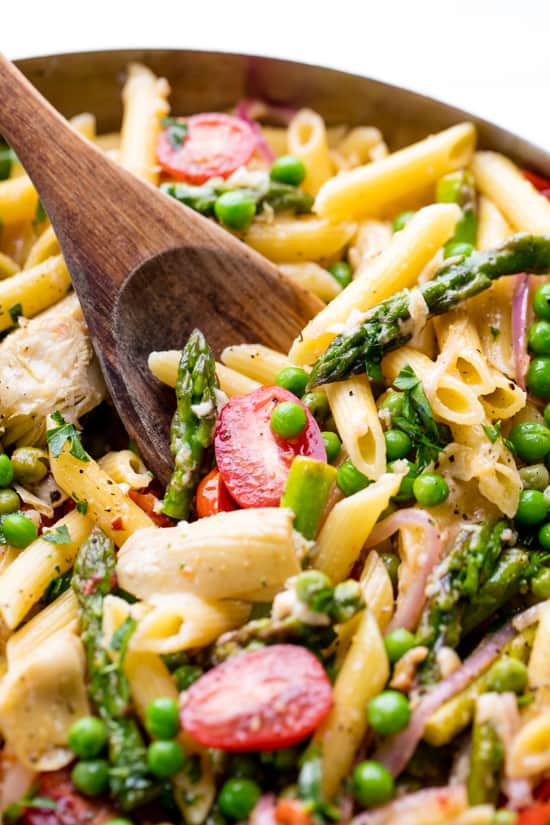 Can I add meat to this pasta?
Yes! Grilled chicken is a great option for adding to this pasta as well as shrimp. Season the chicken or shrimp with salt and pepper and saute in butter or olive oil until cooked. Remove and add back to the pan when everything else has cooked. Or, try my recipe for Chicken Pasta Primavera.
How do I make Creamy Pasta Primavera?
Add 1 cup of heavy cream to this recipe to make this recipe creamy. Allow it to heat through and then add the lemon juice and parmesan cheese and stir until melted.
You may also enjoy these other simple pasta recipes:
Watch the video below where Rachel will walk you through every step of this recipe on The Stay At Home Chef cooking show. You can find the full collection of episodes on YouTube, or right here on our website with their corresponding recipes.