Easy Chicken Pasta Primavera is a delicious weeknight dinner recipe that's loaded with veggies and super simple to make!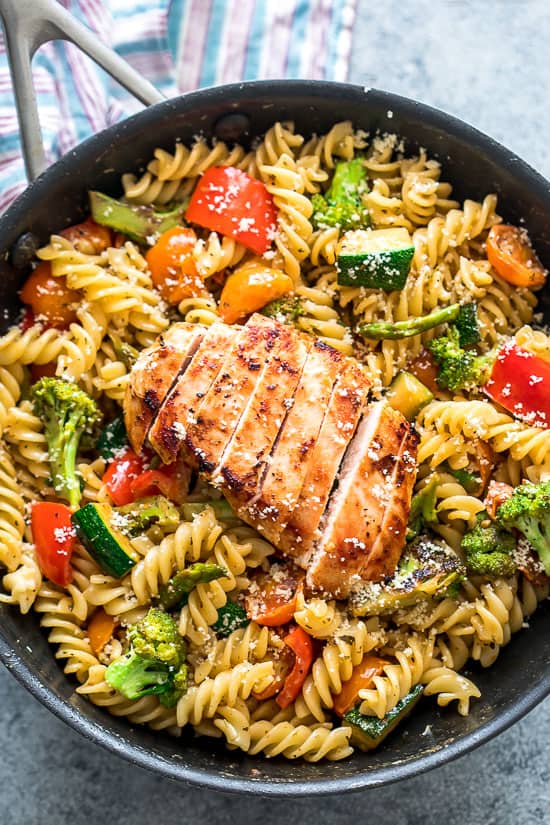 Hey there! It's Richa again from My Food Story and I'm bringing you this super delicious, super easy chicken pasta primavera recipe!
Pasta is definitely our favourite dinner and we make some almost every week. Because pasta is always so easy to put together and the husband is always up for it! This chicken pasta primavera is actually easier than most pasta recipes and the best part is that it's loaded with veggies. So if you have a family that sticks up their noses at vegetables, then this is a fantastic choice. Its full of flavour and is ready in under 30 minutes. The veggies are roasted on high heat and you don't need to blanch them. But roasting them in the pan, makes them crunchy and keeps them tender at the same time.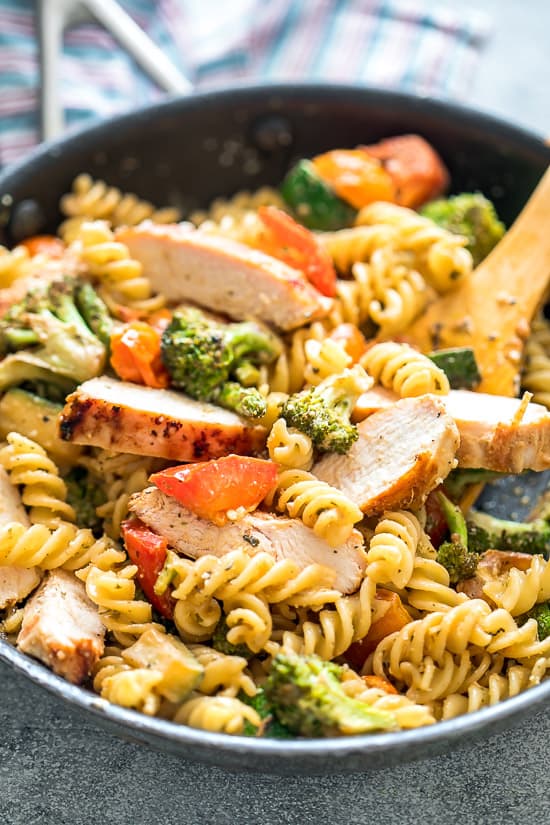 We use an Italian herb blend to add flavour to this chicken pasta primavera so you don't need a truck load of herbs here. And the sauce that coats this pasta is really light because we only add about 1/4 cup heavy cream, which seeps into the crevices of the pasta. If you want to omit the heavy cream, you can use the same amount of pasta water instead and simmer it in the pan with everything else. Pasta water is one of those genius ways to create a sauce with almost nothing. Because the pasta water already has thickeners from boiling the pasta and it becomes nice and creamy when you simmer it.
I've used broccoli, bell peppers, cherry tomatoes, zucchini and asparagus to make this chicken pasta primavera, but just go with your favourite veggies because in this recipe, any vegetables that cook quickly work. The roasted tomatoes add a nice juicy touch, while all the other vegetables add the crunch to this recipe.
We cook the chicken separately, slice it and add it to the pasta when we are tossing everything together. The light sauce keeps everything together and you get a delicious family meal that's going to become a regular on your dinner rotation!
Other Pasta Recipes for you to try: Shrimp Spaghetti Aglio Olio, Bacon Spaghetti Pasta,  Creamy Cajun Chicken Pasta