This Chicken Marinade will flavor your chicken in just 30 minutes, get your grill ready while it's chilling in the refrigerator!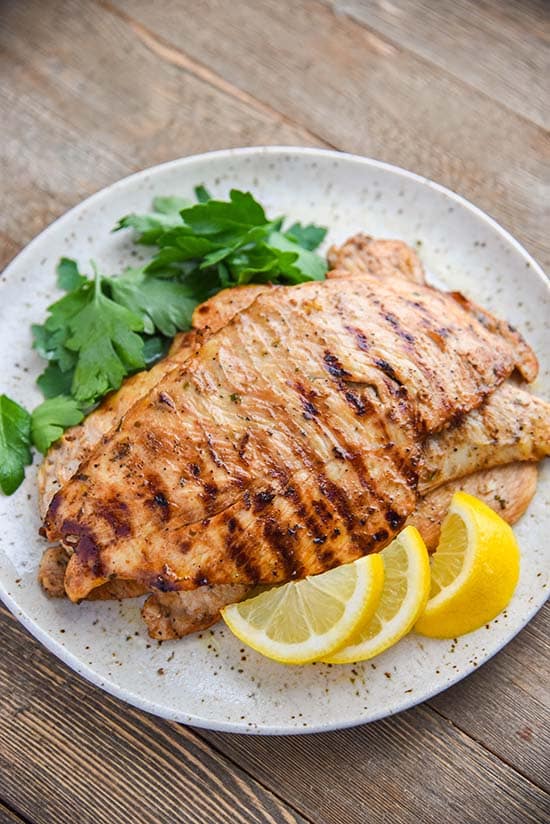 I'm so excited to start sharing some of my favorite recipes with you! My name is Courtney and you can find me on Courtney's Sweets and Know Your Produce!
Have you ever made something the same way over and over? That's how I was with grilled chicken. I would buy regular chicken breasts and just make them with a few seasonings or used my pork chop marinade, which is also great on chicken!
As much as we loved it, my little one wasn't interested anymore. She didn't like the thick cut of chicken, so then I figured I'd try doing thinly sliced chicken breasts. I made a quick marinade, and then everyone devoured it as it came off the grill.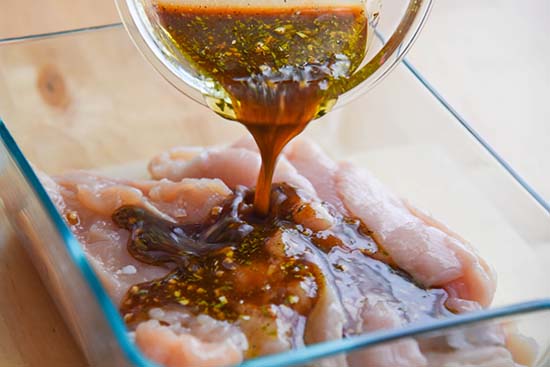 Since that time I've been making this marinade recipe and now I just thinly slice my chicken breasts. By using thinly sliced chicken breasts, you don't have to marinate as long. Not to mention it cooks up quickly!
Every Sunday I make a large batch of this chicken for lunches. We use it in wraps, sandwiches, fresh salads, and of course dinner too! Whenever we have too chicken leftovers, I'll turn it into a quick pasta salad. I kind of always hope for too much leftovers. 🙂
When we make our chicken marinade we just pour the marinade right over the chicken in a glass dish. Place the chicken in the fridge for 30 minutes to marinate.
When you're ready to cook the chicken will be full of flavor and ready for the grill or grill pan.
Right before serving we like to squeeze a little fresh lemon on top, believe it or not, our kiddo loves the added tartness too! (Prefer some sweetness? Try our Baked Boneless Chicken Thighs!) We hope you enjoy this quick and easy chicken recipe just as much as we do