The Ultimate Guide to Cake Pops will teach you everything you need to know to make cake pops like a pro! From the cake to the frosting and chocolate coating, we've got you covered with the only recipe you'll need!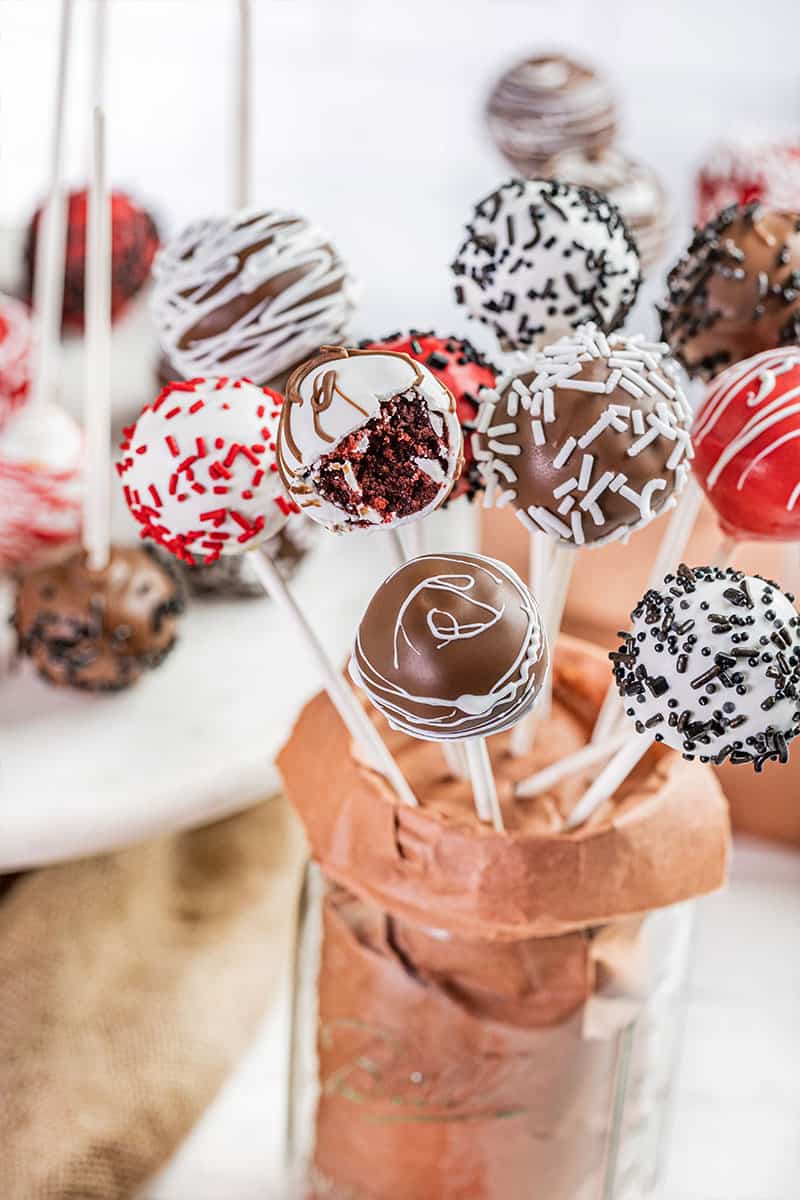 We love handheld desserts. One cake pop is super satisfying for that sweet tooth, and doesn't even require a plate to eat over like a piece of cake. Of course, no one ever sticks to only one cake pop in a sitting. While the intention might be there, a cake pop is really just two bites worth of cake, so what's the harm in having two, or three, or even four?! We don't subscribe to anyone else's rules, and have been known to consume much much more than a "serving size." These are perfect for parties, birthdays, or any day of the week that you need to treat yourself!
The Cake:
You can use a store-bought prepared cake, make a cake from a mix mix, or make a cake from scratch to use in your cake bombs. You can use any type of cake that you like. Red velvet, carrot cake, chocolate, strawberry, the sky is the limit!
If you buy a store-bought cake, we recommend removing the frosting from the top, or buying a non-frosted cake.
The Frosting:
Your cake pops are only as good as the frosting. Seriously, the frosting can make or break them, so we highly recommend making frosting rather than buying it at the store. We love nothing more than homemade buttercream frosting with our cake pops. You can always use store-bought if needed, and if there is a frosting that you just really love, you do you!
The Coating:
You can really use any flavor you like to coat your cake pops. We always recommend you find the highest quality coating possible, and really you can just make it super easy and buy easy to use candy melts.
Cake Pop Toppings:
There really are no rules when it comes to decorating your cake pops. You can make them as simple or as fancy as you like. We love to use sprinkles and chocolate drizzles. Just be sure to add sprinkles while the chocolate is still wet. If you are going to add additional chocolate to drizzle, make sure your cake pops are completely cooled first.
Freezer Instructions:
Cake freezes so well! The issue with freezing your finished cake pops is that the chocolate coating can crack when freezing. If you are going to freeze, we recommend freezing your cake pops on their sticks before coating them. Place them in an airtight and freezer safe container for up to one month. When you are ready to use them and coat with chocolate, let them thaw completely in the refrigerator first.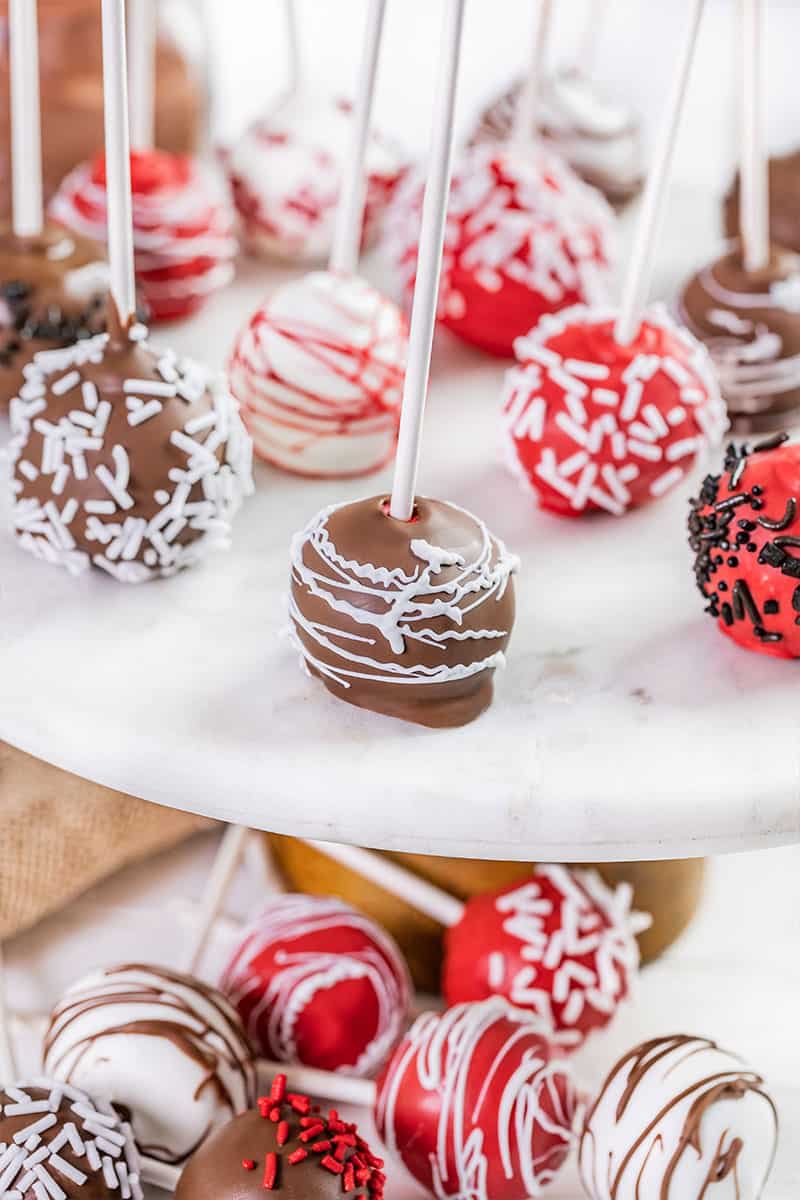 Storage Instructions:
Store your dipped and finished cake pops in an airtight container lined with a paper towel in the refrigerator for up to 3-4 days. If you are making your cake pops ahead of time and want to store them before dipping in chocolate, they will stay good in the refrigerator for up to 1 week.
If you like this recipe, you may be interested in these delicious cake recipes:
Watch the video below where Caytlin will walk you through every step of this recipe. Sometimes it helps to have a visual, and we've always got you covered with our cooking show. You can find the complete collection of recipes on YouTube, Facebook Watch, or our Facebook Page, or right here on our website with their corresponding recipes.
Ultimate Guide to Cake Pops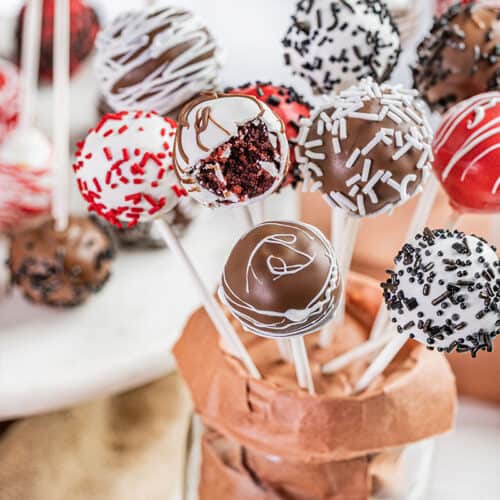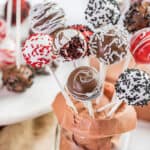 The Ultimate Guide to Cake Pops will teach you everything you need to know to make cake pops like a pro! From the cake to the frosting and chocolate coating, we've got you covered with the only recipe you'll need!
Ingredients
1/4

large prepared chocolate cake

1/4

cup

frosting

4

cups

candy melts

or use chocolate chips

Sprinkles

1/4

cup

melted chocolate

to drizzle

24

candy sticks
Instructions
Line a sheet with wax paper or parchment paper.

Crumble cake into a large bowl.

Add in the frosting of your choice a little at a time and mix it together. You don't want too much, so do this in small amounts until you can form a ball. Still crumbly, but moldable.

Using a mini scooper, scoop out a ball (about a tablespoon) and roll tightly in your hands. Repeat until all cake is balled. Set them all on a parchment lined sheet once formed. Stick in freezer until set, at least 10 minutes.

Melt candy melts in a bowl in the microwave in 20 second increments, stirring in between each until fully melted.

Remove cake pops from freezer. Dip the stick into the melted candy melts about 1 1/2 -2 inches. This will act like glue to help hold the cake ball onto the stick.

Insert dipped stick about half way through cake pop ball and then dip cake pop into melted candy melts to coat completely. Tap off any excess chocolate that may drip.

Repeat for all remaining cake pops.

If using sprinkles, add while the chocolate is still wet. Place the finished cake pop into the styrofoam block to let them finish setting up.
Nutrition
Calories:
141
kcal
|
Carbohydrates:
20
g
|
Protein:
1
g
|
Fat:
7
g
|
Saturated Fat:
5
g
|
Polyunsaturated Fat:
1
g
|
Monounsaturated Fat:
1
g
|
Sodium:
100
mg
|
Potassium:
31
mg
|
Fiber:
1
g
|
Sugar:
17
g
|
Vitamin A:
1
IU
|
Calcium:
14
mg
|
Iron:
1
mg