The Most Amazing Carrot Cake is moist, fluffy, and is topped with an easy, homemade cream cheese frosting that is over-the-top delicious!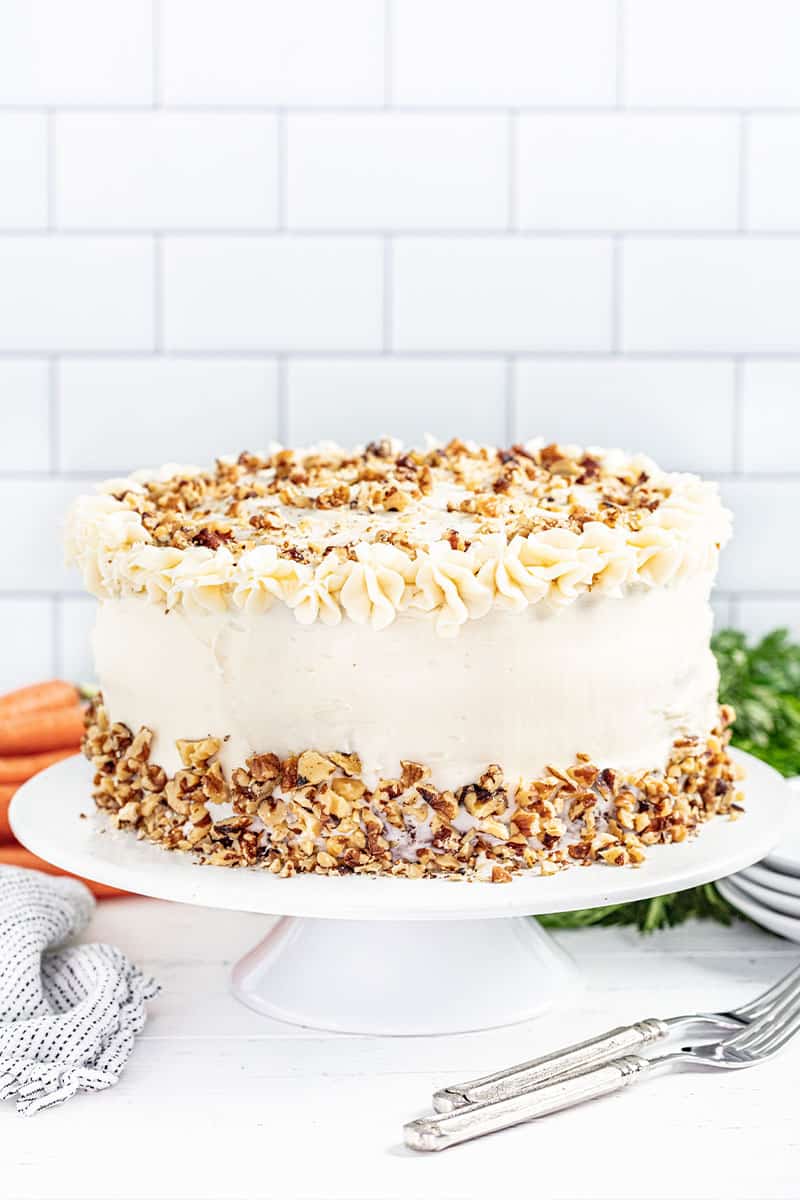 There are two types of people in this world: those who love carrot cake, and those who have not yet come to love carrot cake. We see you, and we're here to convert you. We get it, there is a lot of sub-par carrot cake out there, and this recipe is everything you've ever wanted. Moist, fluffy, raisins optional. That's right, raisins are optional. Don't want them? Don't add them! Cream cheese frosting is absolutely necessary. Carrot cake and cream cheese frosting go together like peanut butter and chocolate, ham and cheese, glaze on a donut…well, you get the picture.
History Lesson: It is thought that the carrot cake of today comes from a European Medieval carrot pudding. Sugar and sweeteners were expensive, and carrots were used as a substitute for sugar. The term 'cake' is actually relatively new, dating back to the 13th century, and there is a lot of speculation if the puddings of old were actually a solid pudding: cake!
Are nuts necessary in carrot cake?

Absolutely not! Whether you have allergies, or simply don't like them, nuts are completely optional. We love the added crunch and texture they give, but you are always welcome to simply leave them out.

Why are raisins listed as optional?

Raisins are a traditional staple, and go all the way back to Medieval European carrot pudding. However, carrot cake has come a long way since then, and we love options! Not everyone likes raisins, and we don't think that should stop you from enjoying carrot cake. So, if you are a traditionalist and enjoy raisins, add them! You do you! If you typically don't like raisins, then you probably won't like them in carrot cake either, and you can omit them.

Can I use store bought frosting?

We think homemade cream cheese frosting really makes this carrot cake go from amazing to over-the-top delicious. However, if you are crunched on time and need an easy shortcut, you can use a canned cream cheese frosting.

Egg Replacement Options

There are several options that work well when substituting for eggs in this recipe.

1/4 cup of plain yogurt per egg
1 tablespoon vinegar+ 1 teaspoon baking powder whisked together per egg
1/4 cup mashed banana per egg
1/4 cup unsweetened applesauce per egg

Storage Instructions

Cakes that are frosted with a cream cheese frosting need to be refrigerated. They can safely sit at room temperature for about 2 hours. After slicing, cover any exposed cake to prevent it from being exposed to the air and drying out.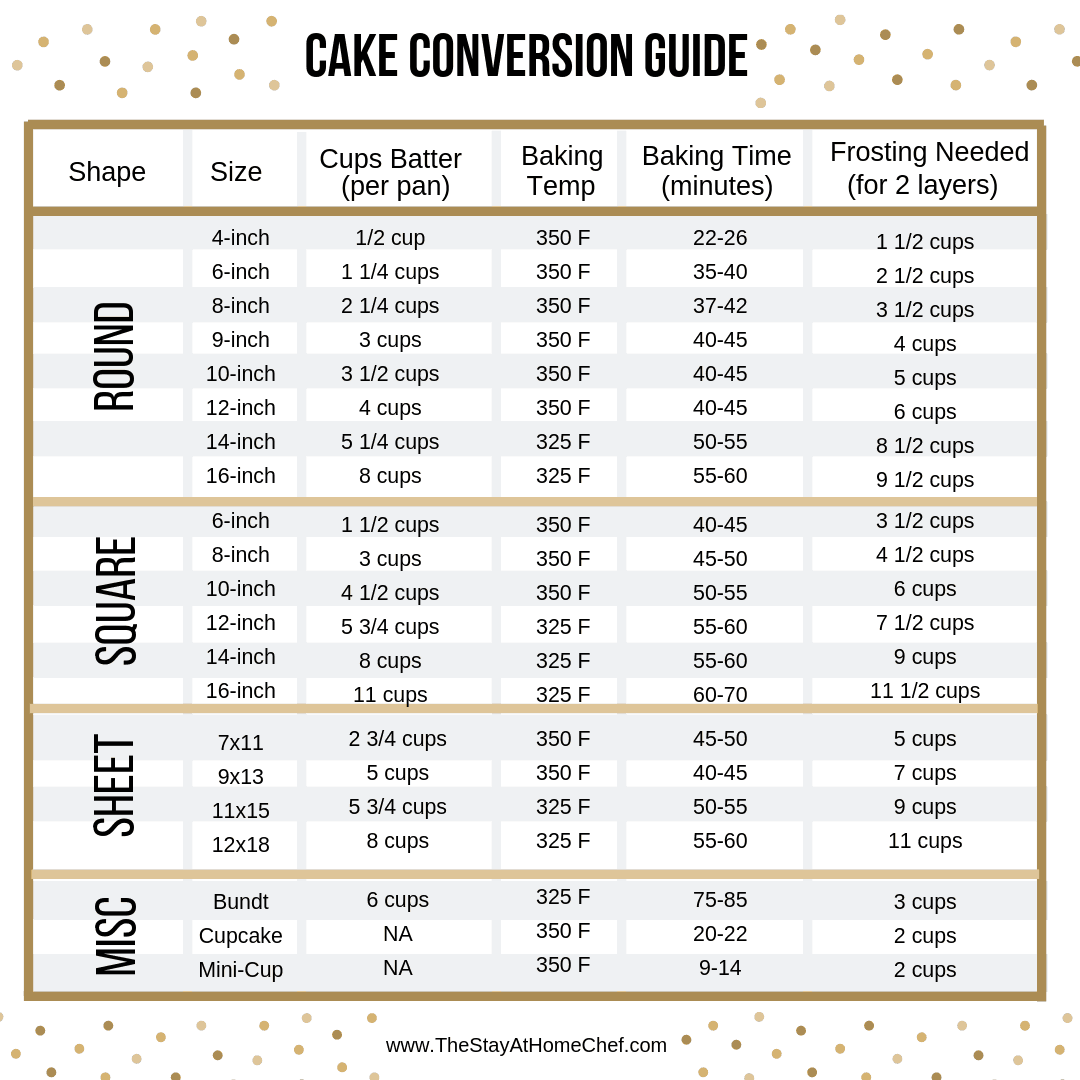 If you like this recipe, you may be interested in these other delicious cake recipes: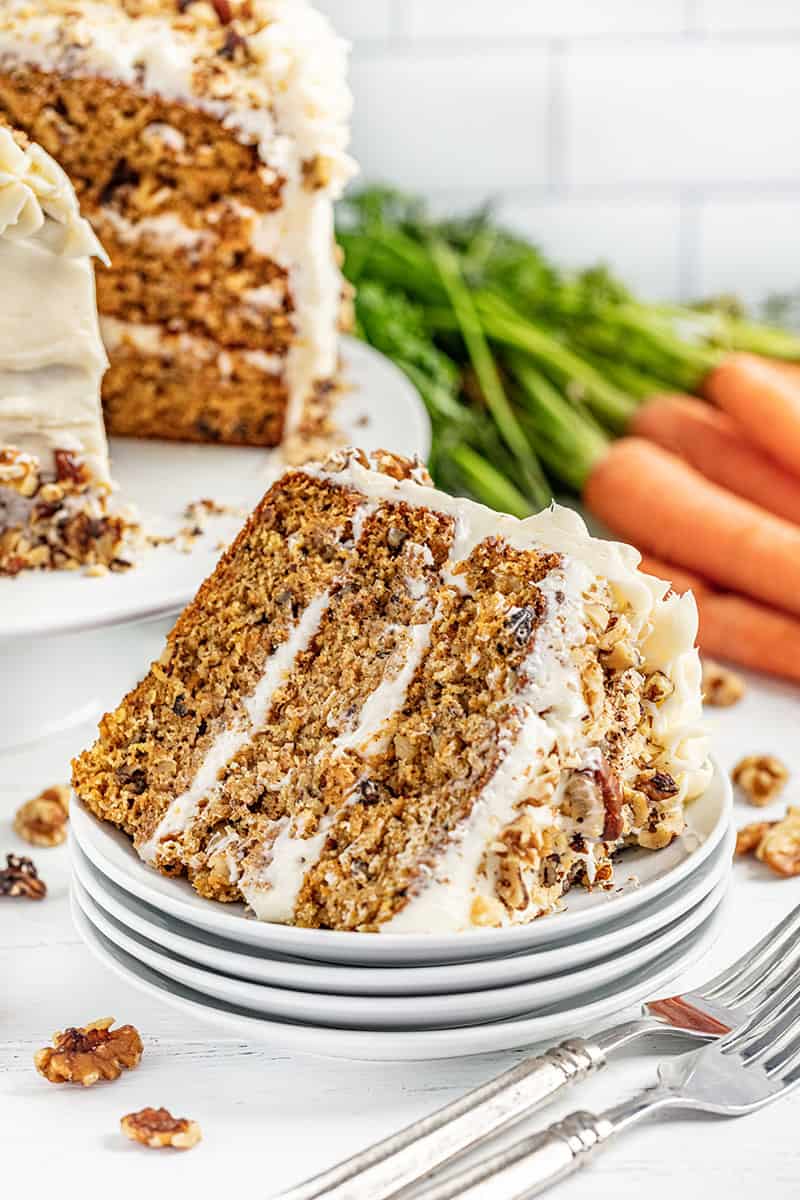 Watch the video below where Rachel will walk you through every step of this recipe. Sometimes it helps to have a visual, and we've always got you covered with our cooking show. You can find the complete collection of recipes on YouTube, Facebook Watch, or our Facebook Page, or right here on our website with their corresponding recipes.