Angel food cake is light and airy and deliciously sweet. This perfect angel food cake recipe is so easy to make for the perfect sponge cake every time. You're going to love it!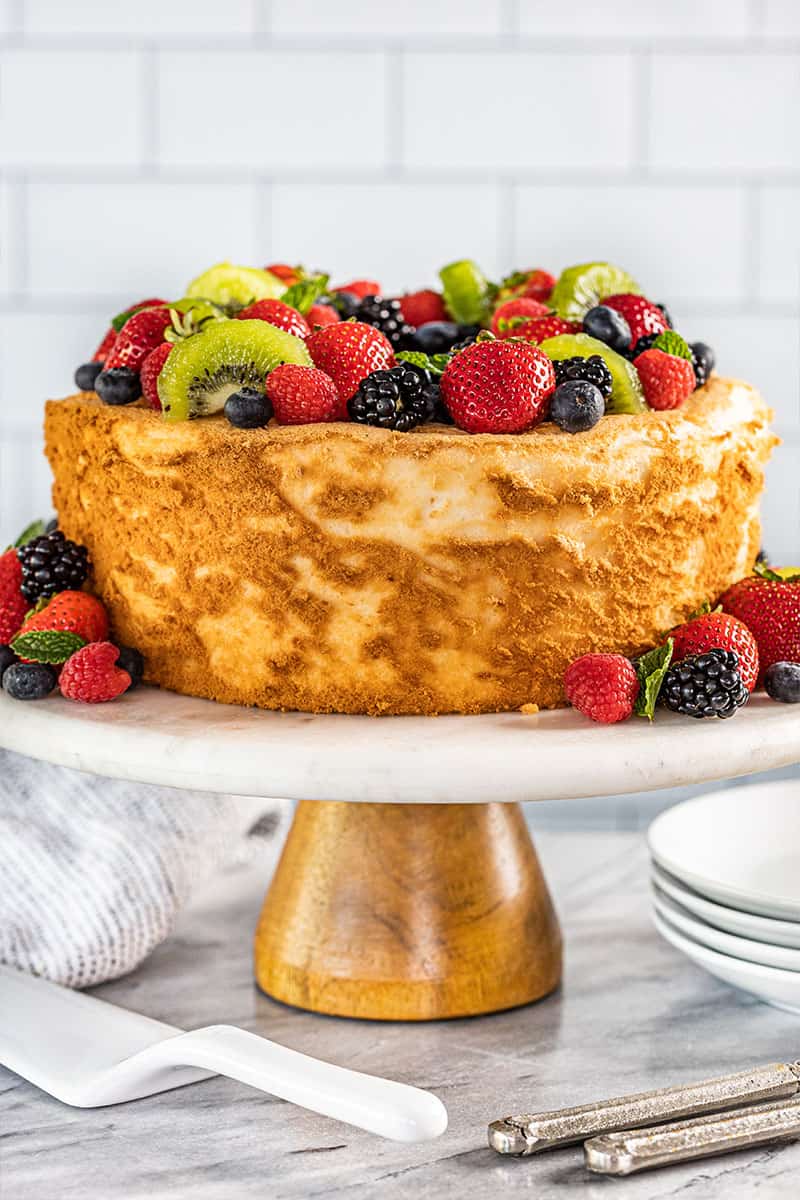 You have not lived until you have tried homemade angel food cake. We really didn't think this stuff could get any better. We were already in love with the store-bought version, and had never really considered making it ourselves. Why mess with perfection? Well, we are here to tell you that this is even more perfect than perfect. Made-from-scratch angel food cake still has that pillowy softness and light brown crust on top that you love, but the flavor is even better than you can imagine. You'll want to double check your baking supplies and make this immediately!
Baking Pan Options:
Angel food cake is traditionally made in a tube pan, but can be made in other pan shapes as well. To make an angel food cake loaf, use a loaf pan, but only fill the pan 2/3rds of the way full. Also be sure that you leave the pan un-greased. You will still need to cool the cake upside down so find something that will allow you to rest the edges of the pan on to keep the pan upside down.
Sponge Cake vs. Angel Food Cake:
Angel food cake is a type of sponge cake that uses egg whites only. The combination of egg whites and sugar make for a chewy, sponge-like cake. Other types of sponge cake include Genoise, Biscuit, and Chiffon.
Rising:
Angel food cake rises because the batter is able to cling to the pan and climb as it bakes. It is important that any pan you use to bake your angel food cake remain un-greased to allow for this climbing to occur. Do not over beat your egg whites which will cause them to deflate. You want to beat your egg whites just until stiff peaks form.
Why is Angel Food Cake cooled upside-down?
Angel food cake MUST be cooled inverted, or upside down. Otherwise, the cake will collapse on itself. Tube pans can be balanced on bottles or you can rest the edges against something raised (like books or cutting boards of equal heights). It is important that the cake is inverted immediately after removing from the oven and remain inverted until the cake is completely cooled which will take approximately 1 1/2 to 2 hours.
Eggs:
We know, everyone is always hoping for an egg substitute with baked goods, but we simply cannot recommend substituting with anything else. Egg whites provide so much of the structure to this cake, that you don't want to chance messing that up.
Serving Suggestions:
While angel food cake is delicious on its own, there are also many topping options to choose from:
Fresh Berries
Lemon Curd
Chocolate Ganache
Strawberries and whipped cream
As always, make sure to serve this with a large scoop of your favorite ice cream!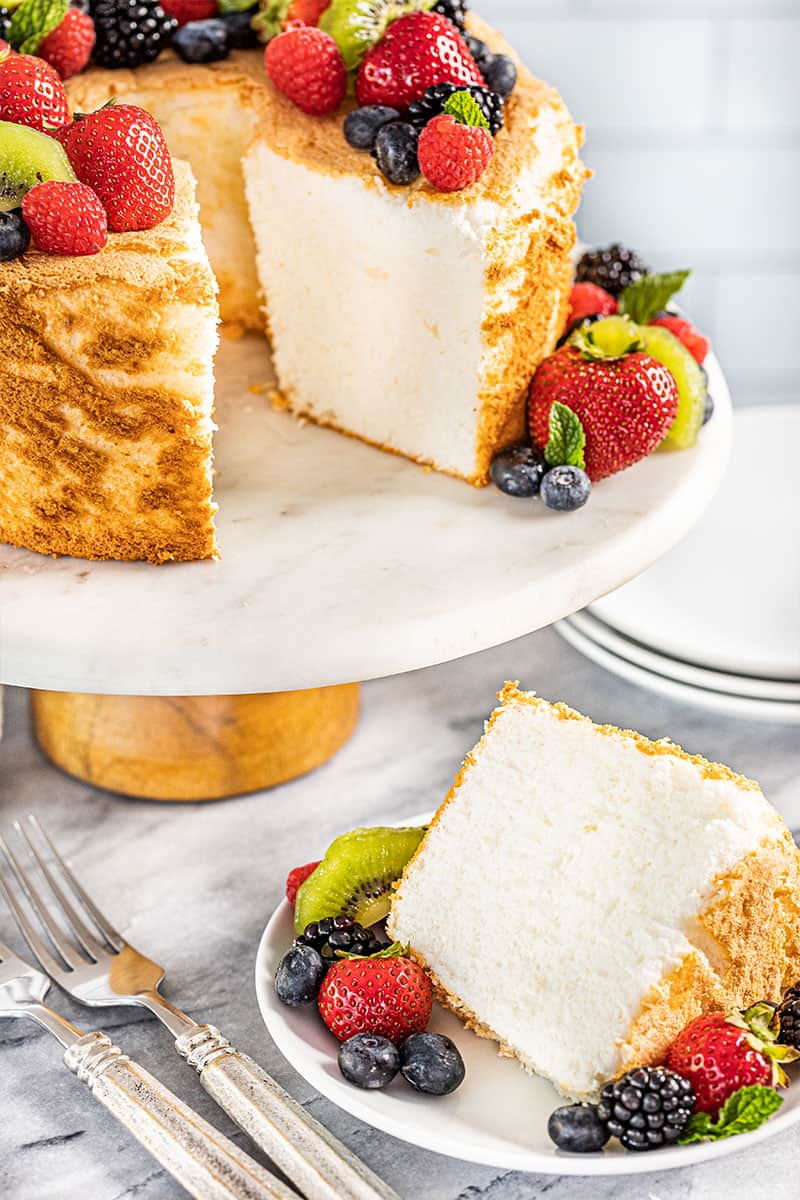 Storage Instructions:
Store your angel food cake in an airtight container on the counter for up to 4 days.
If you like this recipe, you may be interested in these other cake recipes:
Watch the video below where Rachel will walk you through every step of this recipe. Sometimes it helps to have a visual, and we've always got you covered with our cooking show. You can find the complete collection of recipes on YouTube, Facebook Watch, or our Facebook Page, or right here on our website with their corresponding recipes.
Old Fashioned Angel Food Cake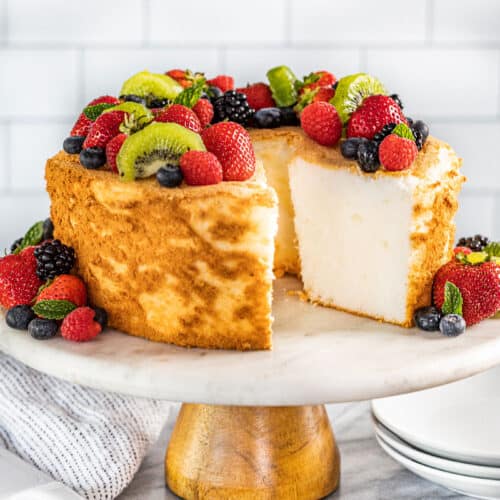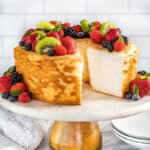 Angel food cake is light and airy and deliciously sweet. This perfect angel food cake recipe is so easy to make for the perfect sponge cake every time. You're going to love it!
Ingredients
3

cups

powdered sugar

divided

1/4

teaspoon

salt

1

cup

cake flour

12

egg whites

1/2

teaspoon

vanilla extract

1/2

teaspoon

almond extract

1 1/2

teaspoons

cream of tartar
Instructions
In a large mixing bowl, sift together 1 1/2 cups powdered sugar with salt, and cake flour. Set aside.

In another large mixing bowl, use a hand mixer to beat together egg whites, vanilla extract, almond extract, and cream of tartar. Whip for 2 minutes. Slowly add in remaining 1 1/2 cups of powdered sugar until stiff peaks form.

Sprinkle some of the flour mixture on top of the stiff egg peaks and gently fold in. Repeat this process to gradually fold in all of the remaining flour mixture.

Scrape into an ungreased 9 to 10 inch tube pan. It is very important that the pan remain ungreased.

Bake in a 350 degree oven for 40-45 minutes, until the top is lightly browned and is dry to the touch.

Remove pan from oven and immediately invert onto a cooling rack or by placing a bottle in through the center. Let cool in pan 1 1/2 hours. Tap the sides and and bottom and gently remove the cake from the pan.
Nutrition
Calories:
206
kcal
|
Carbohydrates:
45
g
|
Protein:
5
g
|
Sodium:
123
mg
|
Potassium:
71
mg
|
Sugar:
35
g
|
Calcium:
4
mg
|
Iron:
0.2
mg