Strawberry Shortcake is a classic dessert that is perfect for spring and summer. This three layer strawberry dessert is not only beautiful, it's also delicious!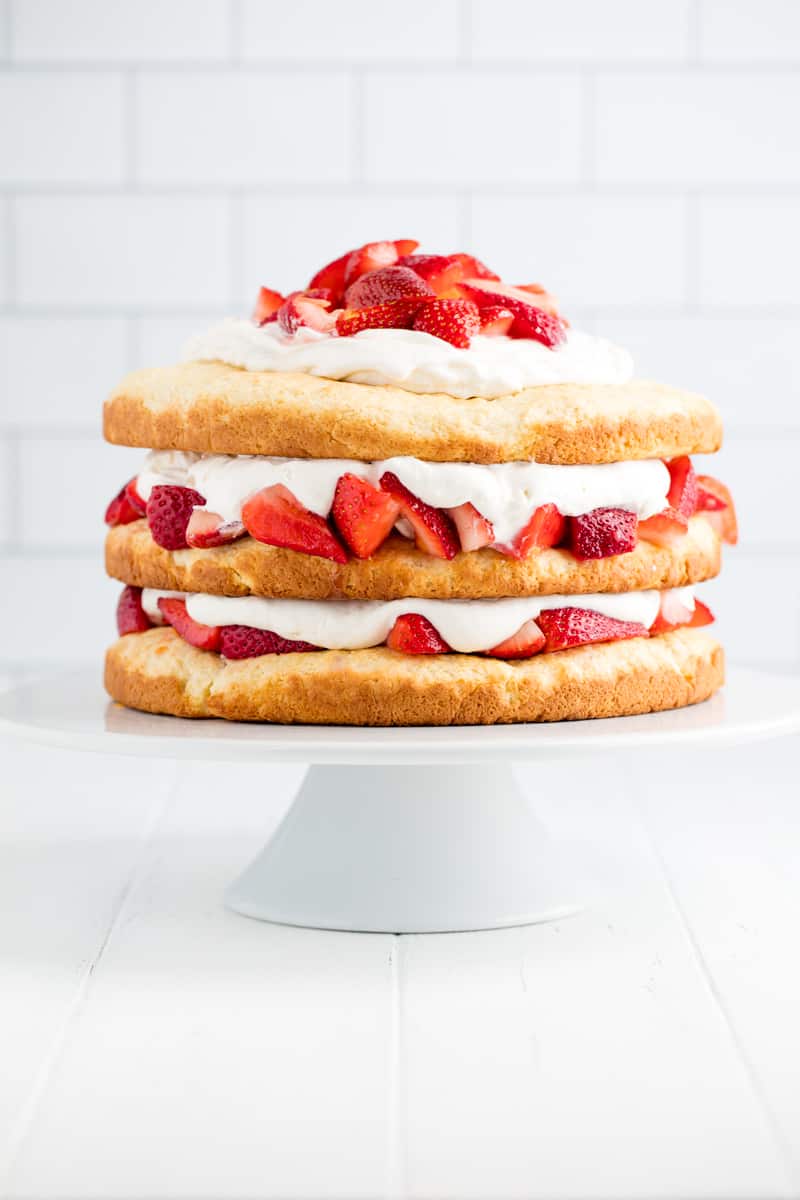 Shortcake is a centuries old English recipe that dates back to the 1500s. This recipe for Strawberry Shortcake is absolute perfection and is easily converted from a 3 layer cake, to individual portions. Whether you want a beautiful 3 layer cake, or individual servings, this recipe has you covered. Continue reading to learn more about strawberry shortcake, or scroll straight to the recipe below.
Why do they call it a shortcake?
A lot of people think the name comes from the height of the cake, but it isn't so. The name "shortcake" is derived from an old English cooking definition of short which referred to something made crisp with the addition of fat. Shortcake is a crisp, crumbly cake made from butter which is how it got its name.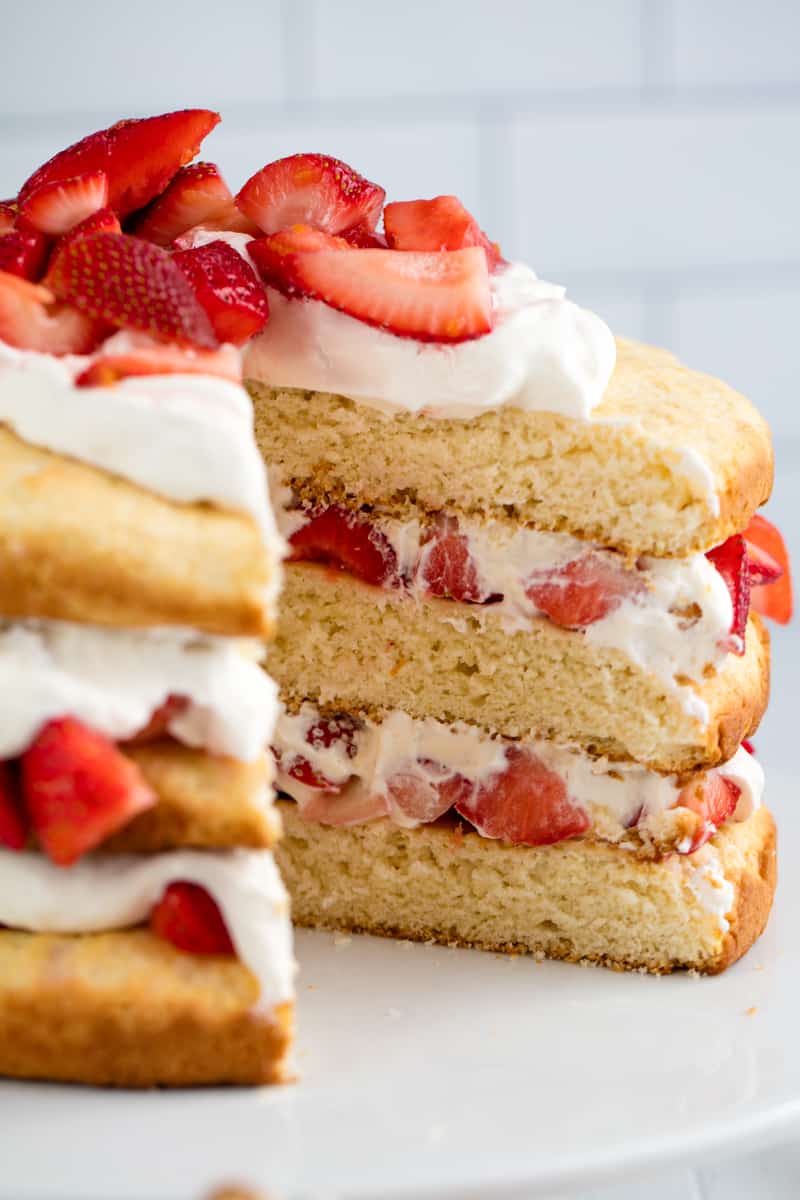 Is shortcake a biscuit?
In many parts of the world, the term biscuit refers to a cookie. In the United States, the term biscuit is used to describe a scone-like baked good that is crisp on the outside and soft on the inside. Shortcake is not a cookie-type biscuit, but rather more similar to a scone-like biscuit. Shortcake is sweeter, but the preparations are very similar.
How do you prepare strawberries for strawberry shortcake?
Strawberries need to be rinsed and patted dry before using in a recipe to remove any dirt, debris, or chemicals. For strawberry shortcake, the strawberries will need to be hulled and either sliced or quartered. Sugar is then added to macerate the strawberries.
What is hulling a strawberry?
To hull a strawberry, you need to remove the leafy green portion of the strawberry, as well as the pale white portion surrounding it. Use a sharp knife and cut at a slight angle in a circle around the base of the leaves. Remove the hull and leaves and discard.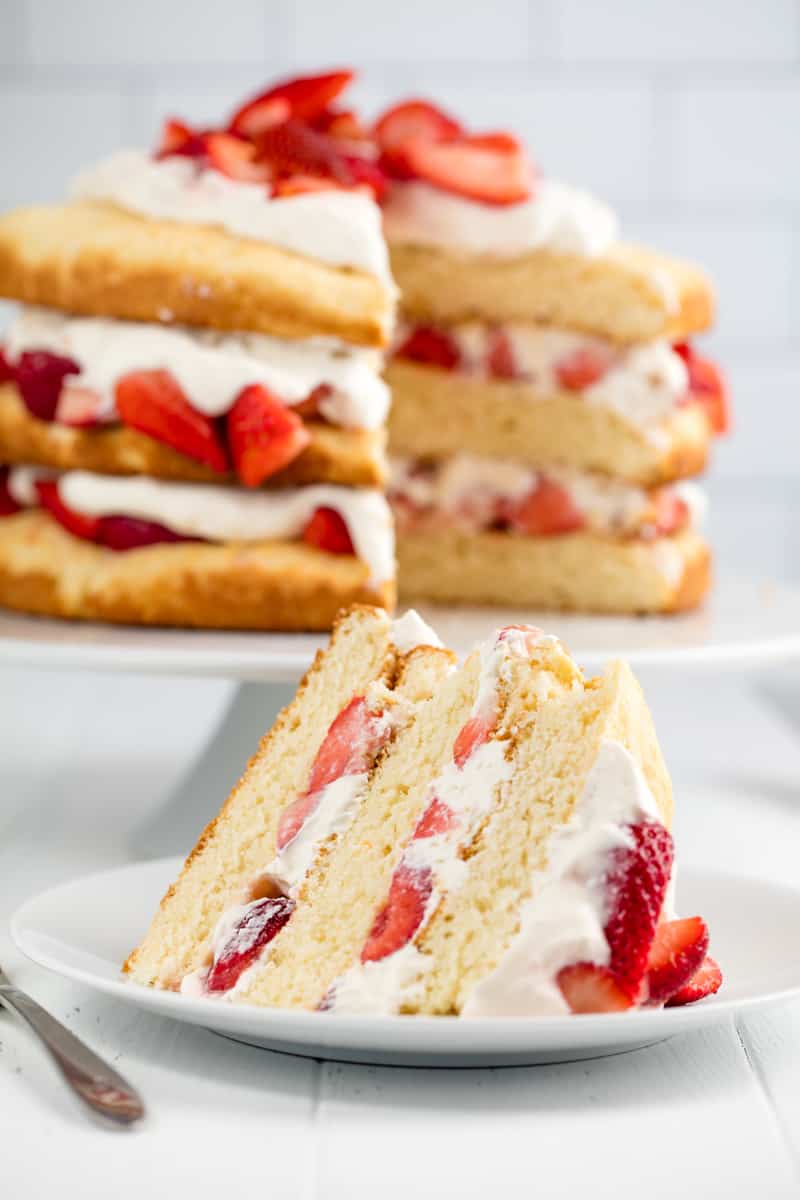 How can I convert this recipe to individual servings?
For individual servings, or any other size for that matter, the only changes you need to make to the recipe are shaping the dough and the baking time of the biscuits. For individual shortcakes, use a spoon to scoop spoonfuls of dough (approximately 3 tablespoons in size) to a parchment-lined baking sheet, leaving about 2-inches between each. Reduce the baking time to 15 minutes.
If you like this recipe, you may be interested in these other fantastic desserts: