There's a reason why everyone loves Buffalo Chicken Dip! This spicy party food appetizer is full of classic buffalo wing flavors. Use Frank's Red Hot for the best buffalo chicken dip recipe ever!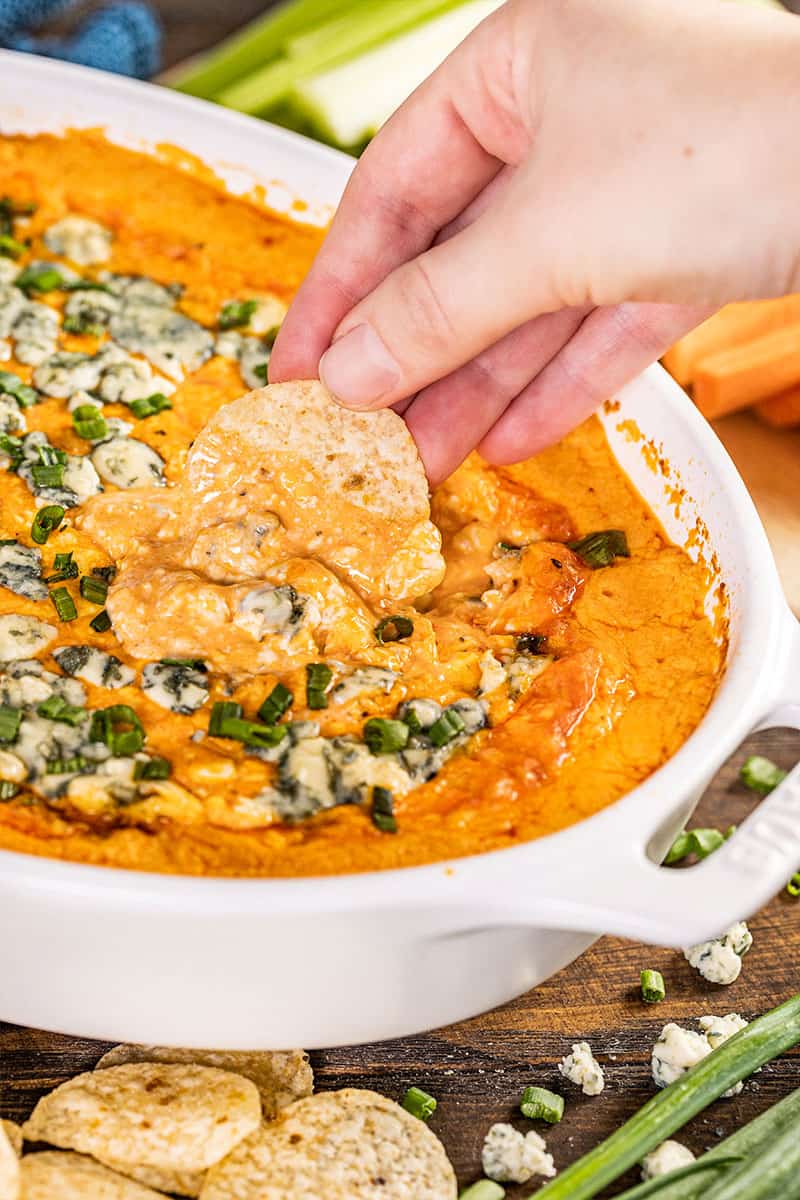 Buffalo Chicken Dip is a classic American favorite dip. It's full of cheesy goodness, and always a party favorite. You can use crackers, a sliced baguette, or even celery for dipping. Practically anything tastes good when dipped in spicy cheese. If you have a party or any sort of get together coming up and you're not sure what to bring, this is it! It calls for only six ingredients, and it is super easy to make. You're going to love it!
Hot Sauce:
We prefer using Frank's Red Hot for the hot wing sauce. I find that it has the best flavor.
Blue Cheese vs. Ranch:
Don't like bleu cheese? We get it. Bleu cheese is a flavor you either love or hate. You can substitute ranch dressing in place of the bleu cheese dressing in this recipe. Then use crumbled feta on top in place of the crumbled bleu cheese.
Chicken Options:
You can cook and shred chicken breasts for this recipe, you can use leftover cooked and shredded chicken, or you can even use shredded rotisserie chicken. In a pinch, we've been known to use canned chicken. Don't worry, we won't judge.
How do you cook chicken for Best Buffalo Chicken Dip?
BOILING: One of the easiest ways to cook chicken for buffalo chicken dip is to boil the chicken in seasoned water or chicken broth. Bring a medium-sized saucepan of water to a boil and season with 2 teaspoons salt and 1 teaspoon black pepper OR use chicken broth. Place 2 to 3 chicken breasts into the boiling water. Bring the water back to a simmer, reduce the heat to medium, and simmer for 15 to 20 minutes until chicken is no longer pink inside and is cooked to an internal temperature of 165 degrees F.
BAKING: Another option is to bake your chicken. Place chicken breasts into a lightly greased 9×13 pan. Season with salt and pepper. Bake in a 375 degree oven for 20-25 minutes until chicken is cooked to an internal temperature of 165 degrees F.
Spice Level:
If you love buffalo chicken dip but don't love spice, do not fret! You can reduce the amount of buffalo hot wing sauce to your own personal spice preference. However, do not leave it out entirely, because you want that flavor.
Do I have to add blue cheese crumbles on top?
You really don't! If you don't like crumbled blue cheese, you can always just top with more shredded cheddar cheese, or even shredded Monterey Jack.
Slow Cooker Instructions:
Add all ingredients to the slow cooker, except your cheese to top, and cook on high for a total of 2 hours. After 2 hours remove the lid and add any cheese to top as desired. Replace lid and continue to cook until cheese is melted.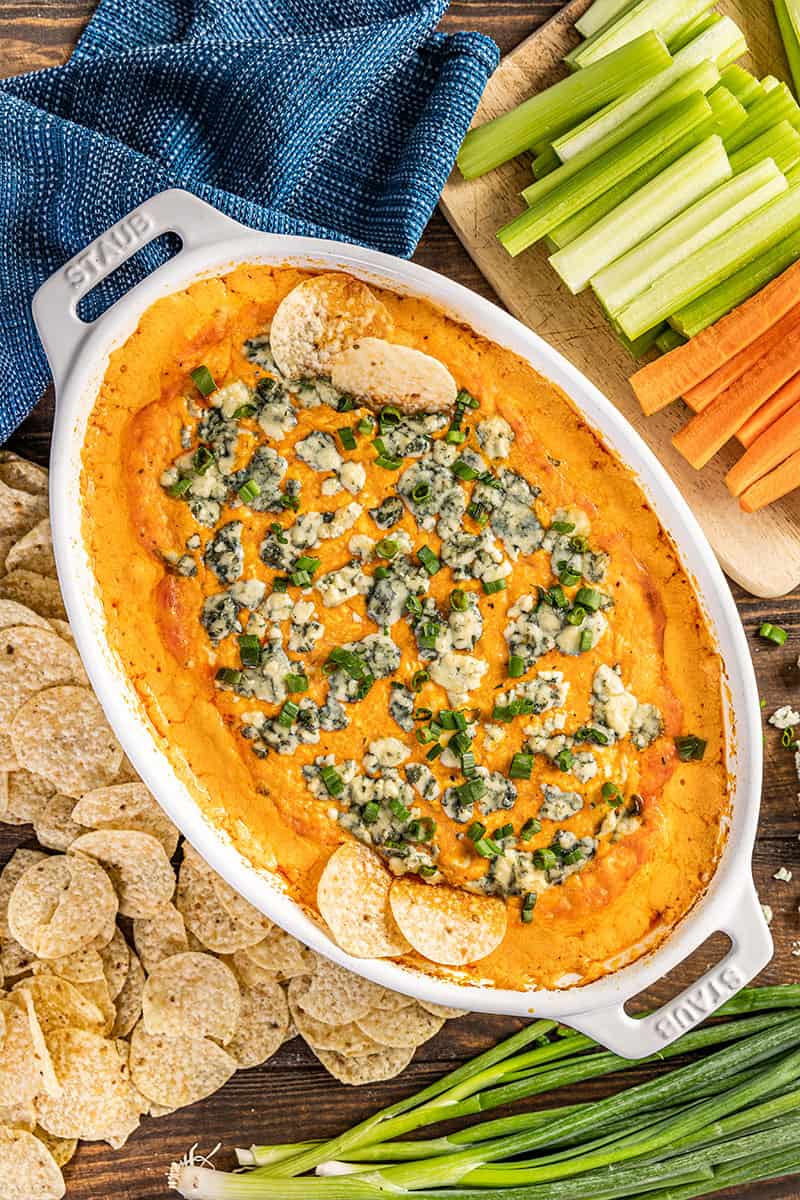 Storage and Reheating Instructions:
We doubt you'll have any of this left over to need to store, it is THAT good! However, if you do happen to have leftovers, you can store this covered in plastic wrap in the fridge for 3-4 days. Simply preheat an oven to 400 degrees, remove plastic wrap, and reheat for 5-10 minutes or until warmed through.
If you like this recipe, you may be interested in these other amazing buffalo inspired recipes:
Watch the video below where Rachel will walk you through every step of this recipe. Sometimes it helps to have a visual, and we've always got you covered with our cooking show. You can find the complete collection of recipes on YouTube, Facebook Watch, or our Facebook Page, or right here on our website with their corresponding recipes.