Perfectly moist and sweet in just the right way, these fluffy zucchini muffins are just as easy to make as they are to eat. It's the perfect way to sneak some veggies into a snack your kids will love!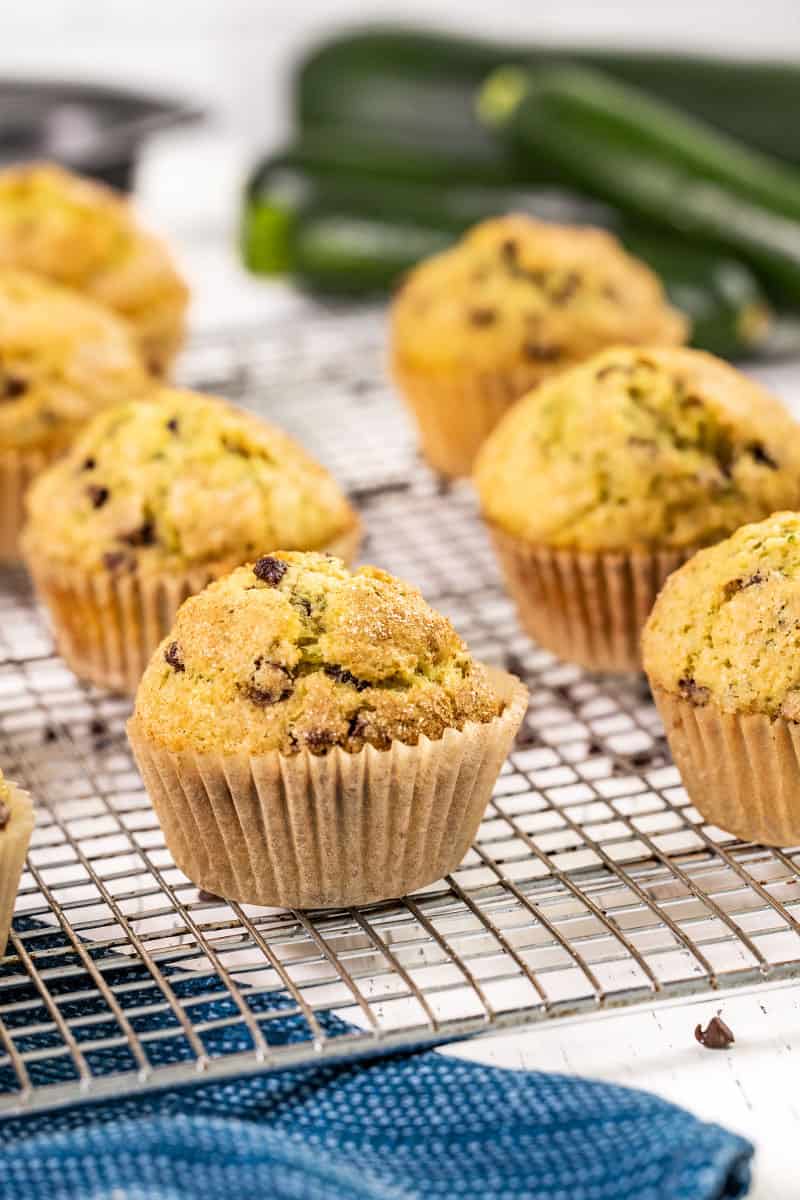 As parents, we get it. It's not always easy to make sure our kids are eating enough fruits and vegetables. What's the best way to make sure they do? To add in a bit of greens where they least expect it — a yummy muffin! You can use this recipe as a base and add in some extras like chocolate chips or nuts. Okay, so we're not here to say that you should lie to your kids. What we are saying is that you should serve them these zucchini muffins and then tell them the secret ingredient. Maybe they'll become huge squash lovers after a few bites. You never know! This recipe is perfect if you have extra zucchini lying around and don't know what to do with it. They add so much to the texture of this easy-to-make snack. You honestly can hardly taste the zucchini. They simply taste like an extra moist muffin! Whether you decide to serve these up at home or at your next party, they are a total crowd pleaser.
Zucchini:
You'll need about 2 cups of grated zucchini for this recipe, which you'll be able to get from about 2 store-bought squash. If you have some of those giant varieties that come from the garden you can feel free to use that too. Just make sure to remove the skin and seeds first.
Do You Peel Zucchini Before Shredding?
You don't have to unless you use those big garden varieties as mentioned. If you picked yours up from the store, just make sure to wash well before shredding.
Grating Zucchini:
Use a standard grater to grate the vegetables for your zucchini bread muffins. We like using the fine-sized grate so that it's even easier to hide that this recipe is filled with veggies. That said, if you don't have any squash-averse snackers in your house, you can absolutely use a larger-sized grate.
Zucchini Bread:
You can easily turn this recipe into delicious zucchini bread! Simply use a standard bread loaf pan instead. Make sure to grease the pan so it doesn't stick, and bake in an oven preheated to 350 degrees Fahrenheit for 60-70 minutes, until a toothpick inserted into the center comes out clean.
Variations:
We love to keep things simple with this recipe, but you are more than welcome to play with different spices and mix-ins! If you want to get creative with yours, consider adding:
Nuts of choice
Chocolate chips (milk chocolate, white, or dark)
Dried fruit
Nutmeg
Unsweetened cocoa powder
A Note On Cooking Time And Temperature:
One important step to this recipe is reducing the temperature from 450 degrees F to 350 degrees F after 5 minutes. Do not skip this step! If you continue to cook at such a high temp, you'll end up with a burnt mess. Set a timer so you don't forget!
What Do Zucchini Muffins Taste Like?
Many folks compare the taste of this pastry to pumpkin bread, thanks to the added cinnamon! It's another special ingredient that you shouldn't skip. It pairs perfectly with the vegetables and the brown sugar.
How Do You Keep Muffins Moist?
The secret to keeping your zucchini bread muffins moist and fluffy is in the zucchini! This added ingredient has a high water content which is released when cooked. Now you know!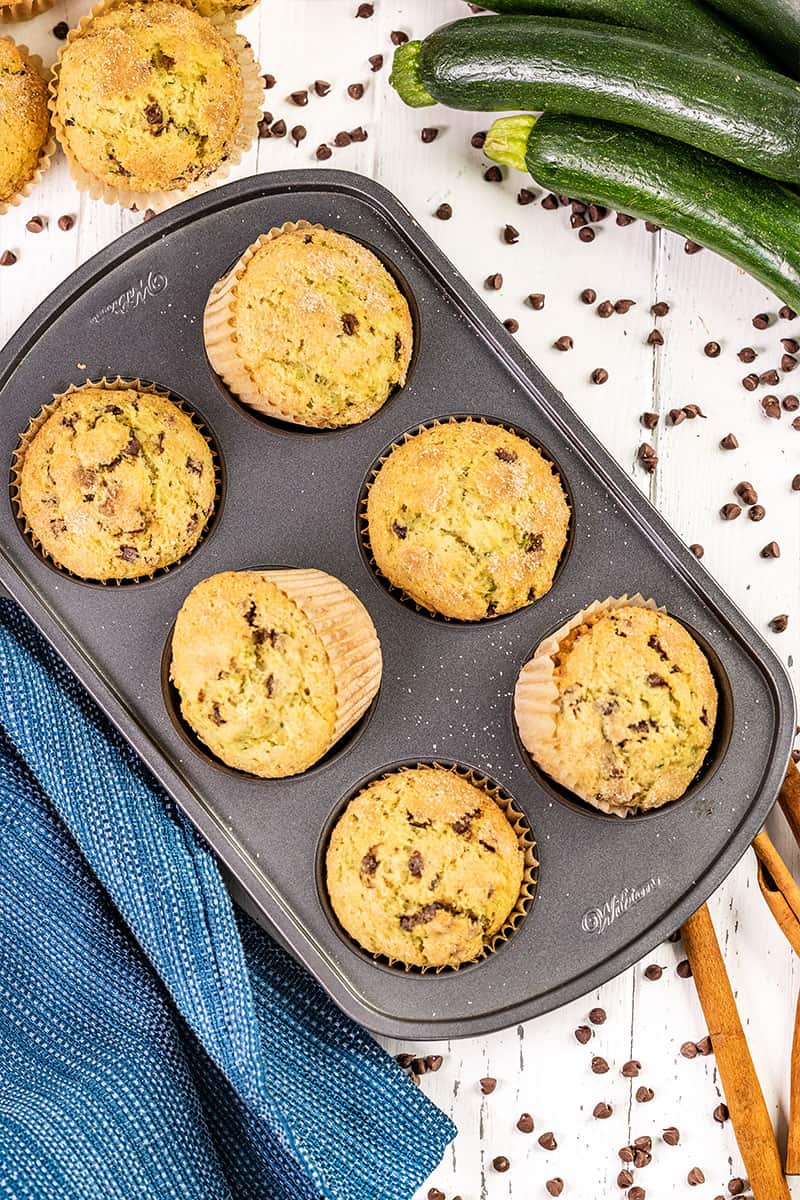 Freezing Instructions:
If you want to make a double batch of zucchini muffins and freeze half, go for it! Once the muffins have completely cooled, place them in a freezer-safe container or bag where they will keep for up to 2 months. Let them thaw in the fridge overnight, and then you can reheat (if desired) in the microwave for about 30 seconds. You can also reheat them in the oven at 350 degrees F for 5-10 minutes.
Storage Instructions:
You can store any leftovers in an airtight container at room temperature in your pantry or on the countertop. They will keep for around 3 days. You can store them in the fridge as well, where they will keep for up to 1 week!
If you like this recipe, you may be interested in these other delicious muffin recipes:
Watch the video below where Caytlin will walk you through every step of this recipe. Sometimes it helps to have a visual, and we've always got you covered with our cooking show. You can find the complete collection of recipes on YouTube, Facebook Watch, or our Facebook Page, or right here on our website with their corresponding recipes.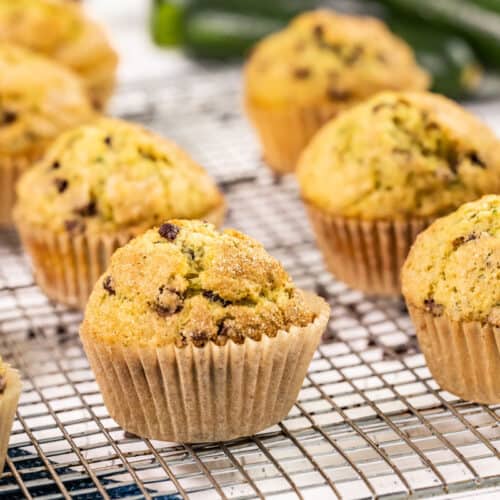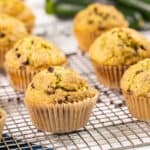 Perfectly moist and sweet in just the right way, these fluffy zucchini muffins are just as easy to make as they are to eat. It's the perfect way to sneak some veggies into a snack your kids will love!
Ingredients
2

cups

zucchini

grated

1/4

cup

melted butter

1 1/2

cup

brown sugar

firmly packed

2

large eggs

2

teaspoons

baking powder

1/2

teaspoon

salt

1/2

teaspoon

ground cinnamon

1

teaspoon

vanilla extract

2

cups

all-purpose flour

Cinnamon sugar

to sprinkle on top
Optional Additions:
1/2

cup

mini chocolate chips

1/2

cup

finely chopped nuts

1/2

cup

unsweetened cocoa powder

plus additional 1/2 cup of brown sugar
Instructions
Preheat oven to 450 degrees Fahrenheit. Line a muffin tin with 12 paper liners. Lightly grease paper liners with nonstick cooking spray.

In a large mixing bowl, use a hand mixer to cream together butter and sugar for about 1 minute. Then add in zucchini and blend for an additional minute.

Beat in eggs until combined. Add in baking powder, salt, cinnamon, and vanilla. Mix briefly.

Add in half of flour and mix until just combined. Scrape the bottom and sides of the bowl and add in the remaining flour until just combined. Fold in nuts or mini chocolate chips (if using).

Divide the batter equally amongst the 12 muffins, filling almost to the top of the muffin tin.

Bake in the preheated oven for 5 minutes. Reduce oven temperature to 350 degrees and continue baking another 15-17 minutes, until a toothpick inserted into the center comes out clean.

Let muffins cool for 5 minutes in the pan before removing and transferring to a wire rack to cool completely.
Notes
Optional Cinnamon Sugar Topping:
1/2 cup sugar
1/2 teaspoon ground cinnamon
Stir together in a small mixing bowl. Sprinkle onto the batter after it is spooned into the tins.
Nutrition
Serving:
1
muffin
|
Calories:
309
kcal
|
Carbohydrates:
52
g
|
Protein:
5
g
|
Fat:
10
g
|
Saturated Fat:
4
g
|
Polyunsaturated Fat:
1
g
|
Monounsaturated Fat:
3
g
|
Trans Fat:
1
g
|
Cholesterol:
42
mg
|
Sodium:
155
mg
|
Potassium:
267
mg
|
Fiber:
3
g
|
Sugar:
32
g
|
Vitamin A:
224
IU
|
Vitamin C:
4
mg
|
Calcium:
81
mg
|
Iron:
2
mg