Use up all those summer zucchini in this easy and healthy zucchini bread recipe. We've amped up the nutrition and kept it tasting better than ever!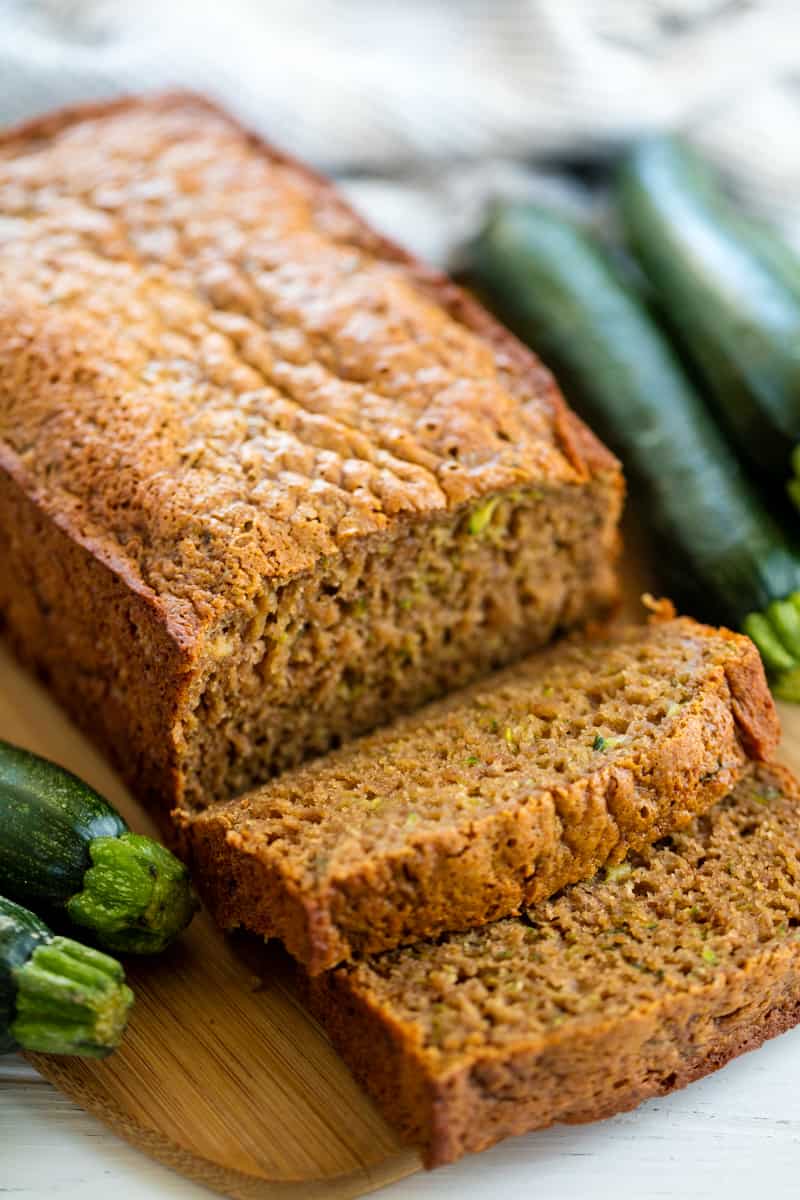 Zucchini bread is a summer-time staple when zucchini are in abundance. We've taken a classic zucchini bread and amped up the nutrition to include whole wheat, no oil, and used honey as a sweetener instead of sugar. Yet this recipe still produces a moist slice of zucchini bread that people will love. Be sure to check out our substitution options to customize this recipe for your needs.
Substitution Options:
Applesauce: Instead of applesauce you can use vegetable oil, melted butter, or melted coconut oil in the same amount.
Egg: There are several options for replacing egg in this recipe:

1/4 cup of plain yogurt, per egg
1 tablespoon vinegar + 1 teaspoon baking powder, whisked together, per egg
1/4 cup mashed banana, per egg
1/4 cup unsweetened applesauce, per egg

Honey: Instead of honey you can use sugar, agave, or maple syrup in the same amount or use a sugar replacer. For Stevia use 1 teaspoon Stevia plus an additional 3/4 cup applesauce.
Flour: This recipe uses a combination of white all-purpose and wheat flour. You can use all white flour in this recipe or all whole wheat. The whole wheat will be more dense. This recipe has not been tested with gluten-free flour options. If you attempt to make this recipe gluten-free, we recommend starting with a gluten-free flour blend that is meant to replace all-purpose flour cup for cup.
Do I need to peel the zucchini?
No, you do not need to peel the zucchini. You can peel the zucchini if you really want to, but there is no need and it would be a waste of time. This is because the grated zucchini gets softer when you bake it making the skin of the zucchini perfectly softy.
Do I need to squeeze the water out of the zucchini?
Zucchini contains a lot of liquid, but this recipe is designed to account for this extra liquid. You do not need to squeeze your zucchini or attempt to drain the water out. Simply grate the zucchini and use in the recipe.

How many zucchini do you need for 1 cups shredded?
Because all zucchini are different sizes this a hard question to answer. 1 medium-sized zucchini should yield you about 1 cup of grated zucchini. That being said it is always better to be on the safe side. If you can buy two medium zucchini or 1 large zucchini you will be better off.
If you like this recipe, then you may be interested in these other delicious quick bread recipes: