Delicious zucchini stuffed with Mediterranean flavors like olive, feta, and roasted red bell pepper. You'll love this stuffed zucchini!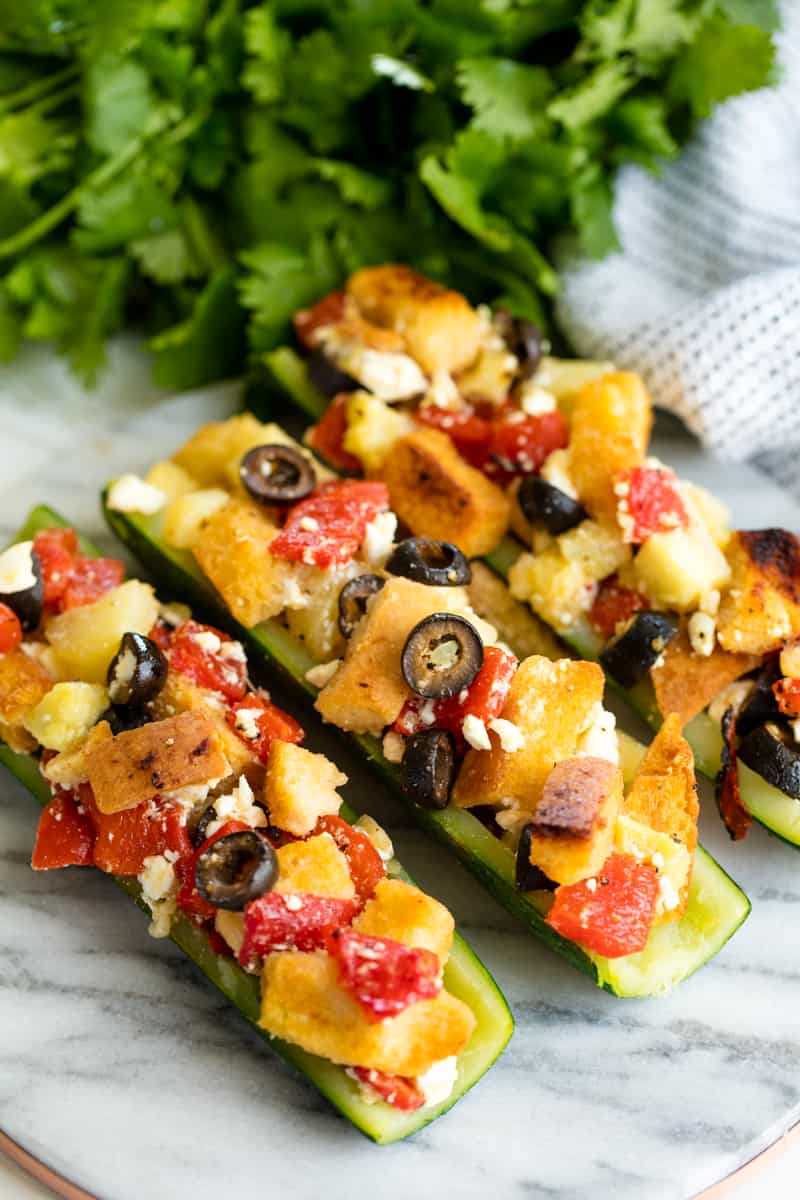 What does zucchini do for your body?
Zucchini can be very healthy for you and can support a healthy body. It is a fantastic source of manganese, vitamin C, and dietary fiber which can help the body stay in great shape. Zucchini also gives the body vitamin A, folate, potassium, copper, and phosphorus.
Is a zucchini a fruit or a vegetable?
Technically zucchini is a fruit and is a botanical berry called a pepo. That being said in the culinary world, zucchini is treated like a vegetable. It is basically in the same boat as the Tomato, it is a fruit but does not work well with a fruit salad.
Is zucchini and cucumber the same thing?
Cucumbers and zucchini are not the same things but they are very similar. They are both part of the gourd family, Cucurbitaceae, but are different genera. Even though they are close, cucumbers will not work for this recipe.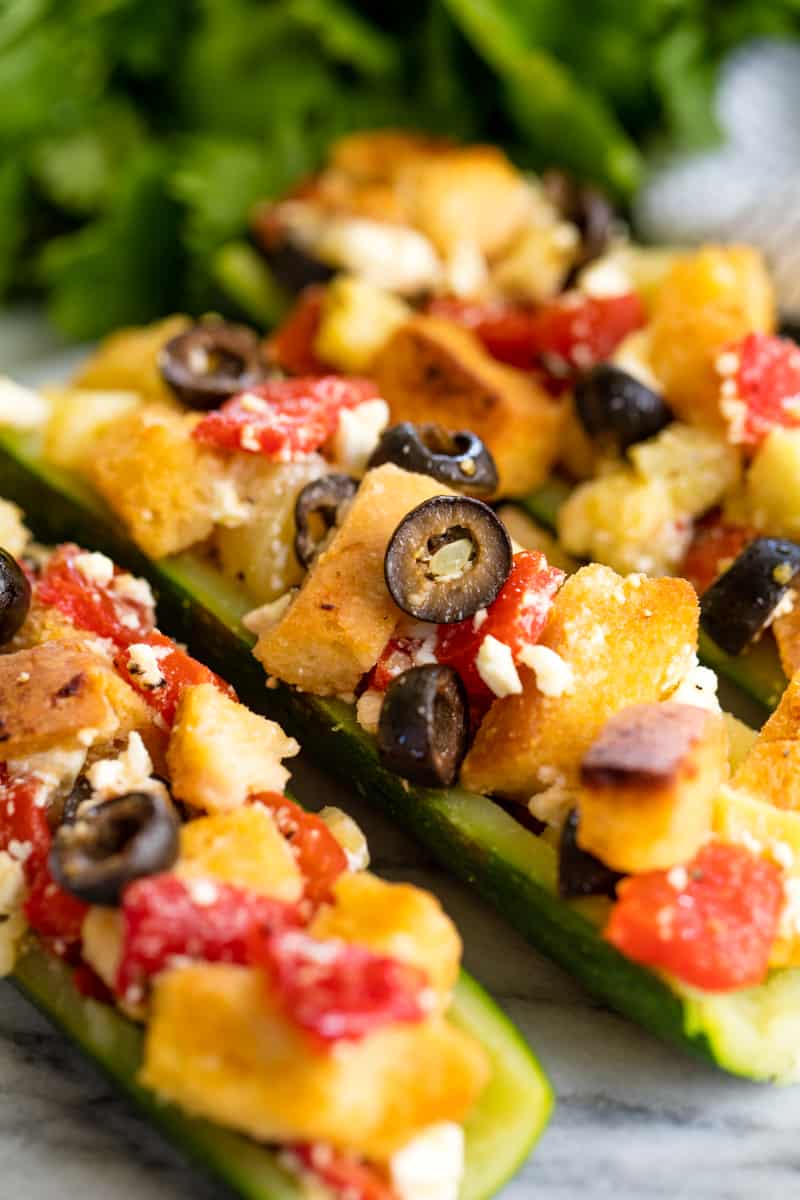 Can you eat the skin of a zucchini?
Yes, you can eat the skin of a zucchini for the most part. For the average size zucchini, the skin is perfect to eat but should be washed well be for you take a bite out of it. For larger zucchini, I recommend that you peel the skin because it can be bitter.
If you liked this recipe, you may be interested in these other delicious zucchini recipes:
Watch the video below where Rachel will walk you through every step of this recipe. Sometimes it helps to have a visual, and we've always got you covered with our cooking show. You can find the complete collection of recipes on YouTube, Facebook Watch, or our Facebook Page, or right here on our website with their corresponding recipes.
Mediterranean Stuffed Zucchini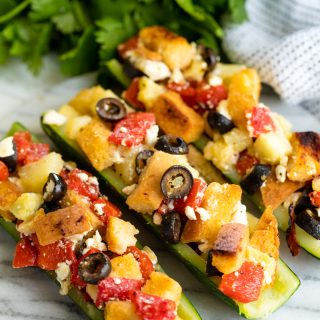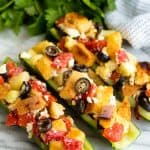 Delicious zucchini stuffed with Mediterranean flavors like olive, feta, and roasted red bell pepper. You'll love this stuffed zucchini!
Ingredients
4

zucchini squash

1

cup

diced roasted red bell pepper

2

cups

garlic croutons

1/4

cup

sliced black olives

1/2

cup

crumbled feta cheese

1

lemon

juiced

2

tablespoons

extra virgin olive oil

1/2

teaspoon

salt

1/2

teaspoon

black pepper
Instructions
Bring a medium-sized pot of water to a boil. Slice the ends off your zucchini and then slice them in half lengthwise. Place the zucchinis in the pot of boiling water and boil for 5 minutes. Remove from the water and pat dry.

Scoop out the flesh of the zucchini leaving the sides to form a boat. Place the boats onto a lightly greased baking sheet.

Combine the red bell peppers, croutons, olives, and feta in the mixing bowl with the zucchini flesh. Pour in the lemon juice and olive oil. Season with a little salt and pepper. Stir to combine.

Scoop the mixture into the zucchini boats filling them as full as possible. You will probably have some leftover mixture which can be enjoyed by the spoonful.

Place the stuffed zucchinis under a broiler for 3-5 minutes to crisp up the croutons until lightly browned. Serve hot.
Nutrition
Calories:
118
kcal
|
Carbohydrates:
11
g
|
Protein:
3
g
|
Fat:
7
g
|
Saturated Fat:
2
g
|
Cholesterol:
8
mg
|
Sodium:
376
mg
|
Potassium:
328
mg
|
Fiber:
2
g
|
Sugar:
3
g
|
Vitamin A:
835
IU
|
Vitamin C:
48.5
mg
|
Calcium:
75
mg
|
Iron:
0.9
mg