Wondering what to do with all of that leftover Thanksgiving turkey? Turkey pot pie is made with tender cooked vegetables in a homemade sauce and – of course – juicy turkey; it's hearty, filling, and warm. Perfect for those colder months.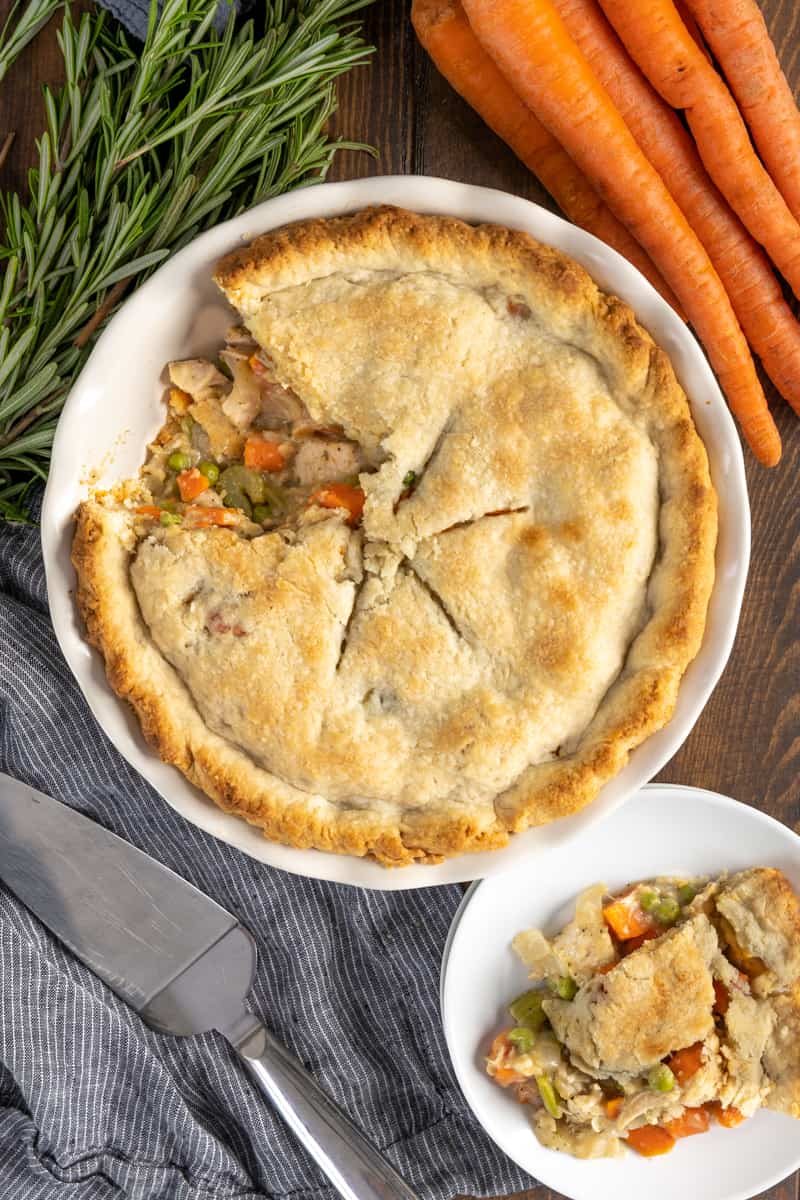 The Stay At Home Chef house cannot get enough chicken pot pie! It is one of our top ten favorite meals ever. While the classic recipe is always a hit, we've found that using leftover Thanksgiving turkey makes it even better. We know, everyone loves a good turkey sandwich, but the turkey tastes even better with tender vegetables cooked in that amazing homemade sauce and topped with a buttery crust. This is the perfect easy meal after all of that holiday cooking. Perhaps best of all, your leftover turkey will never go to waste again!
Pie Crust:
You'll need pie crust for both the bottom and top of your leftover turkey pot pie recipe. We have a great recipe for a homemade fool proof pie crust. You can also use a store-bought pie crust — no judgment!
Troubleshooting: Soggy Bottom
Soggy bottom should not be a concern with this recipe. However, if a soggy crust is a concern, you may consider pre-baking it for a few minutes before you add in the pot pie filling. Place the pie crust in the pie dish, then put a layer of parchment paper over it. Add some uncooked beans to weigh it down and pop it in the oven at 375 degrees F. Allow it to cook for 10 minutes, then immediately apply an egg wash all over. This creates an extra layer between the crust and the filling, which helps block out moisture.
Vegetable Options For Turkey Pot Pie:
We recommend using standard pot pie vegetables in your leftover turkey pot pie recipe. This includes onion, celery, carrots, and peas. You can also feel free to get creative — this is a great empty-the-fridge dish. Remember, it's all about reducing food waste! Here are some other veggies you could use:
Potatoes
Mushrooms
Cauliflower
…or basically, any other vegetable that you want to make use of!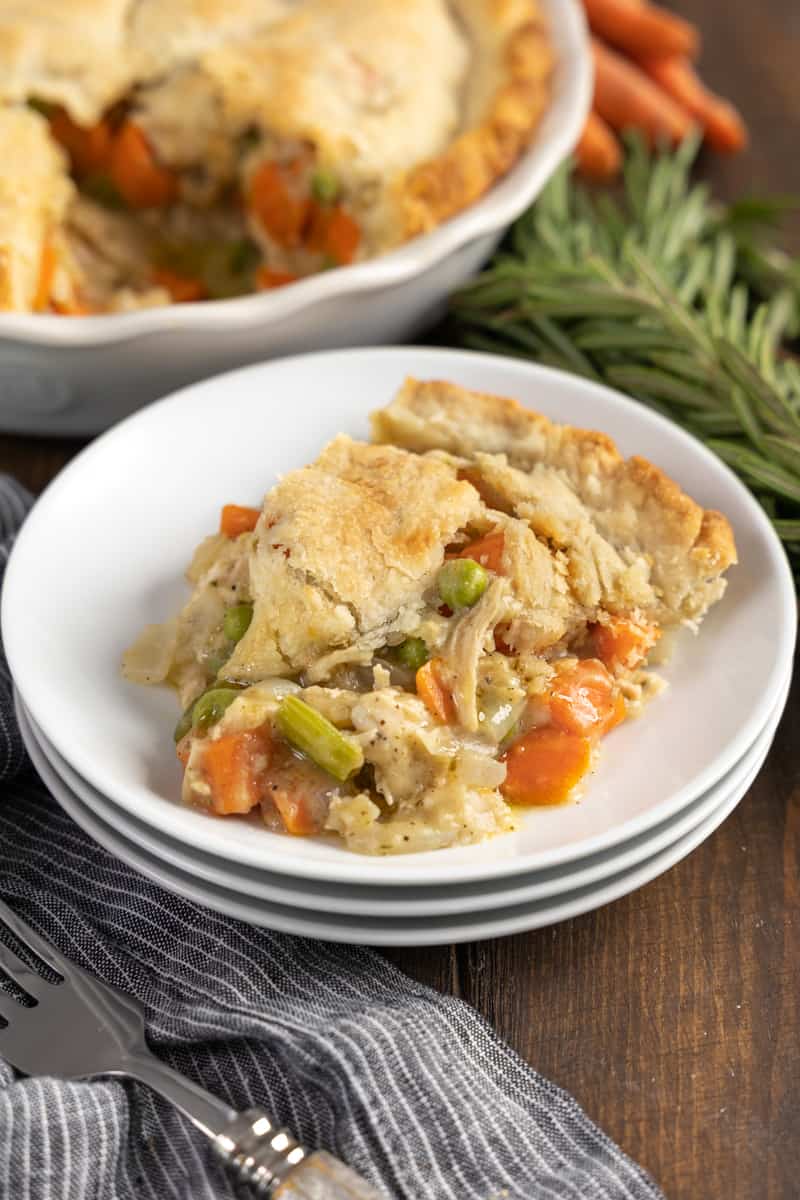 Storage and Reheating Instructions:
You can store any leftovers in an airtight container in the fridge for up to 4 days. To reheat, place single servings in the microwave and heat at 30-second increments until warmed through. You can also reheat leftovers in your oven at 325 degrees F until warmed through, about 10-15 minutes.
Freezing Instructions:
This recipe freezes wonderfully. Assemble your pot pie as directed in the recipe and freeze immediately. Thaw in the fridge overnight before baking. Preheat oven to 425 degrees Fahrenheit. Bake uncovered for 15 minutes. Cover pot pie with aluminum foil – to prevent the crust from burning – and continue baking until the center is hot, about 30 -35 minutes more.
If you like this recipe, you may be interested in these other delicious turkey recipes: