This Turkey Meatloaf recipe doesn't sacrifice any flavor. It's easy to make and is topped off with the most delicious glaze! Your family will love this heart healthy version of a classic American dinner.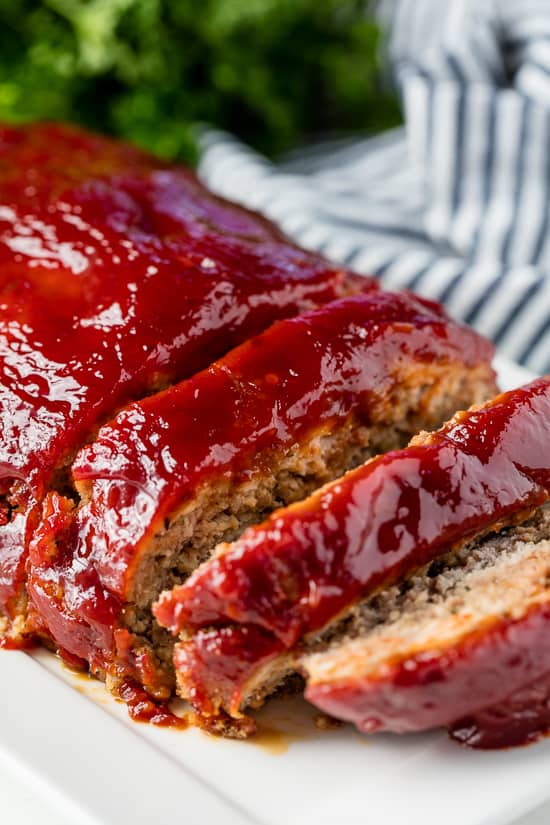 Millions of people are already familiar with our recipe for Mozzarella Stuffed Meatloaf, and one of the most common requests we get is to develop a turkey meatloaf. We get it, red meat isn't for everyone. So whether you are looking for a healthier meatloaf recipe for dietary or personal reasons, this is the one for you. While it might actually be healthier than a standard meatloaf, it certainly doesn't taste healthy. Can you stuff this recipe with cheese? Absolutely! But today we've kept it a straight up old fashioned meatloaf — turkey style!
Is ground turkey good for you?
That is a loaded question without a firm answer. Ground turkey comes in several different fat ratios, just like ground beef. Choosing a leaner turkey can have less saturated fats and cholesterol than ground beef. You will have to compare nutrition labels at your grocery store to be able to get an accurate comparison of the ground turkey you are buying versus the ground beef. As with most things, ground turkey can be a part of a well balanced, healthy diet.
Turkey Meatloaf Cook Time:
Turkey meatloaf needs to be cooked to an internal temperature of 165 degrees Fahrenheit for food safety. This should take approximately 1 hour for a two pound meatloaf baked at 350 degrees Fahrenheit. However, if you use more than 2 pounds you don't need to double your cooking time. Add approximately 30 minutes for each additional pound of turkey.
Dark vs. White Meat:
You can be flexible with fat ratios on the ground turkey you use in this recipe. We used a combination of one pound of lean, white turkey and one pound of darker, less lean turkey. Having a little dark meat produces a more moist meatloaf, which is always our preference. This recipe absolutely works with 100% lean white meat turkey, or 100% dark meat. Whatever you go with will produce a delicious result.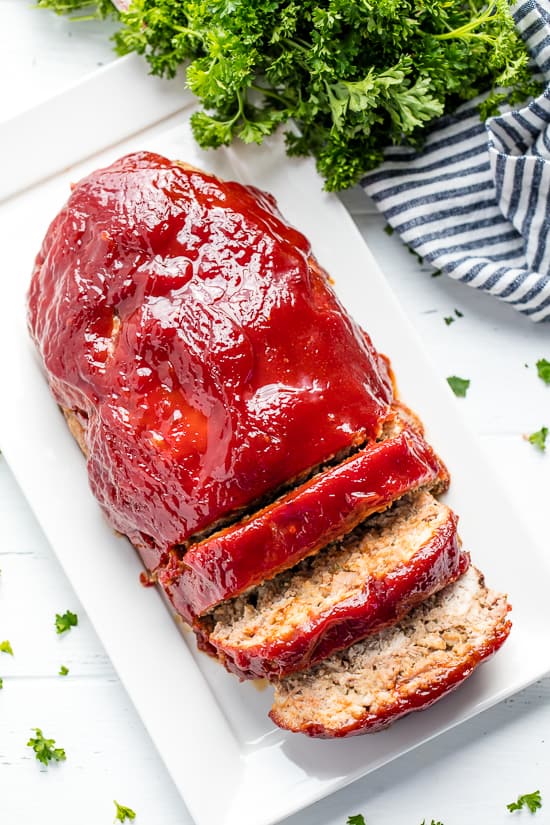 Storage and Reheating Instructions:
Turkey meatloaf is best eaten fresh. You can store leftovers in an airtight container in the refrigerator for up to 5 days. Reheat single serving portions in the microwave in 30 second increments until warmed through.
If you like this recipe, you may be interested in these other delicious dinner recipes:
Watch the video below where Rachel will walk you through every step of this recipe. Sometimes it helps to have a visual, and we've always got you covered with our cooking show. You can find the complete collection of recipes on YouTube, Facebook Watch, or our Facebook Page, or right here on our website with their corresponding recipes.