This Sugar Cookie recipe is absolutely divine, with a perfectly soft sugar cookie every single time. This is the only sugar cookie recipe you'll ever need!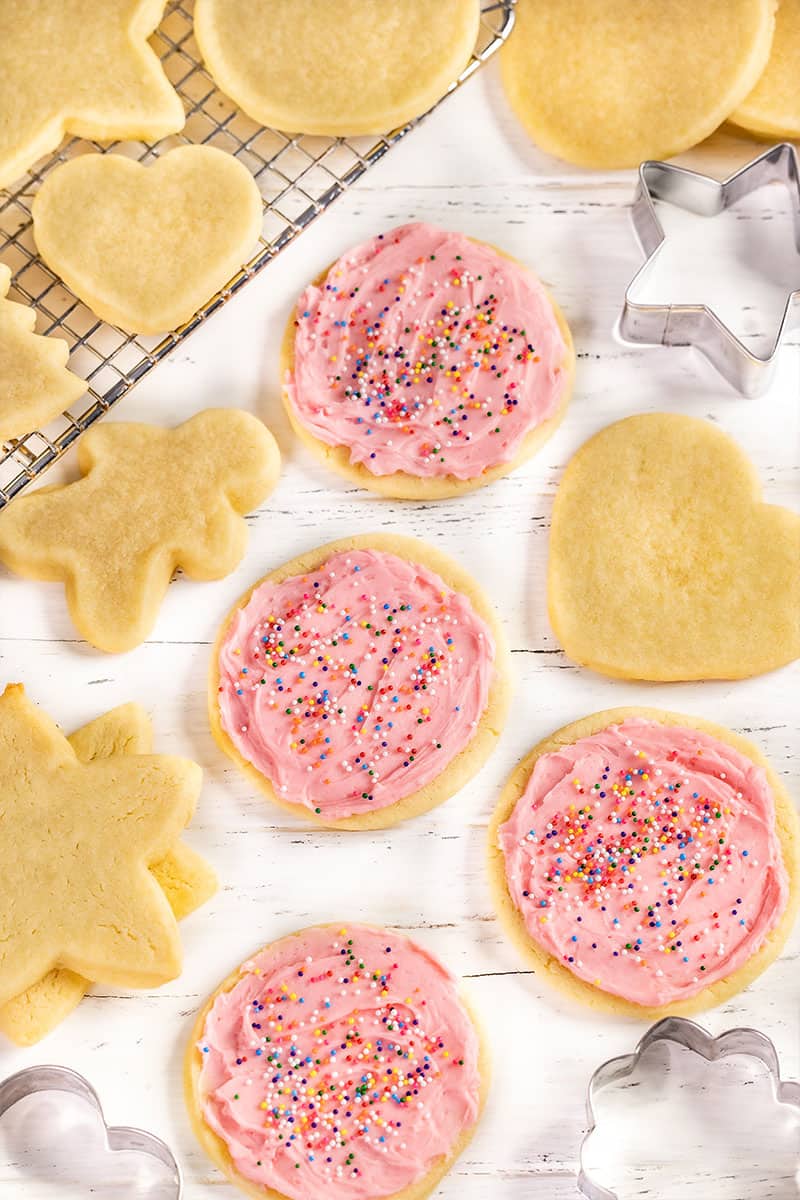 This is THE sugar cookie recipe that we will use forever and ever. It is absolutely fool proof for a perfectly soft sugar cookie every single time. This recipe allowed us to stop bending to kid pressure, buying pre-packaged pink frosting sugar cookies at the grocery store every week. While we like our kids snacking on fresh fruit and raw veggies, we are happy to indulge them from time to time, and we can feel good about making these from scratch and knowing exactly what goes into their cookies.
Do I need to use a stand mixer?
You can use a stand mixer or a hand mixer to make sugar cookie dough.
Shaping:
Sugar cookies that keep their shape require refrigeration of the dough. Once the dough is made, wrap it in plastic wrap and refrigerate for at least 1 hour. This allows the fats in the dough to re-solidify, which prevents spreading during baking. Roll the refrigerated dough out 1/4 to 1/2 inch thick. Cut out your desired shapes and place on a prepared baking sheet. If you want the cookies to retain their shape as perfectly as possible, return the cut cookies to the fridge for at least 30 minutes more before baking.
The great thing about this recipe is that you can either do drop cookies (no dough refrigeration required!) or you can do rolled cookies with cookie cutters. All with the exact same recipe.
How to Decorate Perfectly Soft Sugar Cookies:
You can decorate sugar cookies with a simple buttercream frosting and sprinkles or go for a more intricate design with icing. You can use a simple powdered sugar icing by whisking together 1 cup of powdered sugar with 1/2 teaspoon of vanilla extract and 1 to 2 tablespoons of milk. For the most intricate designs, it is best to use a royal icing. With any of these options, you can use food coloring to dye your frosting the colors you desire. Gel food colorings are the easiest to work with and create the most vibrant colors.
Why do I need to use corn syrup? Can I leave it out?
The corn syrup helps to keep the cookies chewy, but if you don't like corn syrup, you can omit it. Just note that corn syrup is not the same ingredient as high fructose corn syrup. They are completely different products.
Almond Extract:
This sugar cookie recipe has a mild flavoring. For a strong flavor, double the amount of almond extract. The extra 1/4 teaspoon of almond extract may seem like a small amount, but it provides a strong flavor.
Pro Tip:
The key to soft sugar cookies is to include a small amount of cream cheese as well as corn syrup. This combination creates the perfect soft and chewy sugar cookie that everyone always loves.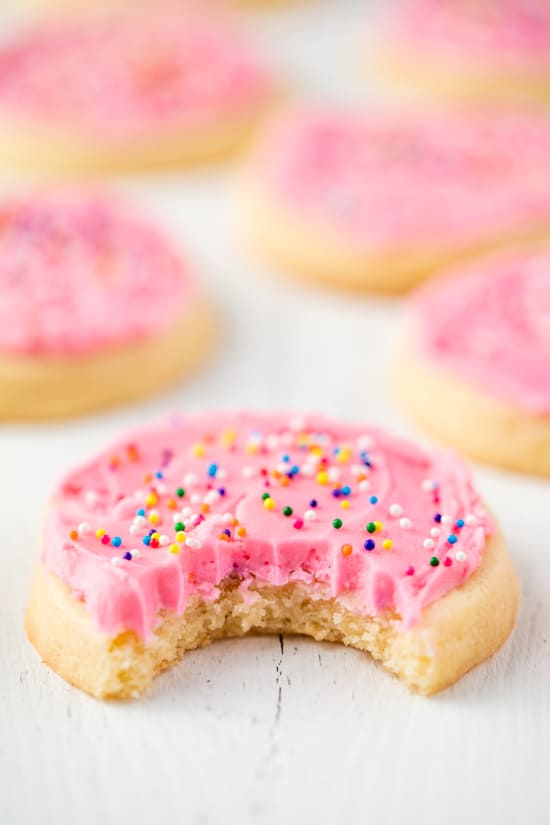 Storage Instructions:
Store your cookies in an airtight container at room temperature for up to 1 week.
If you like this recipe, you may be interested in these other delicious holiday cookie recipes: