This Sugar Cookie recipe is absolute perfection with a perfectly soft sugar cookie every single time. It's the perfect easy sugar cookie recipe for every occasion!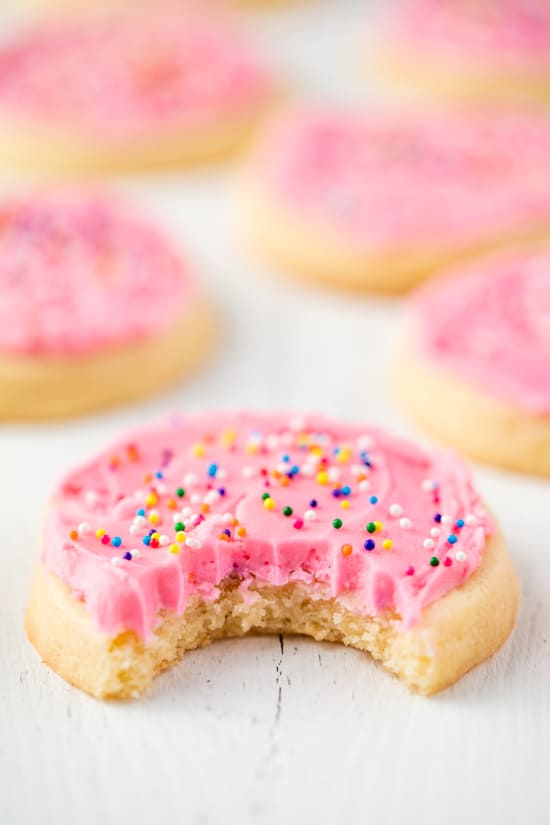 This is THE sugar cookie that I will use forever! It's absolutely fool proof for a perfectly soft sugar cookie every single time. The great thing about this recipe is that you can either do drop cookies (no dough refrigeration required!) or you can do rolled cookies with cookie cutters. All with the exact same recipe.
How do you make sugar cookies from scratch?
Making sugar cookies from scratch is very easy. You can use a stand mixer or a hand mixer to make the dough.
How do you get sugar cookies to keep their shape?
Sugar cookies that keep their shape require refrigeration of the dough. Once the dough is made, wrap it in plastic wrap and refrigerate for at least 1 hour. This allows the fats in the dough to re-solidify which prevents spreading during baking. Roll the refrigerated dough out 1/4 to 1/2 inch thick. Cut out your desired shapes and place on a prepared baking sheet. If you want the cookies to retain their shape as perfectly as possible, return the cut cookies to the fridge for at least 30 minutes more before baking.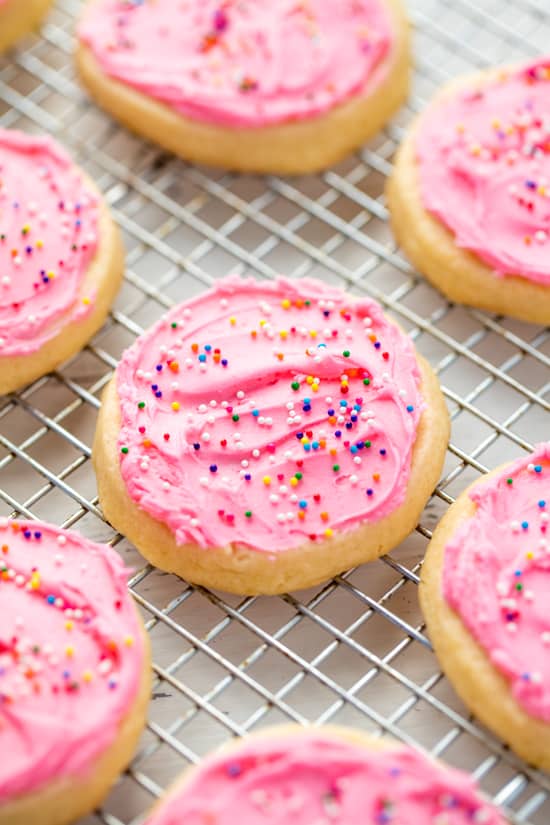 How do you make soft sugar cookies?
The key to soft sugar cookies is to include a small amount of cream cheese as well as corn syrup. This combination creates the perfect soft and chewy sugar cookie that everyone always loves.
What do you use to decorate sugar cookies?
You can decorate sugar cookies with a simple buttercream frosting and sprinkles or go for a more intricate design with icing. You can use a simple powdered sugar icing by whisking together 1 cup of powdered sugar with 1/2 teaspoon of vanilla extract and 1 to 2 tablespoons of milk. For the most intricate designs, it is best to use a royal icing. With any of these options, you can use food coloring to dye your frosting the colors you desire. Gel food colorings are the easiest to work with and create the most vibrant colors.
For a fun Christmas version of this recipe check out my Spiral Christmas Sugar Cookies. I've taken this recipe, layered it with colors, and rolled it into a spiral swirl. You could do this with other colors to make them special for any occasion or holiday.
PRO TIP: This sugar cookie recipe has a mild flavoring. For a strong flavor, double the amount of almond extract. The extra 1/4 teaspoon of almond extract may seem like a small amount, but it provides a strong flavor.
Watch the video below where Rachel will walk you through every step of this recipe. Sometimes it helps to have a visual, and we've always got you covered with our cooking show. You can find the complete collection of recipes on YouTube, Facebook Watch, or our Facebook Page, or right here on our website with their corresponding recipes.