Strawberry Spinach Salad is packed with nutrient-loaded fresh fruits and veggies. Leafy spinach, juicy strawberries, crunchy onions, and a touch of salty bacon and feta marry wonderfully with our sweet yet tangy homemade poppy seed dressing.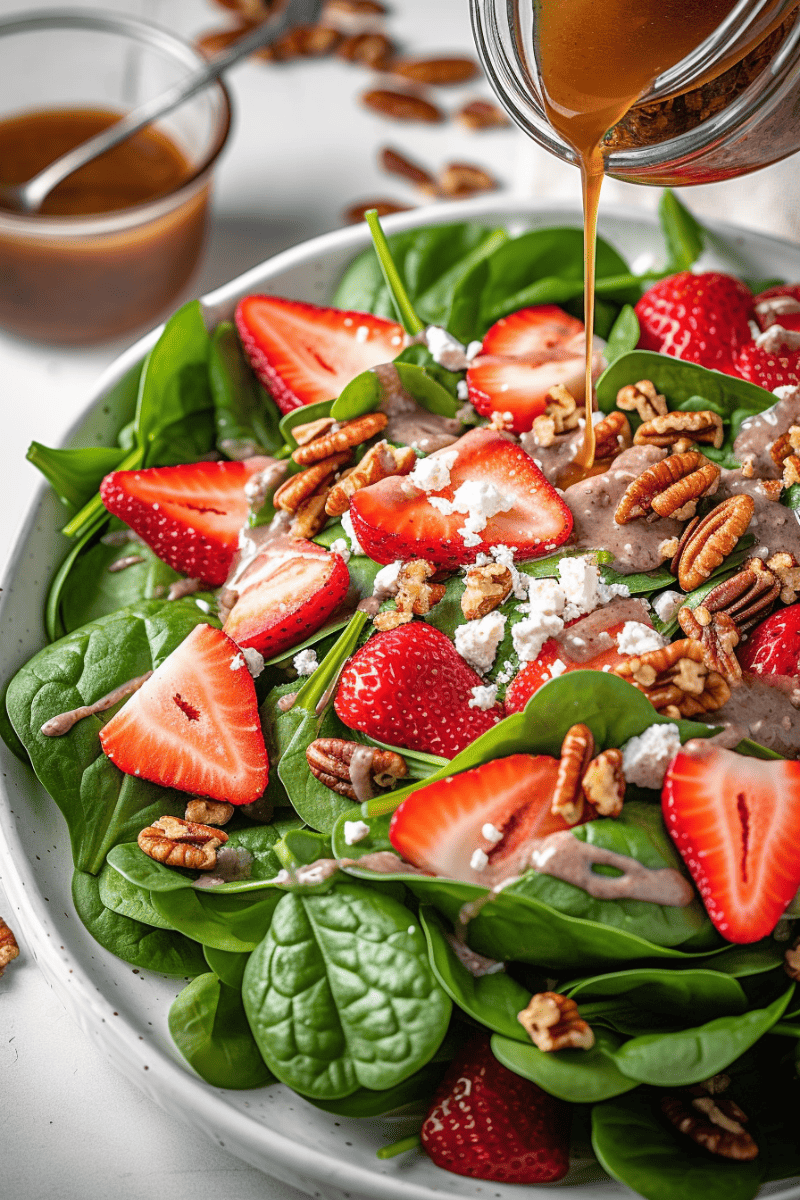 If you're looking for a fresh dish that incorporates fruit, vegetables, a bit of bacon, feta, and crunchy candied pecans, you came to the right place! This strawberry spinach salad recipe is simply bursting with flavor and color – just the way we like it. Healthy eating doesn't have to be boring, and recipes like this one are delicious proof. Plus, when you candy your pecans yourself, it takes everything up a notch. The homemade poppy seed dressing is another add-on that you don't want to skip. You could opt for store bought if you're in a crunch, but made from scratch dressing holds a place near and dear to our hearts. However you decide to enjoy it, you'll be surprised at just how delicious this flavor combination is!
Raw Spinach:
There tends to be some confusion around which types of vegetables you can eat raw and which you can't – or just aren't that tasty! You've likely already seen plenty of spinach salad or spinach salad with strawberries recipes floating around out there. That's because raw spinach is perfectly safe to eat! Opt for small-leaf varieties for the best taste. Larger and older leaves are better cooked.
Candied Pecans:
One of the best parts about this spinach salad with strawberries is the candied pecans. You can technically find these at the supermarket, but like the homemade poppy seed dressing, it's so much better when you do it yourself!
Bacon:
If you don't eat bacon for personal, dietary, or religious reasons, you can always leave it out.
Can I Use Another Kind of Fruit in Strawberry Spinach Salad?
While strawberries are clearly the star of this spinach salad with strawberries recipe, you could use another type of fruit. You should try to opt for another berry if you want a similar flavor profile. Blueberries, raspberries, or blackberries would be delicious. For a nutrient-packed meal, use a combination of several!
Add-Ins and Substitutions:
There are so many ways to customize this salad to your own personal taste preferences! You can replace the feta with goat cheese, ditch the onion if you don't like them, and even swap out the pecans for almost any other nut. Try almonds, walnuts, or sunflower seeds. You can also feel free to add in some croutons for even more added crunch. And again, you can always sub in for store-bought dressing if you're in a pinch.
Serving Suggestions:
You can enjoy this dish as a light lunch or dinner on its own, or you could beef up the recipe to eat as a main course. Feel free to add in more protein like chicken or you could incorporate a grain such as quinoa or pasta. Farro works well too.
Alternatively, this is a fantastic side dish. Pair with grilled chicken or seafood, or even alongside burgers. Pizza would work well too! A little bit of artisan bread on the side of your strawberry spinach salad is a nice addition. It's a great side to bring along to family parties, get-togethers, or barbecues. That said – we like to enjoy this dish all year long!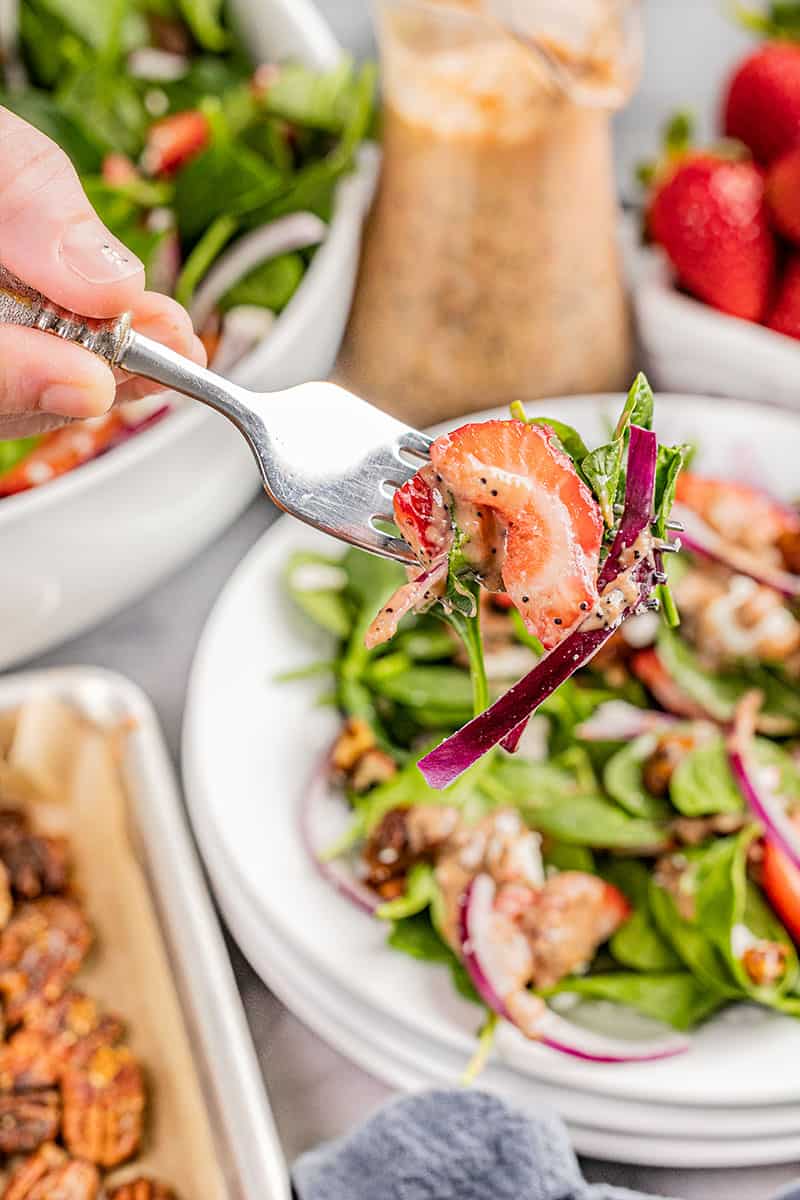 Make-Ahead and Storage Instructions:
If you are making this strawberry spinach salad for an upcoming party, or if you simply hope to plan your meals for the week, you can easily prep it ahead of time. Make the candied pecans and chop all of your ingredients – except the strawberries, you're going to want to add those right before serving. You can keep the ingredients in the fridge for a few days. When you're ready to serve, place everything in a bowl and mix. Cut the strawberries and add. Serve with the dressing on the side, or add it right before you're ready to eat.
This dish is best enjoyed fresh. If you do have some leftovers, you can place them in an airtight container in the fridge for up to four days. It will keep better if you opt to leave the dressing on the side. If you have any leftover poppy seed dressing, you can store it in an airtight container in the refrigerator for up to 5 days.
If you like this recipe, you may be interested in these other delicious salad recipes: