Spinach artichoke dip is cheesy, creamy, and full of flavor. This recipe comes together so quick and easy, thanks to our beloved slow cooker. You're gonna love this one!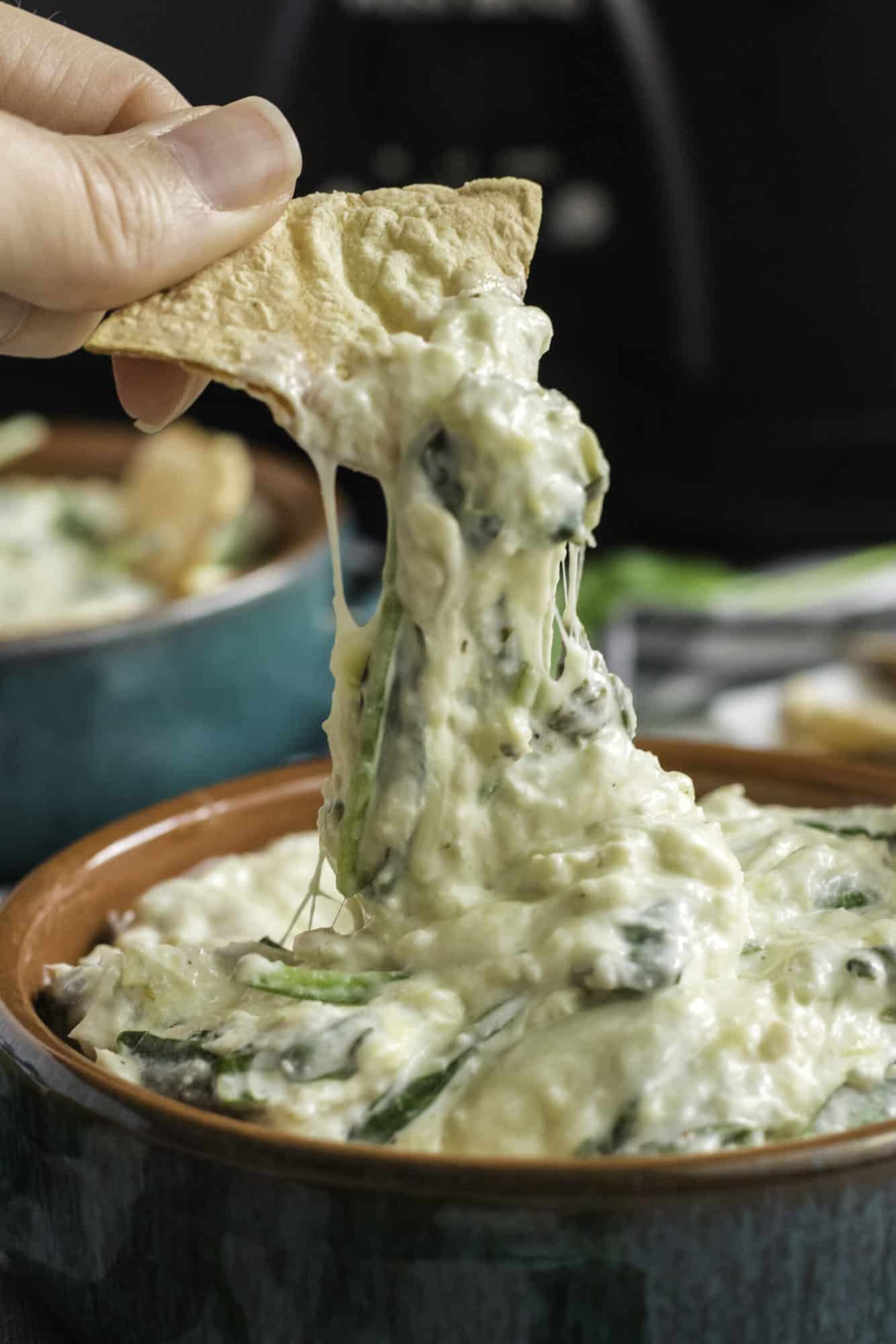 Today we are recreating one of our favorite appetizers, slow cooker style. We love our original cheesy spinach artichoke dip, but everyone loves slow cookers. They allow us to easily throw it all together while the slow cooker does the work to make something delicious. The mistake that can be made here is that not everything was meant for the slow cooker, and sometimes you just have to get by the old fashioned way.
Luckily for us all, spinach artichoke dip was tailor made for the slow cooker. Get everything ready in the morning and then get on with your life! Come back in a couple of hours to the most amazing smell filling your home. We seriously can't get enough, and you won't be able to either. You'll be looking for any excuse possible to whip up a batch of this, but if you find yourself alone on a Tuesday night eating this with a wooden spoon, we won't judge. We'll be doing the exact same thing.
Fresh vs. Frozen Spinach:

It is entirely up to you which you prefer, fresh or frozen spinach. If you want to use frozen spinach, you would only need 5oz to equal the 10oz of fresh spinach called for in this recipe. Make sure your frozen spinach is thawed completely and drained before using.

Our favorite dippers for slow cooker spinach artichoke dip:

There are so many great dippers for spinach artichoke dip! Keep it in the bread family with chunks of sourdough bread, pita bread, a toasted baguette, or even crackers or tortilla chips. If you would like something lighter, crisp raw veggies would be delicious as well!

Storage and reheating instructions:

Store any leftovers in an airtight container in the refrigerator for up to 4 days. If desired, reheat on the stovetop in a saucepan over medium-low heat until warmed through.
If you like this recipe, you may be interested in these other delicious appetizer recipes: