Ooey gooey Queso Fundido is made in just one skillet with chorizo, poblano peppers, and the perfect blend of melted cheese. It's easy to make, yet worthy to serve in a restaurant! Grab some chips and enjoy!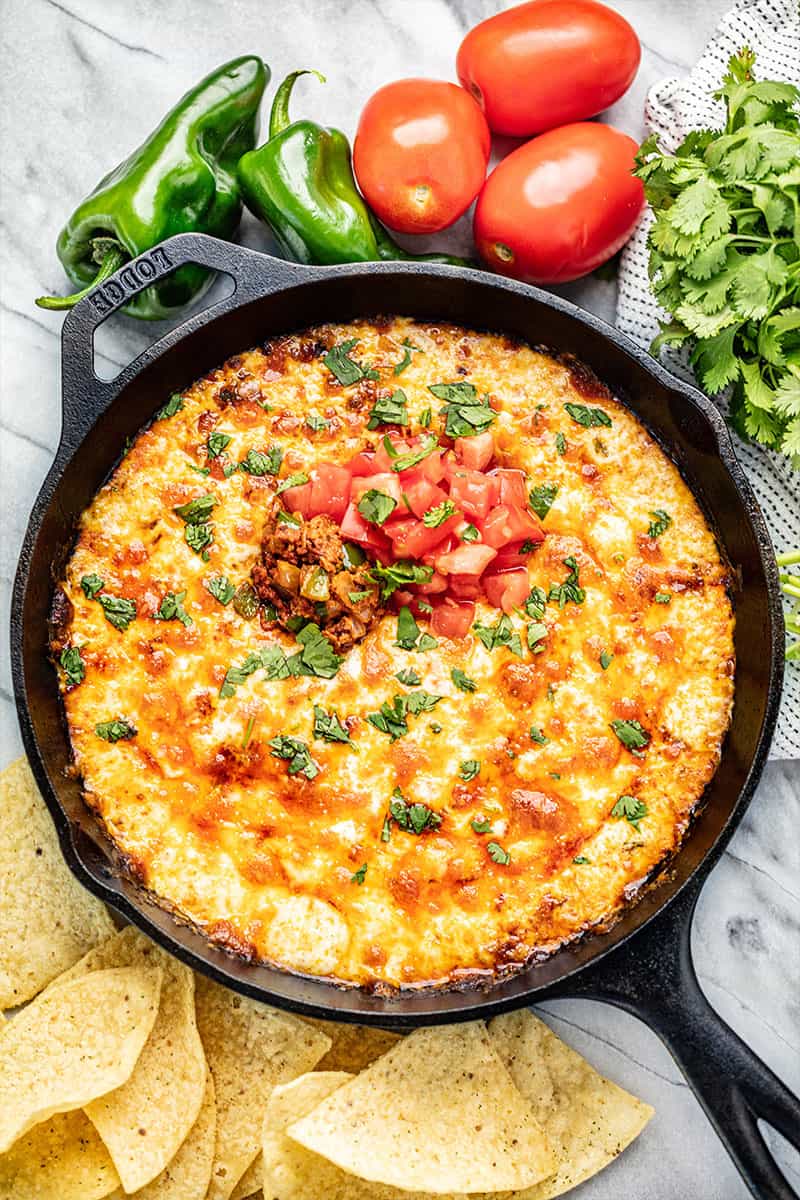 Do you love to order queso at your favorite restaurant and see that little skillet of sizzling cheese come to your table with all of the fun add-ins and chips? Wait until you try this queso, with the savory, delicious added flavor of Chorizo. This easy, all from scratch recipe is a delicious one-skillet-wonder! It is simply the best, and only takes a few minutes to make. The next time you get crazy for queso, you will know just what to do, and will soon become a queso making pro!
Vegetarian Options:
We know, not everyone eats pork, or even meat in general. You can always substitute chorizo with your favorite plant-based chorizo sausage, typically made from soy.
What is queso fundido?
Queso Fundido is a Mexican style of queso, or melted cheese, that typically calls for some chorizo, onions, and/or peppers folded into it. It is closely related to "Queso Flameado," or Flaming Cheese, which is served flambé, at one's table. Queso Fundido is popularly served at Mexican steakhouses and barbecues with chips and tortillas, as an appetizer.
Cheeses:
The most common cheeses used in authentic, queso fundido are Asadero, Manchego and Chihuahua cheeses. These cheeses are hard to find outside of Mexico. Oaxaca (pronounced "Wah-Haw-Kah") is a staple of Mexico, especially in the state it is named after. It is often called "quesillo," as it is the most abundantly used cheese for things like quesadillas and dishes that call for melted cheese.
All of these cheeses are mild in flavor, and have a stringy texture when melted. Oaxaca is common enough that you should be able to find it at your local supermarket or Latin grocery store. If you can't find Oaxaca or any of the others, Mozzarella and Muenster are similar enough that they can be used as substitutes. If you like a sharper flavor, you can try adding a half a cup of sharp, white cheddar to the mix. Easy, peasy, Mexican cheesy.
Can I make One Skillet Queso Fundido with Chorizo without a cast iron pan?
Yes, you can also make this dish in a regular baking dish. Cook chorizo, onion, and poblano peppers as directed using a regular skillet. Stir in the cheeses and transfer all of this to an un-greased small baking dish, such as a 7×11 pan, 2 quart casserole dish, or even a pie plate.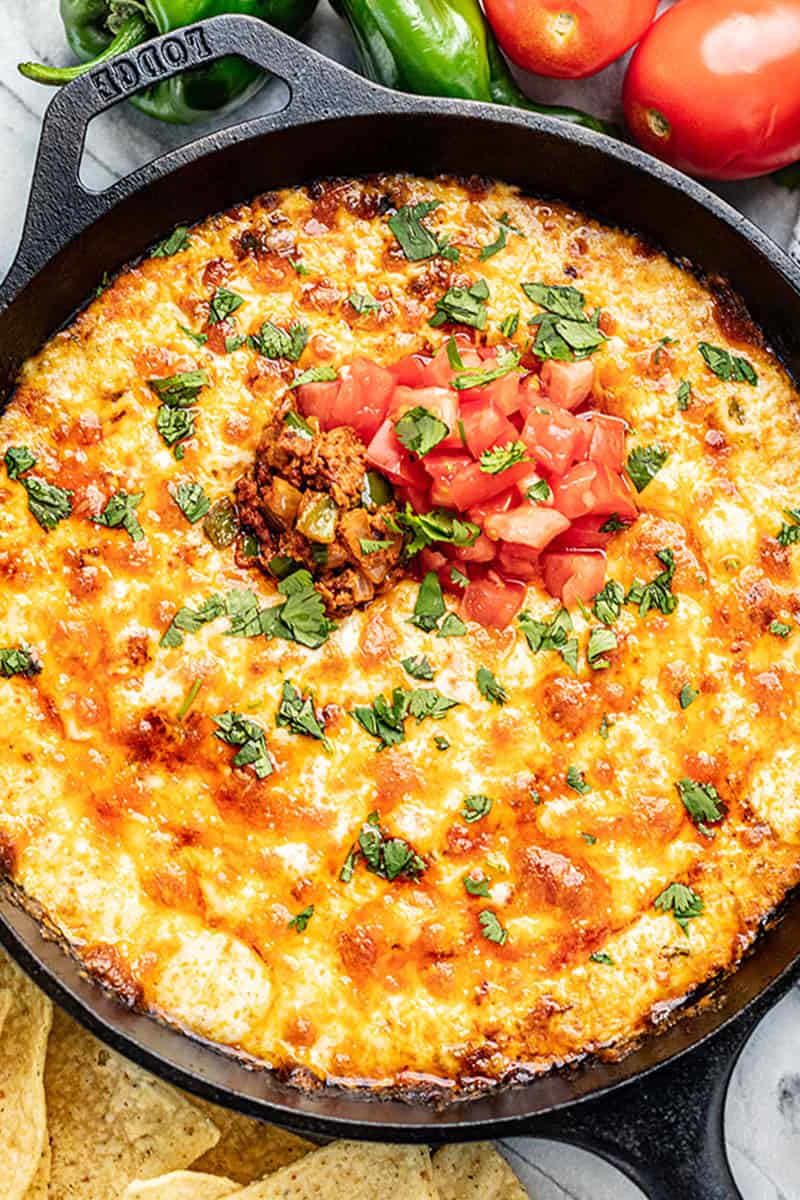 Storage and Reheating Instructions:
Queso fundido is best eaten fresh. You can store any leftovers in an airtight container in the refrigerator for up to 4 days. Reheat in a saucepan over medium-low heat until cheese is melted and warmed through.
If you're in the mood for Mexican food and looking for some ideas to go along with your queso, here are a few recipes, including side dishes and a dessert that make up a whole meal and more:
Watch the video below where Rachel will walk you through every step of this recipe. Sometimes it helps to have a visual, and we've always got you covered with our cooking show. You can find the complete collection of recipes on YouTube, Facebook Watch, or our Facebook Page, or right here on our website with their corresponding recipes.