A cheesy pepperoni pizza dip made with a cream cheese base and topped off with pizza sauce, plenty of gooey cheese, and lots of pepperonis!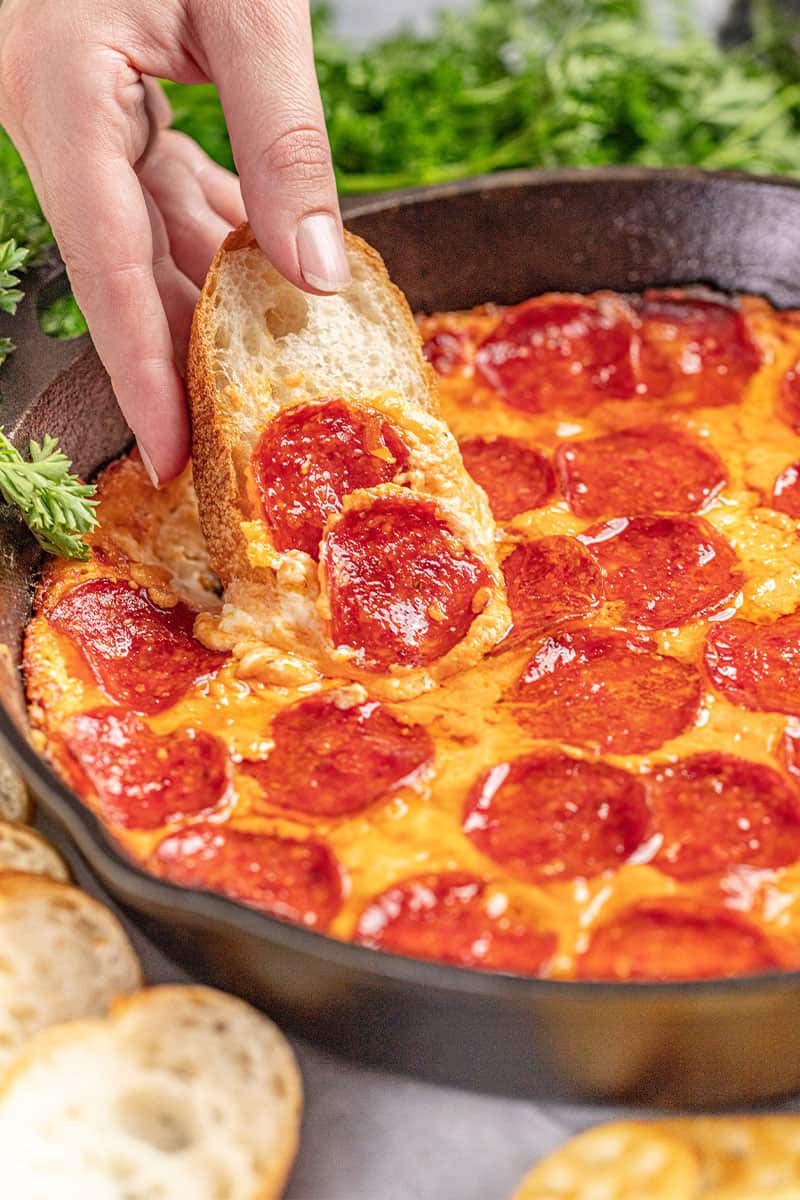 If you are looking for a fun dish to serve up at a party or for Friday movie night, look no further! This Easy Baked Pizza Dip is so easy to make and never fails to please. It comes together quickly and easily and can be baked whenever the time is right. It's made with four different kinds of cheeses and calls for lots of mini pepperonis and marinara sauce. Delicious! This dip is a pizza lover's dream—be sure to follow the dip with some yummy dessert pizza!
Can I add other toppings?
Yes. You can make this dip like any pizza, and add some or all of your favorite toppings. Olives, mushrooms, onion, peppers, and sausage are all great options.
What do you dip in pizza dip?
This pizza dip knows no bounds! It goes great with crackers, chips, bagel bits, french bread, breadsticks, rolls, and even veggies. Trust us, it tastes good on almost anything!
Spice Level:
This dip isn't particularly spicy, but there is a little heat in the pepperonis, and also from the red pepper flakes. You can omit the red pepper flakes if you would like it a little less spicy.
Baking Pan Options:
We made this dish in a 9-inch cast iron skillet. You can also make it in a 9×9 pan, 2 ½ quart baking dish, or even a 9-inch pie plate. 
Make Ahead Instructions:
Simply prepare the pizza dip in advance (don't bake it) and cover tightly with plastic wrap. It will keep for several days in the refrigerator, and then you can pull it out and bake when you are ready to serve. How convenient is that?
A word of caution: A drastic temperature change from cold to hot can actually make some glass dishes shatter, so rather than taking your dish straight out of the refrigerator and putting it right into a 375F oven, we recommend letting it sit at room temperature for 20 minutes or so before baking.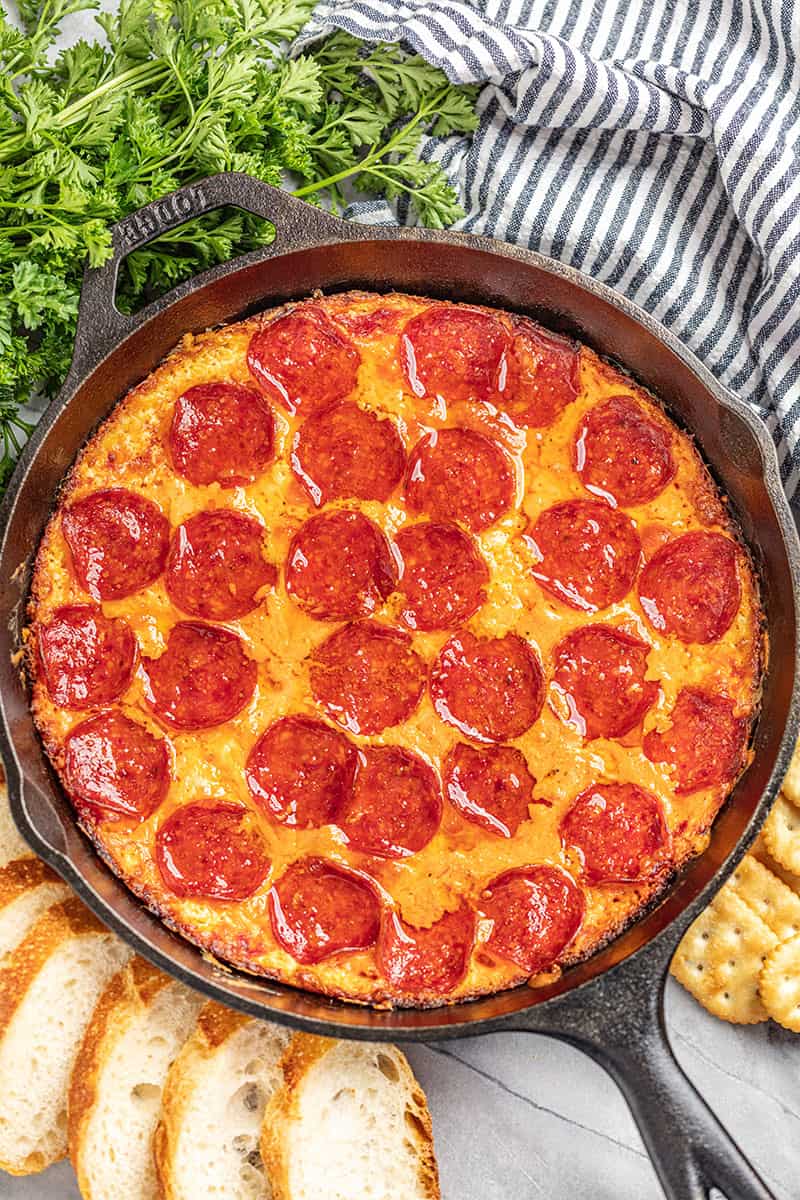 Storage and Reheating Instructions:
Store any leftover pizza dip in an airtight container for up to 3 days. Reheat single serving portions in the microwave in 30 second increments until warmed through.
If you are looking for more great dip recipes, here are some of our favorites:
Watch the video below where Rachel will walk you through every step of this recipe. Sometimes it helps to have a visual, and we've always got you covered with our cooking show. You can find the complete collection of recipes on YouTube, Facebook Watch, or our Facebook Page, or right here on our website with their corresponding recipes.