Fluffy and flavorful pumpkin muffins are made with warm pumpkin pie spices and yummy pumpkin purée. They feature a delicious streusel topping that's bursting with brown sugar and tastes like toffee and molasses. Serve them for breakfast — or as a fun afternoon snack!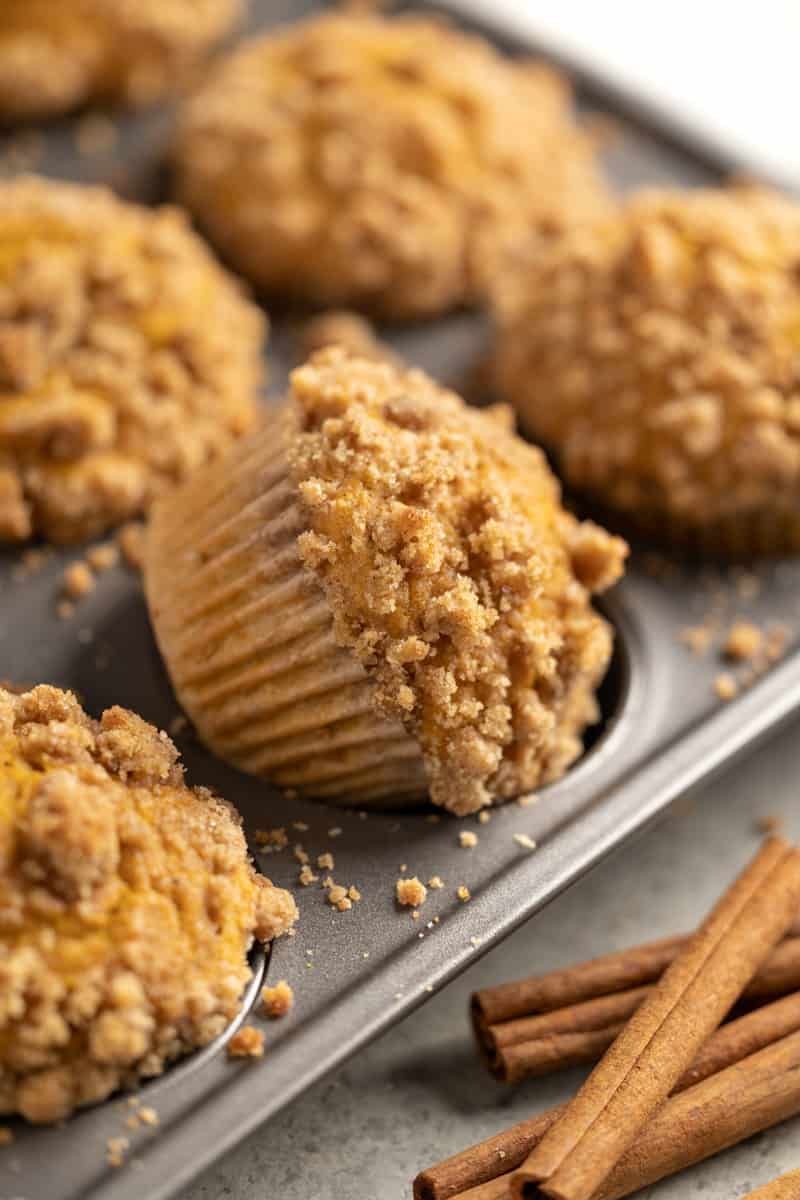 The temperatures are cooling down, the leaves are starting to fall, and the sun is staying out just a bit less than usual…yup, autumn is on its way! And with autumn comes all of the delicious meals associated with it: hearty soups and stews, plus all of the seasonal baked goods that we're sure you love just as much as we do. And, what do many fall-centric baked goods tend to include? Pumpkin of course! We're looking at you, pumpkin-spiced latte lovers. You're going to adore these easy pumpkin muffins. This recipe is just screaming to be made on a rainy afternoon. It's also the perfect snack to make with your kids. It's super easy to put together, and they'll love to help you mix and match the different ingredients. Whether you're looking for something to bring to an upcoming bake sale, a treat for teachers for back-to-school, or you want something sweet to munch on for breakfast (or as a snack, no judgment here!), these pumpkin spice muffins are a real gem.
Is Pure Pumpkin The Same As Pumpkin Purée?
If you're new to baking with pumpkin, you may be unsure of what to look for at the supermarket. Pumpkin purée is sometimes labeled as 100% pure pumpkin, solid pack pumpkin, or even simply pumpkin. What's important here is what's on the ingredient list — you're looking for only pumpkin and definitely not pumpkin pie filling. You don't want to add any unnecessary artificial preservatives, added seasonings, or extra sugar into this recipe.
Baking Dish Options
We're using a standard muffin tin for our easy pumpkin muffins. You can also use a mini muffin tin. We opt to use paper liners that we also coat with cooking spray so that nothing sticks! This is optional. If you want to simply pour the batter into the greased muffin tin on its own, you can do that too, but be aware that a bit may stick. We recommend that you check out our recipe for moist pumpkin bread from scratch if you want to go the bread route instead of muffins!
What Makes A Muffin Light And Fluffy?
Understandably, you want to make pumpkin muffins that are moist, light, and fluffy. One trick that we swear by is making sure that the eggs, butter, and milk are at room temperature before you get started. It's an extra step that is so worth it! You'll end up with a perfectly smooth batter that will expand beautifully as it bakes.
Do I Have To Add The Streusel Topping?
You don't have to, but we will say this: it's very easy to make, and it is so worth it. The homemade streusel topping really takes these muffins up a notch. However, if you just don't have time to make it, that's okay too. The recipe is still wonderful without it.
Troubleshooting: Why Are My Pumpkin Muffins Dry?
You could end up with dry muffins for a few different reasons. First, don't overmix the batter as it could cause it to become too dense. Secondly, make sure not to overbake the muffins. They should be ready to come out after just about 15 minutes. Use the toothpick test to determine whether they're done or not.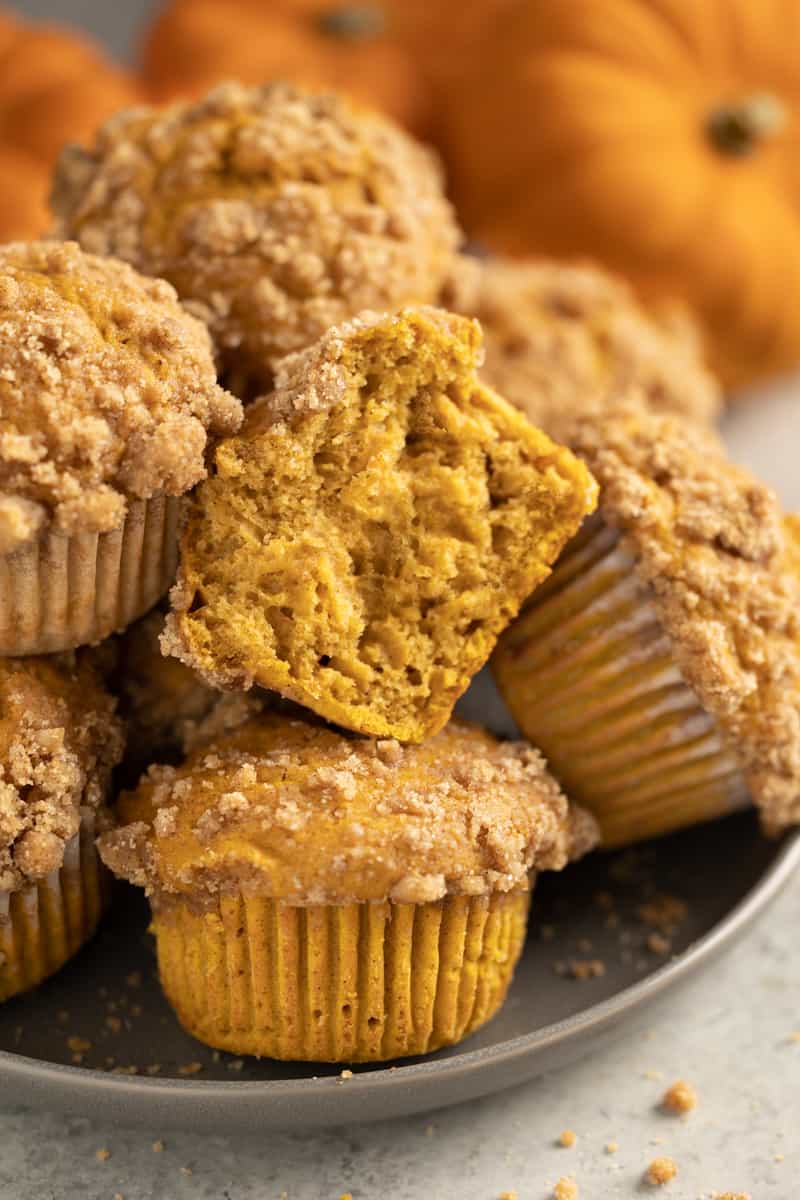 Storage Instructions:
Store your pumpkin spice muffins in an airtight container. You don't have to refrigerate them — keeping them out on the counter or in your pantry works just fine. They will typically last for 3 to 4 days at room temperature. You can also store them in an airtight container in the fridge if you'd like. When refrigerated, the muffins will keep for up to 1 week!
If you like this recipe, you may be interested in these other delicious pumpkin recipes:
Watch the video below where Caytlin will walk you through every step of this recipe. Sometimes it helps to have a visual, and we've always got you covered with our cooking show. You can find the complete collection of recipes on YouTube, Facebook Watch, or our Facebook Page, or right here on our website with their corresponding recipes.