Calling all nacho lovers! Pulled pork nachos is the ultimate way to satisfy those intense nacho cravings. With a crispy base of tortilla chips, melty cheddar cheese, and flavorful pulled pork, these nachos are the perfect comfort food.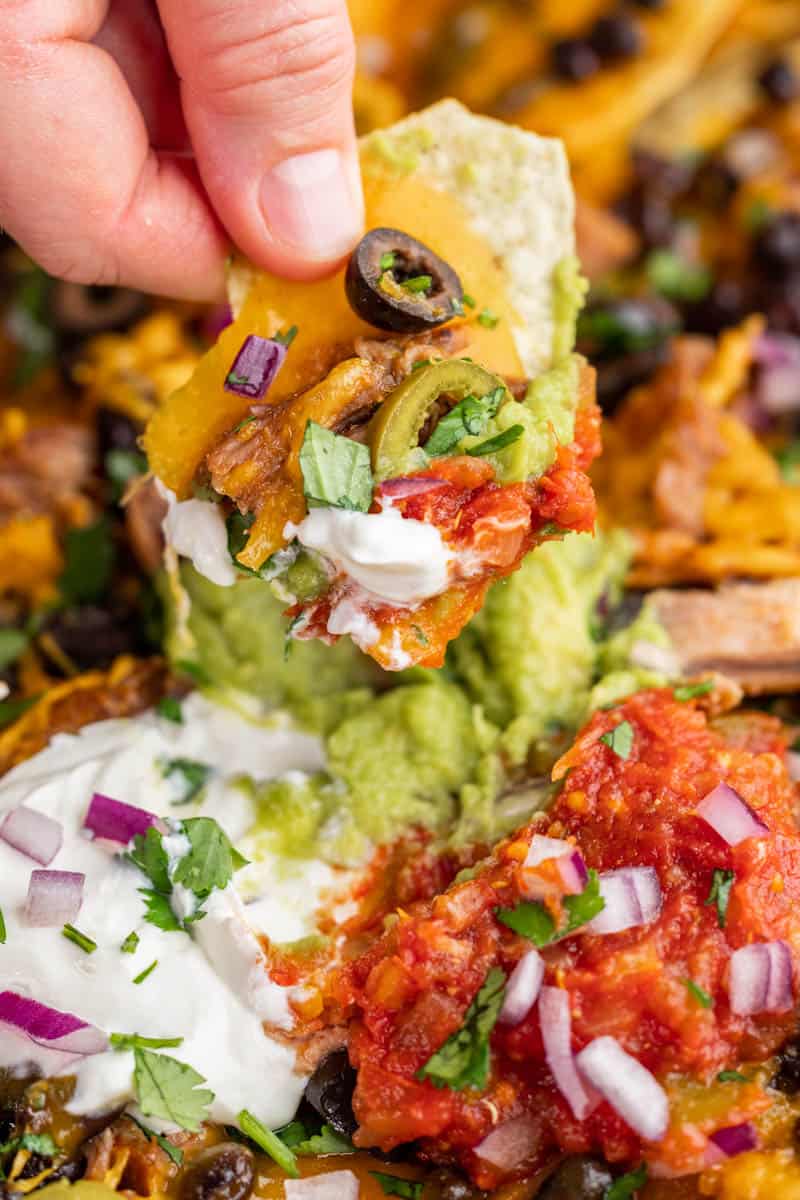 Pulled pork nachos are a fun and delicious way to enjoy the classic snack, with a mouth-watering combination of crispy tortilla chips, shredded cheddar cheese, and savory pulled pork. The nacho dust seasoning elevates the flavors of the dish, and the best part? You can completely customize them so they have all of your favorite toppings. Whether you're hosting a party, looking for a fun snack to enjoy with friends, or simply craving a flavorful and satisfying meal, our pulled pork nachos recipe is a must-try! So grab a bag of tortilla chips, get ready to add some heat, and enjoy this crowd-pleasing dish.
Can I Make Nachos in the microwave?
While it might be tempting to make your nachos in the microwave or on the stovetop, baking them in the oven is the best way to get that perfect crispy texture. By pre-toasting your tortilla chips, you'll help them to not get soggy as quickly and bring out a roasted corn flavor within the chips. Plus, baking your nachos allows the cheese to fully melt and the flavors to meld together for the ultimate nacho experience.
Customizing your nachos
One of the best things about nachos is how customizable they are! Feel free to mix and match different types of cheese, beans, and meats to create your perfect nacho combination. Leftover pulled pork works great for this recipe, and we recommend trying Sweet Pork or Kalua Pork for a delicious twist. And when it comes to toppings, the sky is the limit! Whether you prefer fresh cilantro, sliced jalapeños, or diced red onion, you can make these nachos your own by adding all of your favorite toppings.
Can I use pre-made pulled pork for this recipe?
Absolutely! In fact, we encourage it! You can use any leftover pulled pork you have on hand, or purchase pre-made pulled pork from your local grocery store or deli.

If you really want to make these the best pork nachos, give it a try with Kalua pork or sweet pork!
Can I use a different type of cheese?
Definitely! While cheddar cheese is a classic choice for nachos, you can use any type of cheese that melts well, such as Monterey Jack, pepper jack, or even queso blanco.
How can I prevent soggy nachos?
One trick to prevent the nachos from getting soggy is to pre-toast the tortilla chips before assembling the nachos. This will help to deepen the flavor of the chips and create a crispy base for the toppings. Additionally, be sure not to overload the nachos with toppings, as this can cause them to become soggy as well.
Can I grill nachos?
Yes! Grilling your nachos can add an extra layer of smokiness and char to the dish. Simply preheat your grill to medium-high heat, spread the tortilla chips on a large piece of aluminum foil, and add the cheese, pulled pork, and toppings. Close the foil packet and grill for 5-7 minutes, or until the cheese is fully melted and the nachos are heated through.
Can I make these nachos ahead of time?
While these nachos are best enjoyed fresh out of the oven, you can prep all of the ingredients ahead of time and assemble the nachos when you're ready to bake them. Just be sure to keep the cheese and toppings separate until you're ready to bake.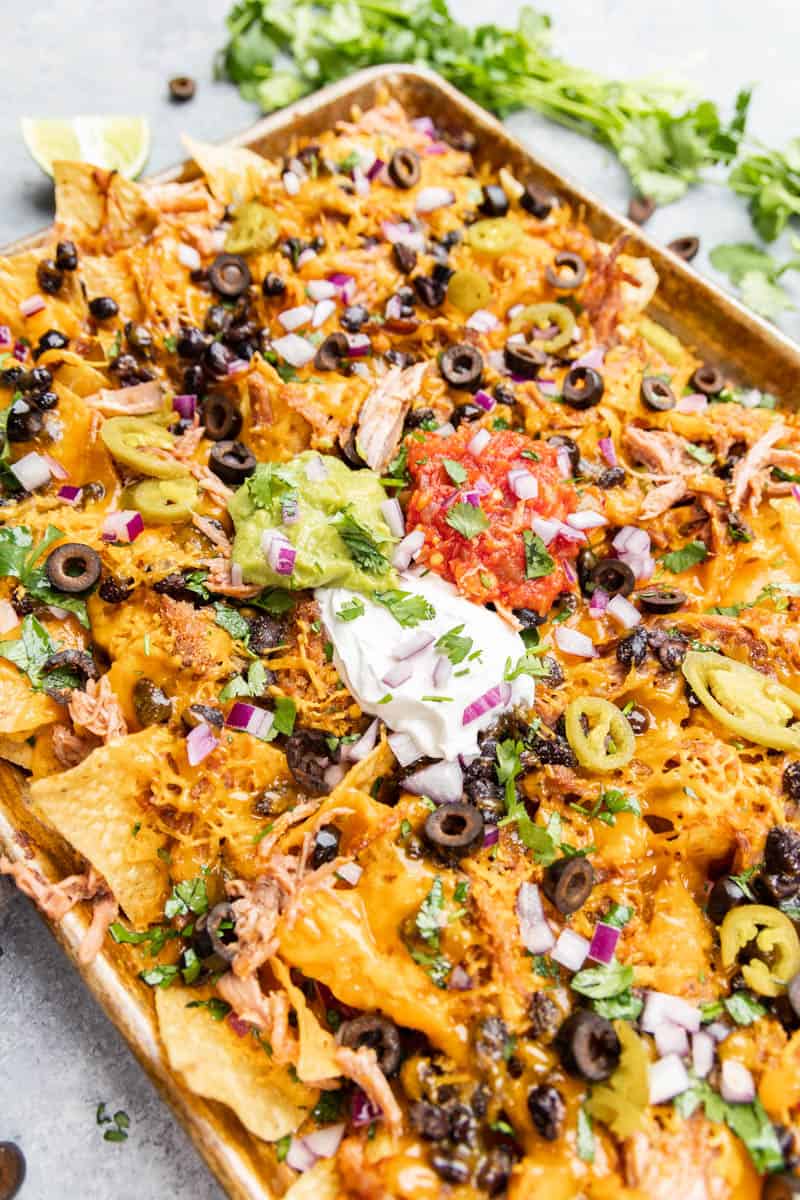 Storage & Reheating Instructions
Nachos are best eaten fresh. If you have any leftover nachos, store them in an airtight container in the fridge for up to 3 days. When you're ready to reheat them, simply pop them in the oven at 350 degrees Fahrenheit until warmed through.
If you like this recipe, you may be interested in these other delicious comfort food recipes: