Party Pigs In a Blanket are a grown up version of your childhood favorite comfort food. Make these addictingly delicious treats as an appetizer, snack, or even for lunch! This is a family favorite, quick and easy recipe!
We cannot fathom someone who doesn't like pigs in a blanket. This is a childhood favorite, filled with nostalgia. They are the ultimate, savory, bite sized comfort food; and without a respectable serving size, you just measure that with your heart. Growing up, we thought Oscar Meyer weiners and Pillsbury Crescent roll dough was the only way to make a pig in a blanket. These days, we no longer wish we were an Oscar Meyer Weiner, even if it means everyone would be in love with us. We have moved on up in the world, and discovered the amazingness of puff pastry and cocktail sausages. Whether you serve them as an appetizer, or eat every last one yourself for lunch, these are always a hit. You can thank us later.
What are cocktail sausages?
Cocktail sausages are simply small, bite sized sausages. You can find chicken, beef, or pork cocktail sausages, making this easily customizable to your dietary needs. You should be able to find these in your local grocery store in the same section as regular, full sized sausages.
If you canned find cocktail sausages, you can always use full size sausages. Either cut them in half, or use them full size, making sure to cut your puff pastry just slightly large than the length of the sausage.
Can I use store-bought canned croissant dough?
While we love nothing more than puff pastry, we understand that sometimes the canned stuff is just easier. If you want to use store-bought canned croissant dough, reduce the baking temperature to 375 degrees Fahrenheit and bake for 12-15 minutes, until golden brown.
Air Fryer Instructions for Easy Party Pigs In a Blanket:
Set uncooked pigs in a blanket in the air fryer and cook at 350 degrees Fahrenheit for 3-4 minutes. Turn over and bake for an additional 3-4 minutes. Make sure they are not touching, and there is space in between. All air fryers are different, so watch closely.
Serving Suggestions:
These are good enough to eat plain, but we recommend you get adventurous and try them with Copycat Chick Fil A sauce.
Make Ahead Instructions:
To prepare your pig in a blankets to cook at a later time, get them all wrapped up and on a baking sheet, cover with plastic wrap, and store in the refrigerator for up to 24 hours before ready to bake.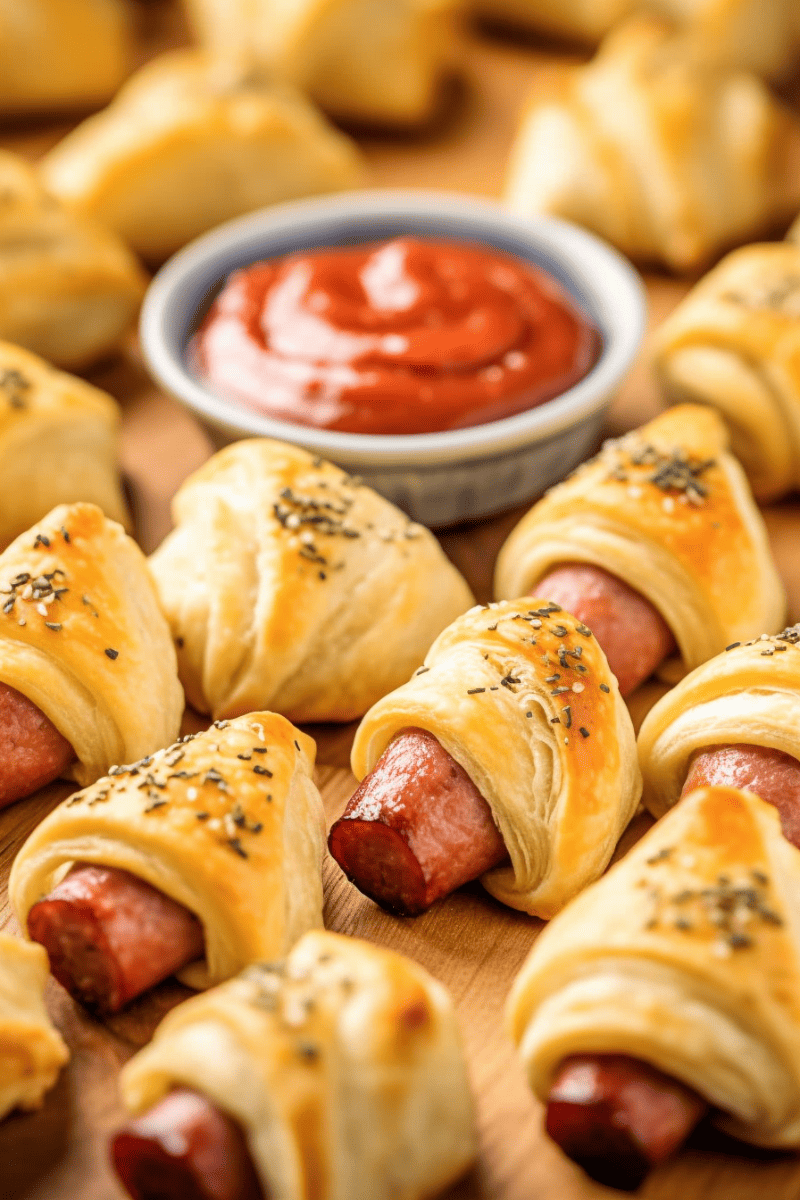 Storage and Reheating Instructions.
Pigs In a Blanket are best eaten fresh. You can store any leftovers in an airtight container in the refrigerator for up to 4 days. Reheat in an oven preheated to 350 degrees Fahrenheit until warmed through.
If you like this recipe, you may be interested in these other delicious appetizer recipes: