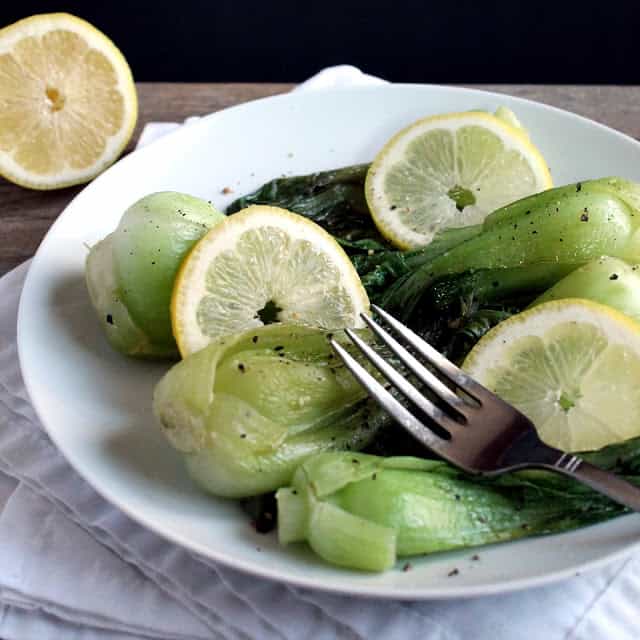 I am on a mission. I want to eat more vegetables.
Now, this may sound funny to those of you who know me because I already eat more vegetables than your average American. I'm what I like to call a semi-vegetarian. Meat is much more of an after thought in my normal meals.
But you know what? Vegetables are where most of the goodness is. I want to have my plate so full of veggies that I can't fit the starches and meat. The problem, as I see it, is that typical American vegetables are kind of…bland. They are not exciting enough for me to fill my plate with them. Sometimes…maybe, but that doesn't happen often. The rest of the world seems to have a pretty good handle on veggies. There are entire sections of the world that eat a vegetarian diet. So, I've been busy researching various world cuisines in search of better veggies. I hope you enjoy the journey with me.
I'm starting out today with something small. I purchased some baby bok choy on a whim. I cooked it in a seasoned broth with a little garlic followed by a nice squirt of lemon. It was incredibly easy, really fast, and ultimately a tasty side dish. You may think, "Bok choy, that's an Asian ingredient so I'd have to pair that with Asian food." Not so. We ate it as a side dish to spaghetti. And know what? It totally fit in. It was kind of like having this dainty little cooked salad on the side with a lemon-garlic dressing.
The verdict: I should have bought way more baby bok choy because this was delicious! I could have easily filled half my plate with it.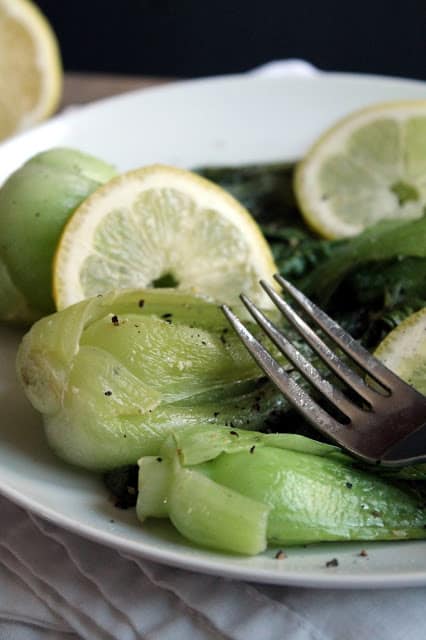 Ingredients
1 tablespoon olive oil
4 garlic cloves, minced
1 cup chicken broth
6 Baby Bok Choy
Salt and Pepper
1/2 lemon
Instructions
1. Heat the olive oil in a large skillet over medium-high heat. Add in the minced garlic and saute for about a minute.
2. Add in the chicken broth and bring to a simmer.
3. Put the baby bok choy into the simmering liquid. Season with a little salt and pepper. Cover the pan so that the bok choy steams. Reduce heat to medium-low and let simmer and steam for 5-6 minutes. At this point the baby bok choy will be tender crisp.
4. Squeeze the lemon over the top of the cooked baby bok choy and serve hot.