Enjoy your favorite lasagna flavors in this no-fuss, homemade lasagna soup! Cut your prep time in half to enjoy this hardy, cold weather favorite dinner any night of the week.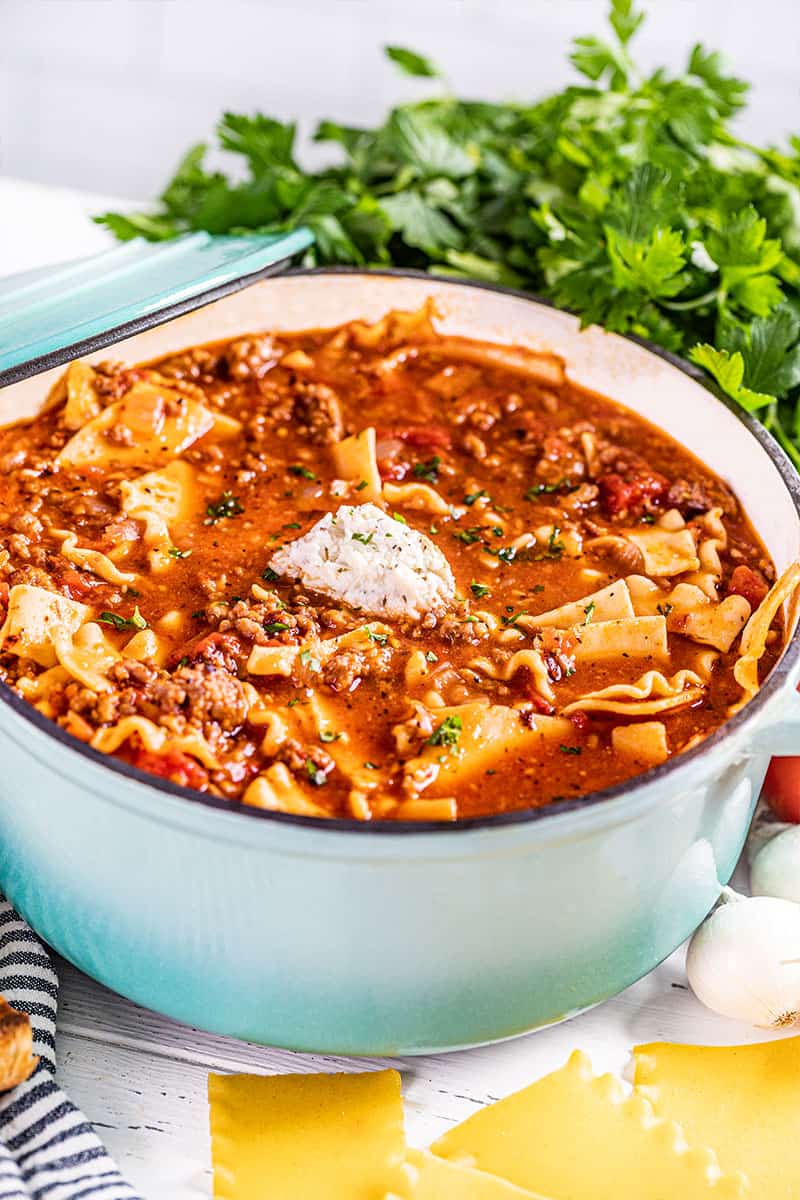 We love lasagna so much, we could give Garfield a run for his money. The difference between The Stay At Home Chef house and Garfield's, is that we have to actually do the cooking ourselves. While we absolutely love lasagna, it isn't always the most practical meal to make on a busy weekday. Don't get us wrong, it is always worth the time and effort, but we need dinner recipes that are quick, easy, and delicious enough for the whole family to get behind on busy evenings. This soup will satisfy all of those lasagna cravings, without the time and effort required for traditional lasagna.
Meat Options:
We prefer the flavor of Italian sausage, but you can always replace with ground beef if desired. While it will affect the taste, you can also use ground turkey or chicken as well.
Spice Level:
You get to completely control the spice in this recipe with your sausage choice. Stick to a mild sausage if you are particularly heat sensitive, and opt for hot if you love that extra kick!
Can I make Homemade Lasagna Soup without meat?
You certainly can! Omit the sausage and add your favorite chopped vegetables as you're sautéing the onions. Some of our favorites are zucchini, spinach, roasted red peppers, and mushrooms.
Lasagna Noodles:
It wouldn't be lasagna soup without the broken up lasagna noodles, now would it? But haven't we all been there, in the middle of making dinner only to realize we're missing an ingredient? If you need to substitute the broken lasagna noodles, you can honestly use any type of pasta you have on hand. A smaller tube variety is best.
Ricotta Cheese Substitute:
You can always substitute the ricotta for cottage cheese if desired.
Topping Options:
Go ahead and top your soup with thinly sliced basil and salt and pepper to taste.
Make Ahead Instructions:
You can easily make this soup ahead if desired. Refrigerate your soup in an airtight container up to 24 hours in advance, then warm up on the stove and cook the noodles when ready to serve. The longer noodles sit in the soup, the more soggy they will become, so make sure to wait to cook those until just before ready to serve.
Freezer Instructions:
This soup can freeze extremely well if you omit a couple of ingredients. Noodles are best added fresh, when ready to eat. Do not add the noodles, and simply cook those separately once you are ready to thaw and eat. You'll also want to skip the cheese mixture, and make that fresh as well. Pour your noodle-less and cheese-less soup into gallon size freezer-safe bags, and lay flat for easy freezer stacking. Thaw overnight in the refrigerator before warming back up on the stove, cooking the noodles separately, and topping with your cheese mixture.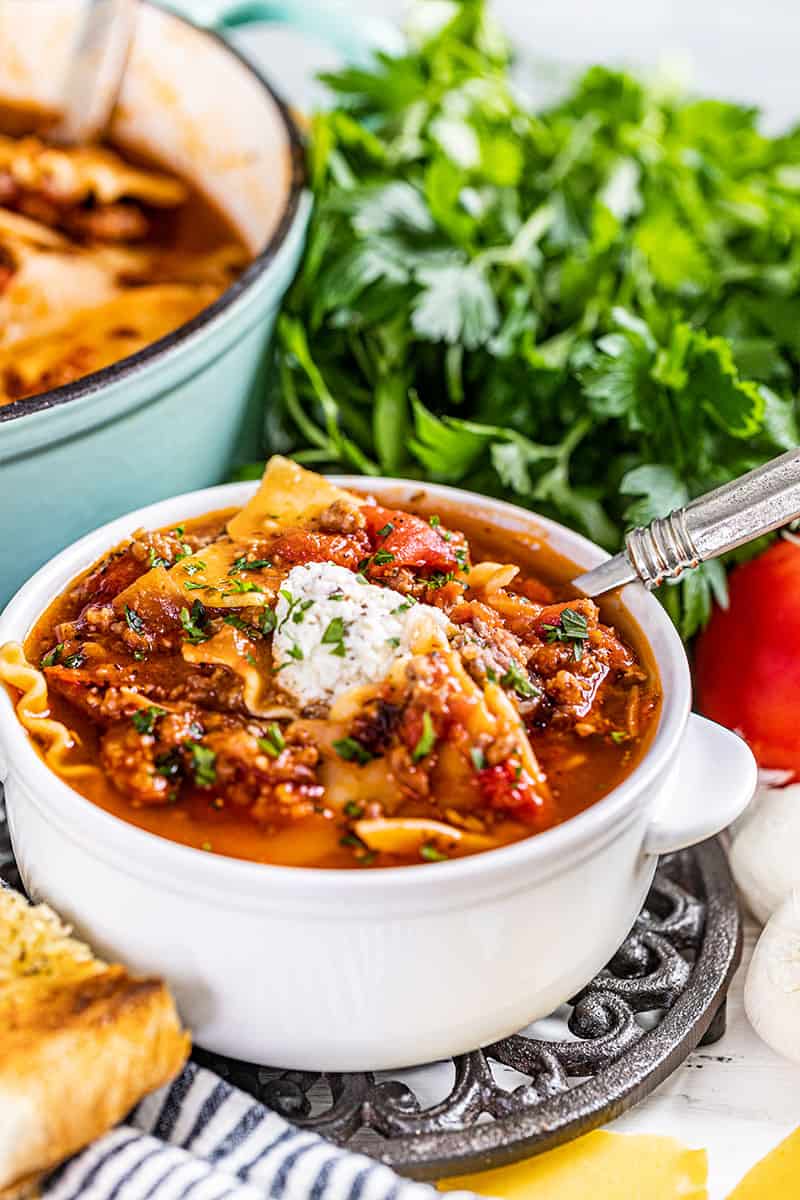 Storage and Reheating Instructions:
Store any leftovers in an airtight container in the refrigerator for up to 4 days. Reheat in a saucepan over medium-low heat on the stove until warmed through.
If you like this recipe, you may be interested in these other delicious soup recipes: