Beef and Barley Soup is full of delicious beef and barley, tender veggies, and fresh herbs, to bring you an amazingly hearty soup your family will ask for all winter long.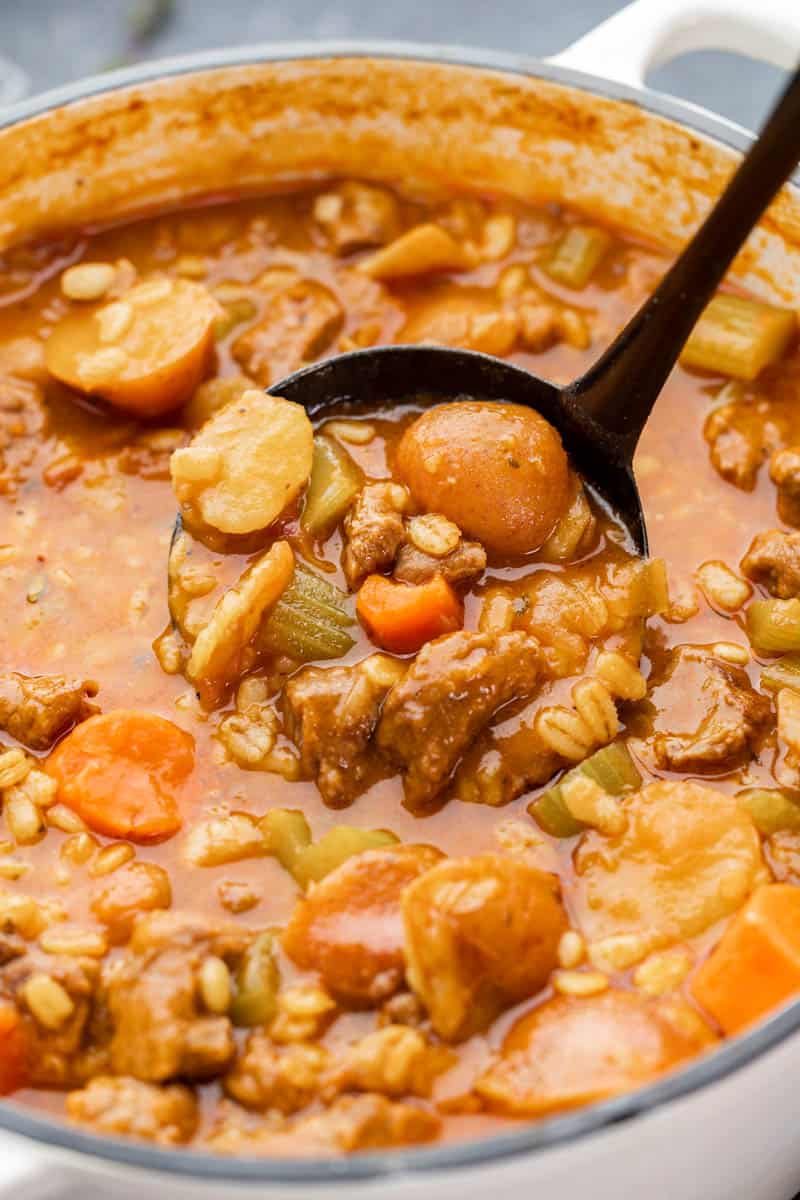 These are the kinds of soups we live for in the winter. They are amazingly hearty, and warm you up on a cold day. Not only do you get the most tender and delicious beef, but it is filled with barley, veggies and fresh herbs. We know it may seem like this takes a lot of time and effort, but once your veggies are prepped and the beef is seared, it is extremely hands-off. You're just giving it time to simmer and develop all of that flavor while you can relax on the couch. To make this soup even easier, you can prep your veggies and sear your beef before throwing it all in the crockpot to let it handle the rest. Whether you choose stovetop or slow cooker, you're going to be raving about this soup all winter long.
Beef Options for beef and barley soup
The best meat to use for this soup is stewing meat. Your grocery store should carry it, already cubed up for you. If you can't find that, you can just buy a chuck roast. If you prefer, you could also use ground beef.
Browning
Technically, browning the chuck roast is an optional step. If you absolutely do not have the time, you can skip it. However, we highly highly recommend you brown the roast. It adds so much flavor to this soup, that you will really be missing out if you skip this step.
red wine
We love the added flavor red wine brings to this soup, and with how long it simmers on the stove, all of the alcohol cooks out before you consume it. However, if you prefer to not cook with alcohol, you can always substitute with more broth.
Wondering what type of red wine to use? You can really use any red wine you like. The type of wine does not matter as much as just being sure you use a wine that is good enough to drink. Please, do not use cooking wine from the grocery store. The flavor isn't great, and it just has a ton of added salt that you really don't want in this soup.
tomato paste tip
When a recipe like this one calls for only a couple of tablespoons of tomato paste, we always hate to waste the rest of the can. Instead, we purchase the tubes of tomato paste found right next to the cans, so we can use just the small amount needed without wasting.
Barley
Barley is such an under-utilized grain. There are several different types of barley, but we prefer pearl barley in this soup.
make ahead instructions
This soup is great for a make ahead meal. You can make this up to 48 hours in advance, but be sure to not add the barley in to your soup if you are not serving the same day. If you are going to make your soup ahead of time, cook your barley according to its package instructions and then add into the soup once you are ready to serve.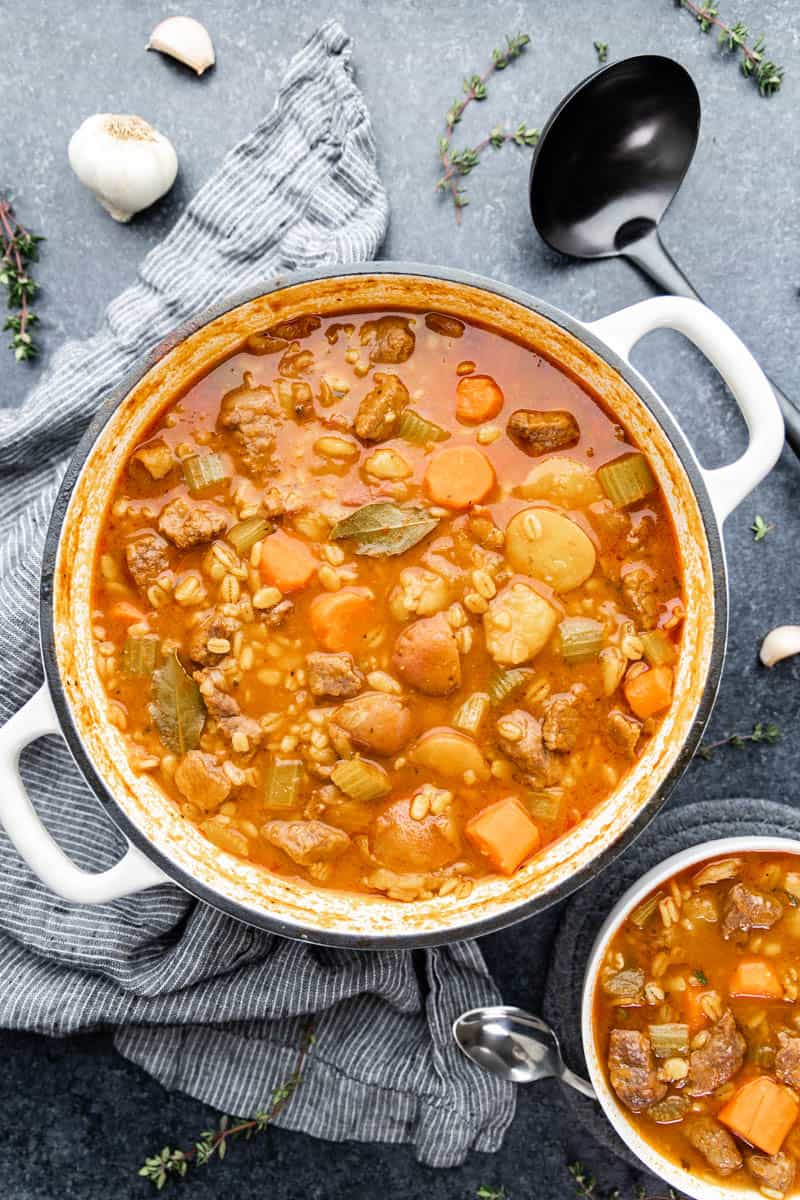 freezer instructions
Let your soup cool completely and pour into gallon size ziplock bags. Seal and lay flat in your freezer for up to 3 months. Thaw overnight in the refrigerator before reheating.
Storage & Reheating Instructions
Store any leftovers in an airtight container in the refrigerator for up to 5 days. Reheat either in a saucepan on the stovetop over medium-low heat, or in the microwave in 30 second increments until warmed through.
If you like this recipe, you may be interested in these other delicious soup recipes:
Watch the video below where Caytlin will walk you through every step of this recipe. Sometimes it helps to have a visual, and we've always got you covered with our cooking show. You can find the complete collection of recipes on YouTube, Facebook Watch, or our Facebook Page, or right here on our website with their corresponding recipes.