This Old Fashioned Beef Stew is pure comfort in a bowl with tender beef, hearty vegetables, and all the right herbs and spices—it's the best!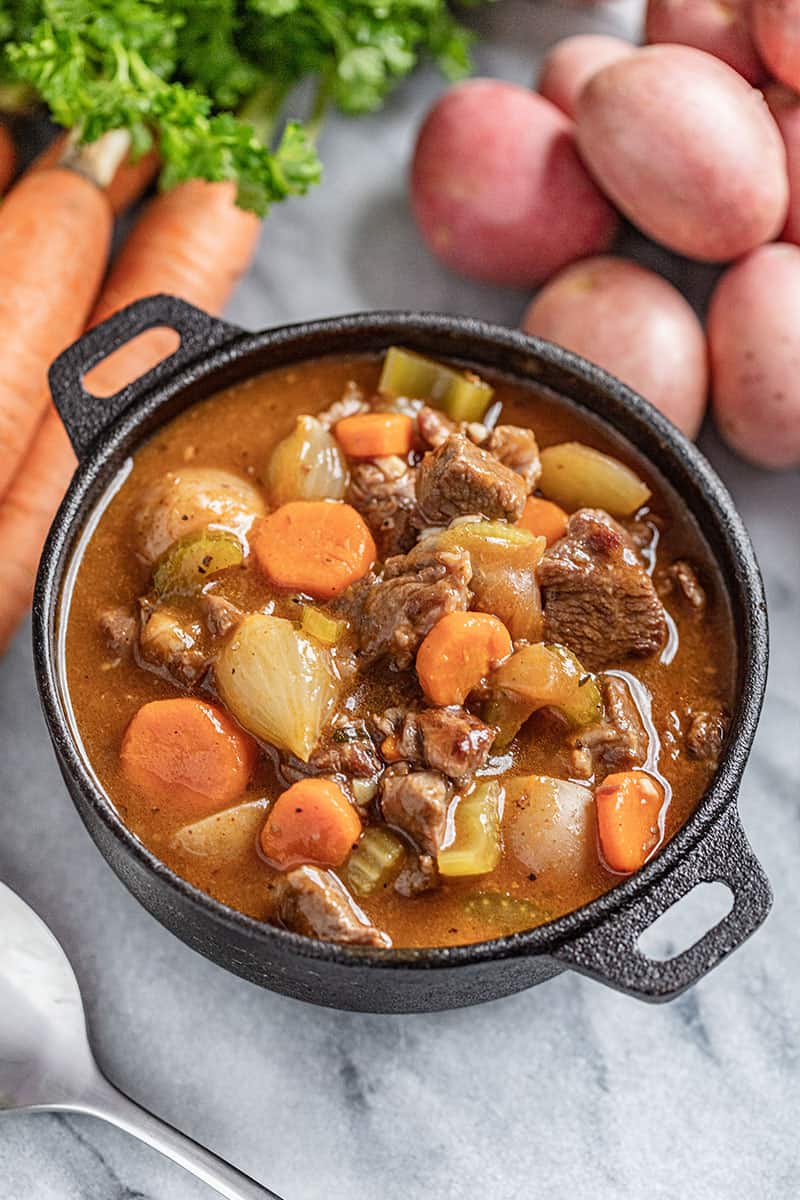 We love the fall for lots of reasons, not the least of which is the reappearance of all of our favorite seasonal comfort foods in the grocery stores. This stew is the best for any time you need a good, hearty, and comforting food that revives you, body and soul. This savory stew can be the perfect complement to a hard day's work, or the best companion to a book and a blanket on the couch. The aroma alone will fill you with anticipation!
You will start by preparing your beef and browning it in your pot. Then you will add the garlic for flavor. Next, you will add the broth and vegetables, along with your herbs and bring it all to a boil. Then, you will simmer the stew for 90 minutes and let all that flavor develop. Lastly, you will add in a slurry that will thicken the stew. This is an easy recipe and it is full of aromatic herbs and hearty texture. You will love it!
Pro Tip: Serve these up with our famous recipe for The Best Homemade Dinner Rolls Ever!
What kind of meat is best for stew?

We recommend a simple stew meat. Most grocery stores offer stew meat, already cut, near the butcher department. Stew meat is usually just a cubed chuck roast. You can also opt to cut your own, or for a leaner cut like diced round. Those work too—basically, any meat that can be used as a pot roast will work including chuck roast, bottom round, top round, and brisket.

What kind of potatoes are best for a soup or stew?

Red potatoes and Yukon Gold potatoes hold up better than russet potatoes in a stew. Russet potatoes can get grainy because they are more starchy. Yukon Gold and Red potatoes are also nice because they don't need to be peeled.

Where can I find pearl onions?

Pearl onions are seasonal, but you can always find them in the frozen section at your local grocery store. They have a nice, mild flavor, are already peeled, and ready to add, whole, into this stew. If you can't find these little gems, a regular chopped white onion would also work.

What is a slurry?

A slurry is a mixture that is made of a liquid and cornstarch, used to thicken soups and stews. They are most commonly made by whisking water, beef broth, or another liquid together with the cornstarch, before adding it to a soup, stew or dish that requires thickening. Much like a roux that is used to thicken gravy or soup, a slurry is made and then gradually added to the dish. The reason you don't want to add cornstarch directly to a dish or pot, is because it won't incorporate properly and clumps will form. The water or liquid ushers the cornstarch into the fluid gradually enough for it to incorporate before it clumps.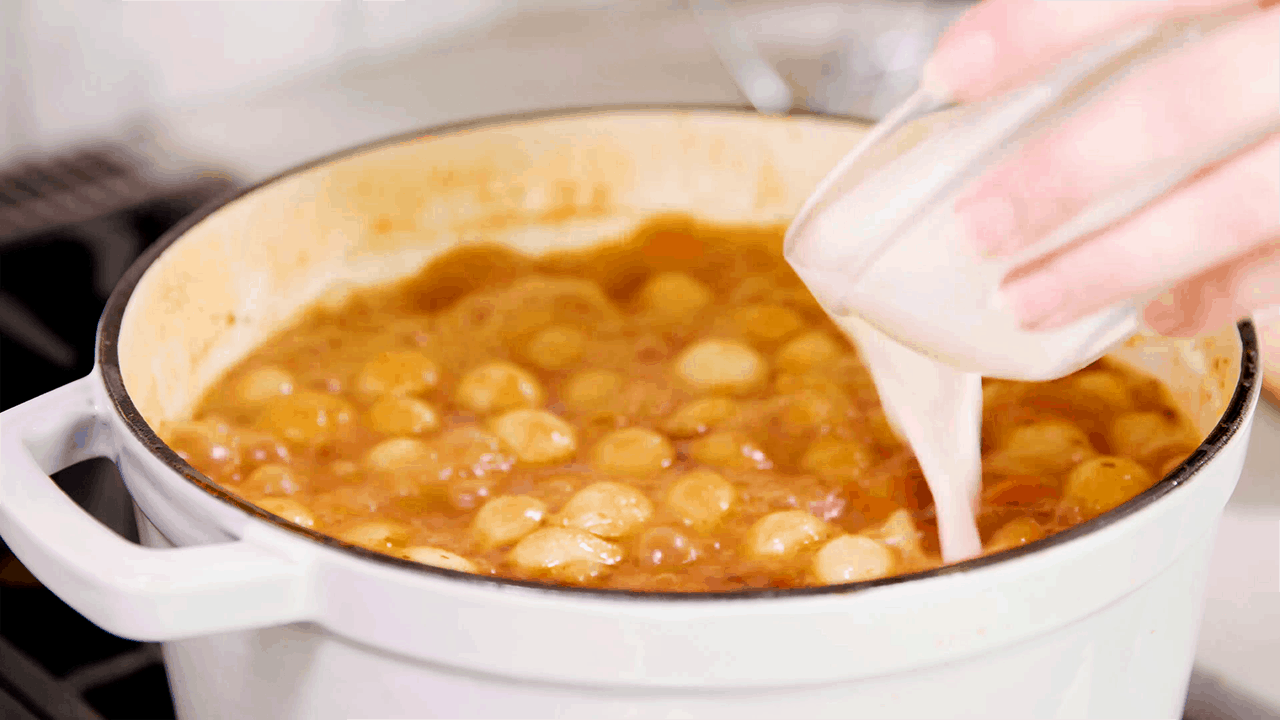 SLOW COOKER INSTRUCTIONS
Follow steps 1 and 2 to brown the beef and give an initial cook of the garlic and tomato paste. Then combine this and all remaining ingredients in a slow cooker. Cook on low for 6 to 8 hours. Follow step 5 to create a cornstarch slurry. Add to stew and cook another 30 minutes, until thickened.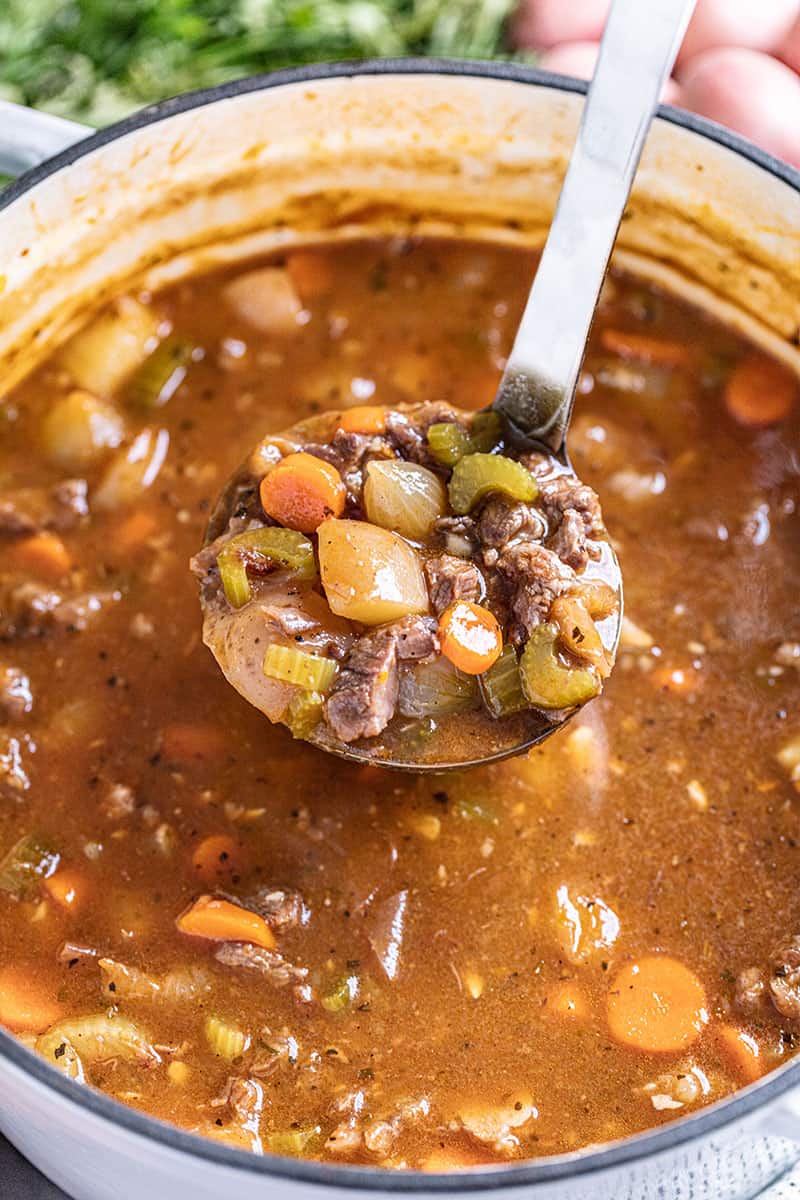 Here are some other amazing soup and chili recipes for more comfort food in a bowl.
Watch the video below where Rachel will walk you through every step of this recipe. Sometimes it helps to have a visual, and we've always got you covered with our cooking show. You can find the complete collection of recipes on YouTube, Facebook Watch, or our Facebook Page, or right here on our website with their corresponding recipes.