Irish Stew is pure comfort food and a classic recipe using browned lamb, onions, potatoes and thyme that simmer and develop a rich gravy made with beer and beef broth. Beef can easily be substituted for the lamb, too.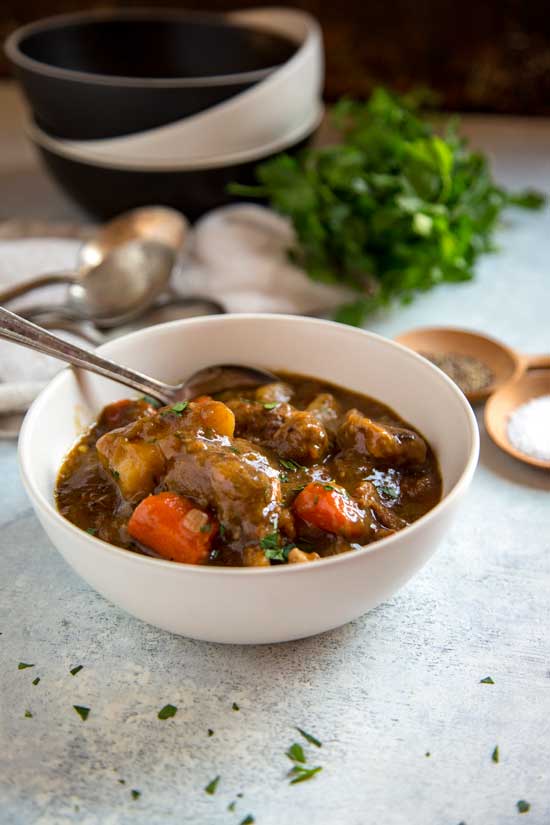 Hi everyone, it's Kevin from Kevin Is Cooking. Special thanks to Rachel for letting me contribute here on The Stay at Home Chef. For today's post I'm sharing my gramma's Irish Stew recipe since St. Patrick's Day is approaching.
Irish Stew is pure comfort food and a classic recipe. For my version, and to add a richness and depth to the gravy, I use Guinness beer when simmering the stew. This doesn't get over complicated with too many ingredients and relies on simplicity and a slow simmer. It's worth the wait.
Irish stew is traditionally made using mutton, an older sheep, and while most of us today don't have that on hand, lamb shoulder meat comes to the rescue. If lamb is not a meat you typically purchase, a good beef chuck roast would be a great substitute.
Did you know that a sheep in its first year is called a lamb, and it's meat is also called lamb? After that it's mutton. There you go!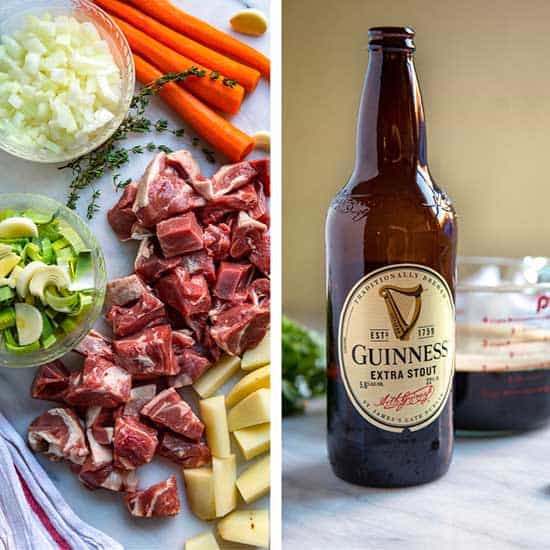 For those who do not drink alcohol this can easily be substituted with beef broth and some Worcestershire sauce if you prefer. Not the exact same flavor of course, but a good stand in for the beer. Check out the Notes in the recipe card below.
When slow-cooking food in beer, the temperature is kept at a low simmer and cooking is usually done for several hours, that means most of the alcohol evaporates away. The boiling point of alcohol is 173°F which is lower than that of water, 212°F.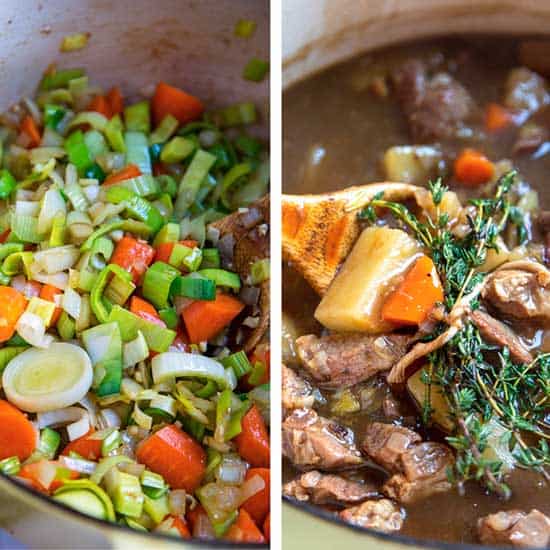 This recipe and traditional Irish Stew recipes have only a few ingredients. Mutton (lamb), onions and potatoes. In southern Ireland carrots and sometimes turnips are added.
My gramma's had more of a broth and I like to thicken it up a bit for dunking crusty bread in to sop up the goodness of that gravy.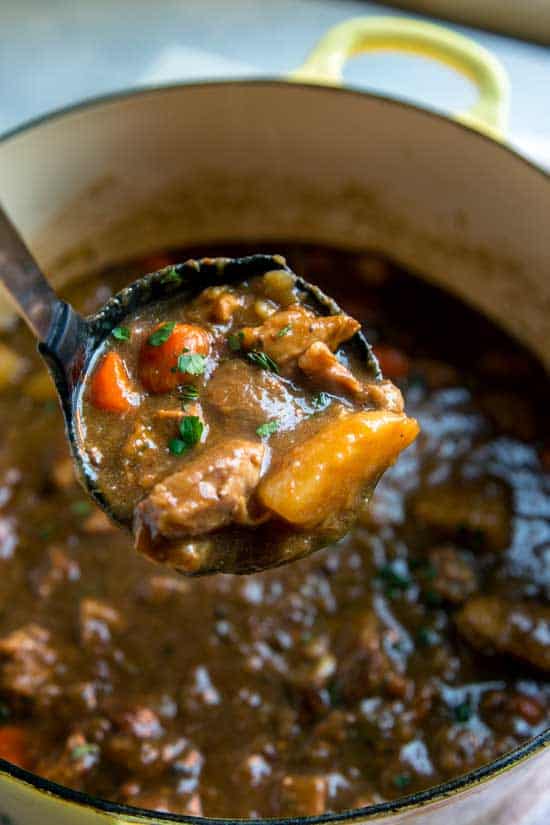 After sautéing the onion, leek and garlic I sprinkle flour on top, stir it around to cook a bit and add the Guinness and beef broth. Along with the potatoes, this slow cooks and develops not only an amazing flavor, but a rich and thickened gravy.
Pretty simple dish that only requires one to brown the lamb and sauté some vegetables. Adding the beer and broth you cover and forget about it for  a few hours.
For another stew option, try Rachel's Old Fashioned Beef Stew. Enjoy and have a great St. Patrick's Day!