Irish Stew is pure comfort food deliciousness. Browned lamb, fresh veggies, and aromatic herbs are simmered low and slow in a deliciously rich beer and beef broth gravy for a stew you're going to love!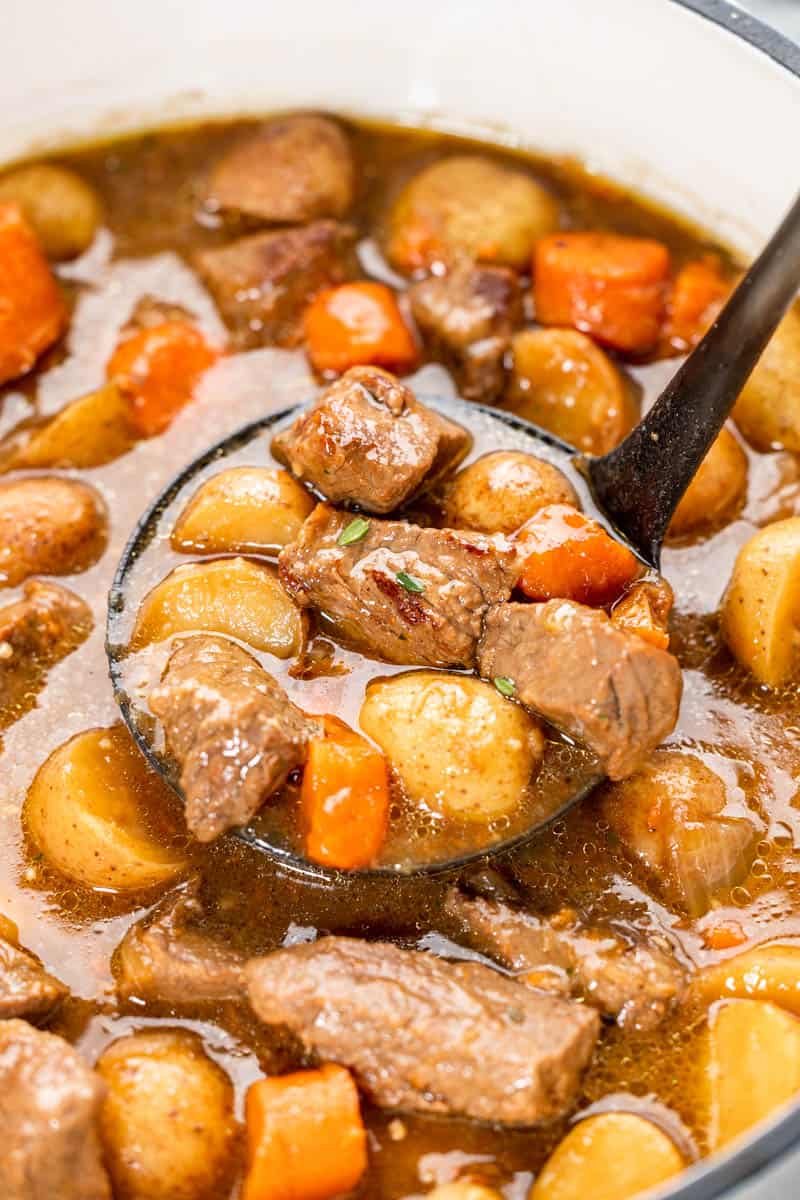 Stew in the winter is a staple in our house. It warms us up on a chilly day, and fills our belly with hearty meat and veggies that we crave in these colder months. Stews like this make life just a little bit easier, because we're not scrambling to get dinner on the table in time! We start this earlier in the day, and then it just has to simmer on the stove to bring out all of those amazing flavors, leaving us to just dish it out and sit down at the table together to enjoy. We've decided that stews like this must be eaten with your favorite dinner roll or crusty bread, and we highly recommend you do too!
Beer
Guinness beer is the most common, and in our opinion, the best beer for this Irish stew, as it is from Ireland. If you do not want to use Guinness you can also use any dark stout beer.
If you prefer not to cook with alcohol, you do not have to use beer to make this Irish stew. Simply replace regular beer with non-alcoholic beer, or you can replace it with beef broth.
Potato Options for Irish Stew
Red potatoes and Yukon Gold potatoes hold up better than russet potatoes in a stew. Russet potatoes can get grainy because they are more starchy. Bonus: Yukon Gold and Red potatoes don't need to be peeled. Win-win!
Wine
If you prefer to leave out the alcohol, you do not have to add wine. We love the added depth of flavor it brings, but you can always replace the cooking wine with beef broth.
Meat Options
Lamb or Mutton are traditionally used for an Irish stew. That being said, lamb and mutton can be hard to find in many stores! Beef is a common and great substitute when you can't find lamb.
Instant Pot Instructions
Pat the meat dry and sprinkle with kosher salt and pepper.
Heat 2 tablespoons of oil in Instant Pot using the saute setting. Add meat in batches and brown on all sides. Remove to plate and repeat with remaining meat. Set aside.
Add in 2 more tablespoons of oil. Add onion and cook for 5 minutes until softened, then add garlic, cook 3 minutes. Stir flour into the vegetable mixture and cook for 5 more minutes.
Add Guinness beer stirring and scraping up browned bits on bottom of pan then add beef broth and red wine.
Return browned meat to the pot, including any juices, along with carrots, potatoes, thyme and bay leaves.
Secure lid and set to high for 1 hour. Then remove lid and simmer with Saute setting for a further 10-15 more minutes to thicken the stew.
Slow Cooker Instructions
Pat the meat dry and sprinkle with kosher salt and pepper.
In a skillet over high heat, heat 2 tablespoons of oil. Add the meat in batches and brown well all over. Remove the meat to a plate and repeat with the remaining meat.
Transfer the browned meat to a slow cooker.
In a small bowl, whisk together 1/2 cup of beef broth and 1/2 cup of cornstarch to make a slurry.
Add all remaining ingredients, including the slurry, to the slow cooker.
Set the slow cooker on high for 3-4 hours or low for 6-8 hours until the meat and vegetables are tender to your liking.
Remove the lid for the last 30-45 minutes to help the broth thicken.
Serve hot, garnished with chopped parsley.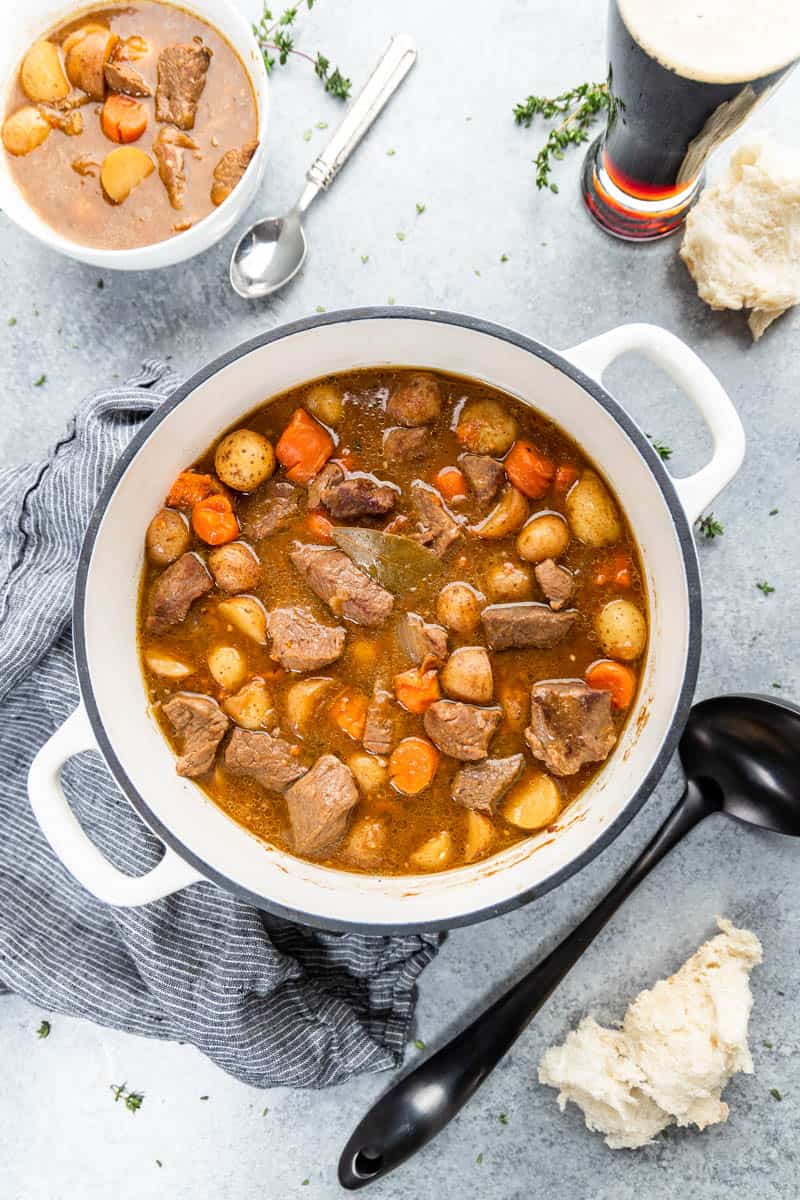 Storage & Reheating Instructions
Store any leftovers in an airtight container in the refrigerator for up to 5 days. Reheat in a saucepan on the stovetop over medium-low heat until warmed through.
If you like this recipe, you may be interested in these other delicious soup and stew recipes: