Instant Pot Beef Stew is filled with delicious beef and tender veggies. It is hearty, filling, and a family favorite dinner that requires minimal hands-on effort!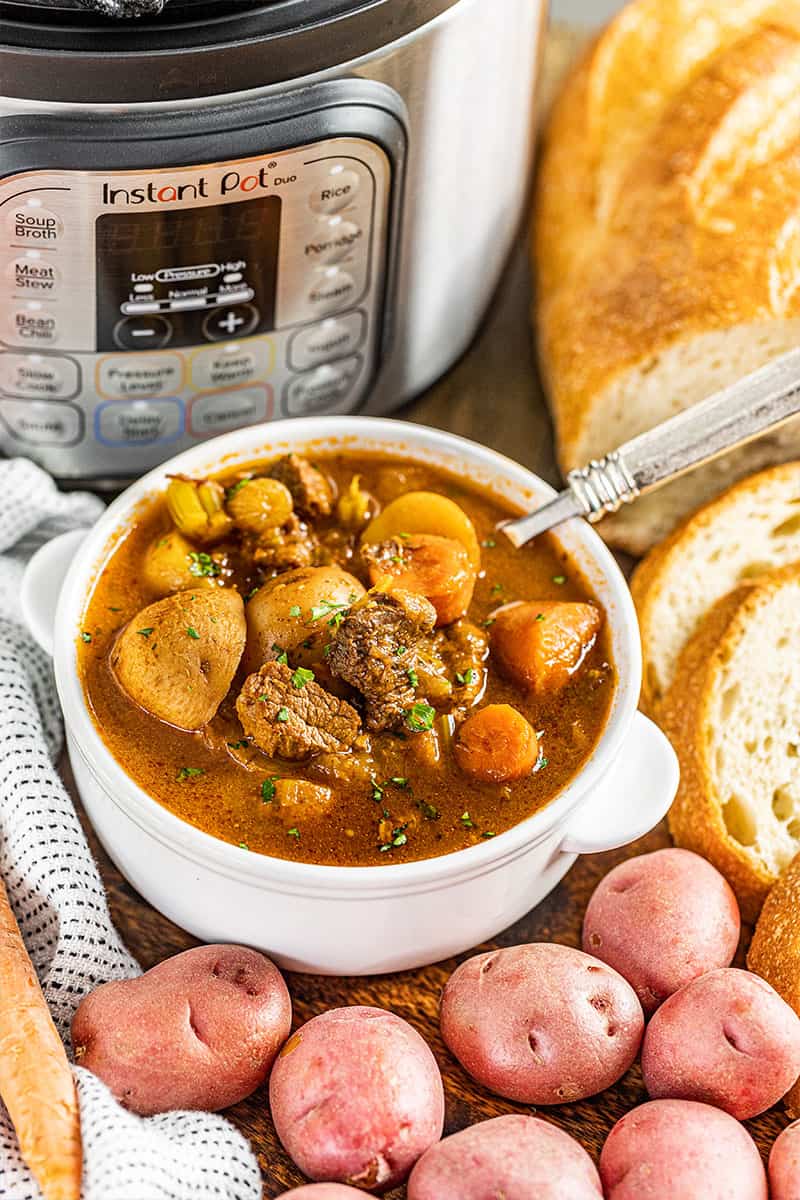 Did anyone else feel slightly pressured into the instant pot craze? People all around us could not stop talking about it and were just raving about how much it simplified and sped up dinner. We confess, we did not jump on that bandwagon right away. Looking back, we wish we would have! Think of all of the hours we could have saved in the kitchen! While we were slow to discover the joy of instant pot cooking, we now absolutely love instant pot meals. You save so much time without sacrificing any flavor whatsoever! This recipe for instant pot beef stew is a family favorite dinner that we can feel good about!
Tomato Paste:
When a recipe like this calls for such a small amount of tomato paste, we opt to stick with the tubes rather than cans. You can use a smaller amount without wasting the rest of a can! You should be able to find tubes of tomato paste right next to the cans in your local grocery store.
Veggies in Instant Pot Beef Stew:
We love a variety of veggies in our beef stew, but you can always omit anything necessary or substitute in with any other favorite veggies! The best part of stew is that it is easily customizable. However, make sure that you stick with red or golden potatoes. Russets will just turn to mush due to their starch content.
Worcestershire Sauce Substitute:
If you have a shellfish allergy, we know that Worcestershire sauce has to be avoided. You can always substitute with 1/4 cup additional beef broth.
Slow Cooker Instructions:
We realize that not everyone loves the instant pot as much as we do. If you prefer the slow cooker, this is easily adaptable! Simply follow steps 1 and 2 on your stovetop before pouring everything besides that cornstarch slurry into your slow cooker. Cook on low for 6-8 hours. Follow step 5 to create a cornstarch slurry. Add to stew and cook another 30 minutes, until thickened.
Stovetop Instructions:
If you prefer to make this on the stovetop, it will simply need to simmer for a longer time than the instant pot. After searing your beef and cooking tomato paste and garlic, and the veggies and spices to the pot and bring to a boil over high heat. Reduce heat to low and simmer, covered, for 90 minutes, stirring occasionally. Add in the cornstarch slurry and pour the mixture into the stew. Stir over low heat until stew thickens.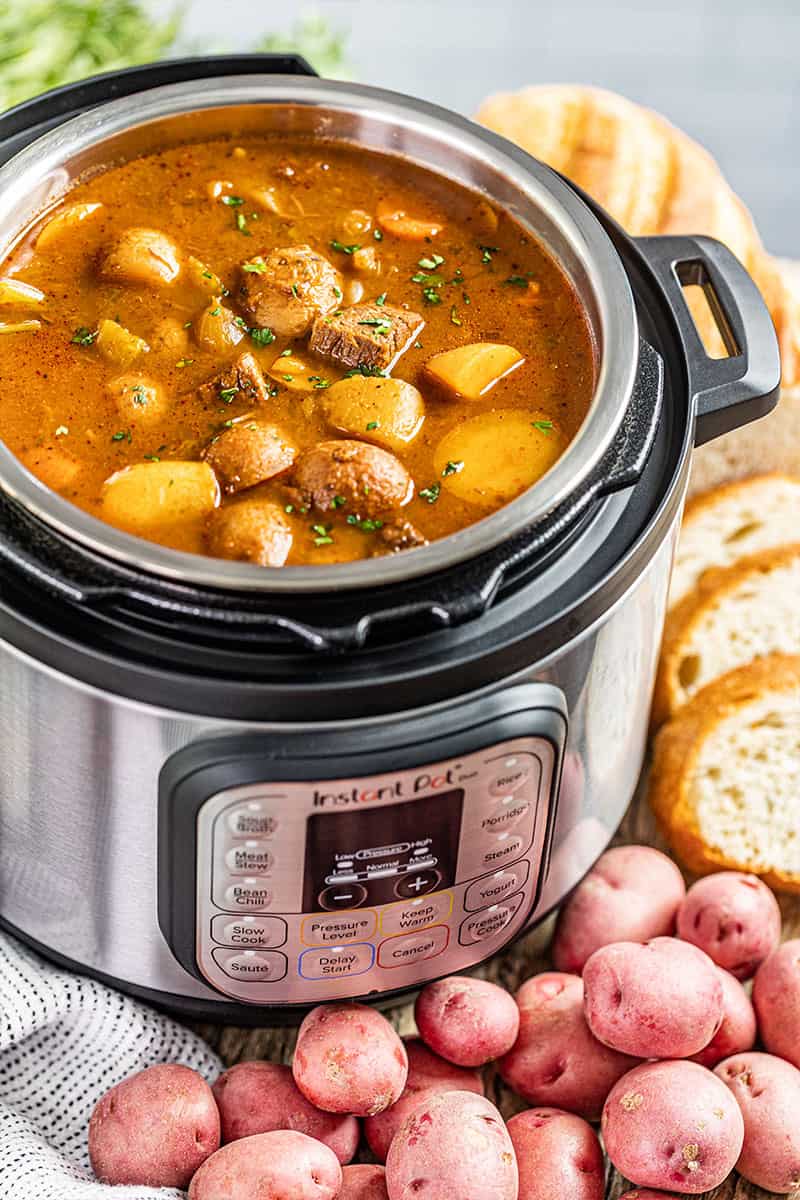 Storage and Reheating Instructions:
Store any leftovers into an airtight container in the refrigerator for up to 5 days. Reheat in a saucepan on the stovetop over medium-low heat until warmed through.
If you like this recipe, you may be interested in these other delicious soup recipes: