This White Chicken Chili is the perfect medley of hearty beans and chicken, with just a little bit of heat. It's super easy to make and ready in just 30 minutes!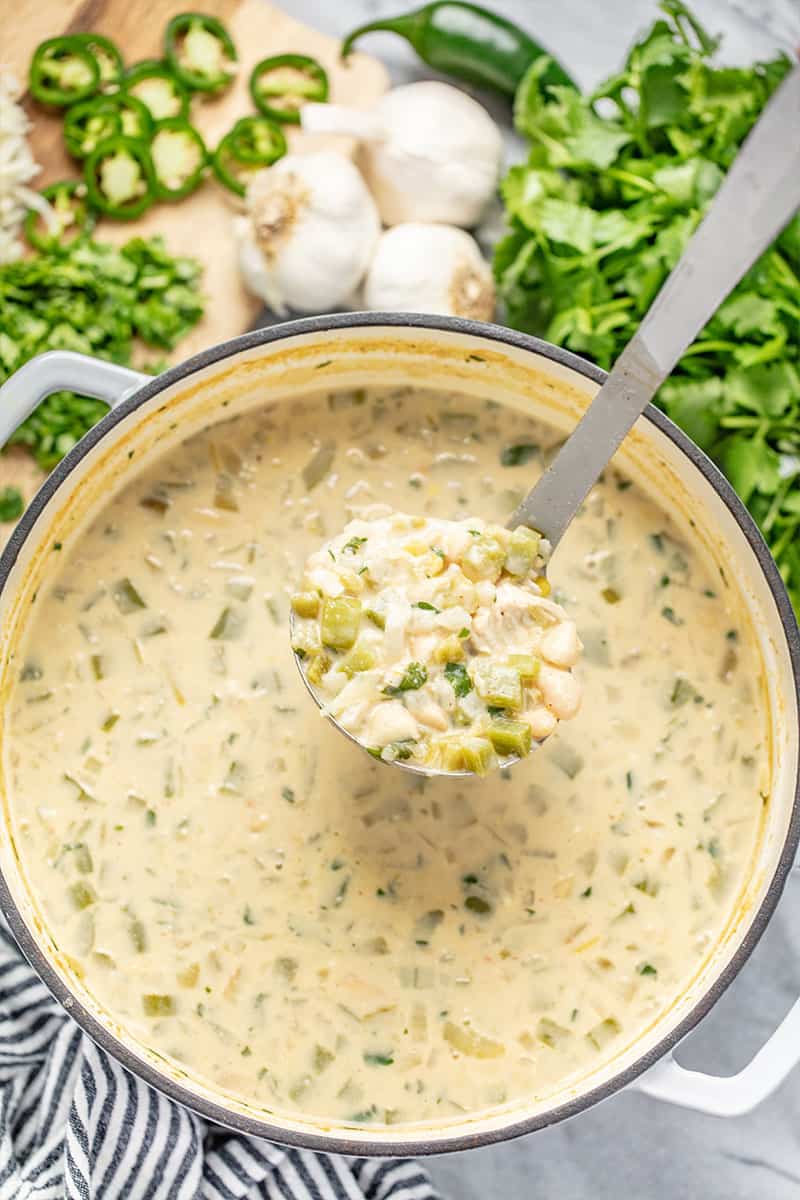 When it's time to try a new kind of chili, this recipe measures up! Chicken and cream cheese are the perfect counterpart to beef and tomato based chili. This white chili is the ultimate comfort food—warm, flavorful, and satisfying. There is just a hint of spice but it's tamed down with rich cream cheese and sweet corn. The broth, cream cheese and chicken make this a hearty and filling dish. This chili is easy to make and everyone loves it.
Starting with your vegetables, you will saute fresh onion, celery and bell pepper with savory spices and chicken and then add broth. Beans, corn and cream cheese are added to create a hearty and creamy chili that will impress your guests if you're selfless enough to share. Actually, it's a great food to share. You can prepare it for any gathering and its a real hit at game day Smörgåsbord. Make a large batch and serve it with plenty of toppings and add-ins. If you are lucky enough to have any leftover, it's great reheated and it will keep in the fridge for up to 4 days.
What toppings go best with white chicken chili?

Popular toppings for this yummy chili include sliced or diced jalapeños, sour cream, avocado, tortilla chips or strips, fresh squeezed lime, and cilantro. This chili also goes great with Easy Skillet Cornbread, Easy Buttermilk Cornbread Muffins, and the Best Homemade Dinner Rolls Ever.

Slow Cooker Instructions

You don't need to use the olive oil if you are going to make this in a slow cooker. Add the other ingredients to the slow cooker but omit the cream cheese. Cook on low for about 6-8 hours. Add the cream cheese in about 30 minutes before you are going to eat—long enough for it to melt completely in.

Is this chili spicy?

There is a little warmth in this chili, and most of that can be avoided by not adding cayenne pepper. Additionally, some chili powders are hotter than others, so make sure you can tolerate whichever one you use. The diced green chilies come in mild, medium and hot, so you can adjust the heat coming from those as well.

Can I use other kinds of beans?

A great option for the cannellini beans are great northern beans. If you are craving kidney, pinto or black beans, you can definitely use them, but it will change the color and consistency, so it won't constitute a white chicken chili.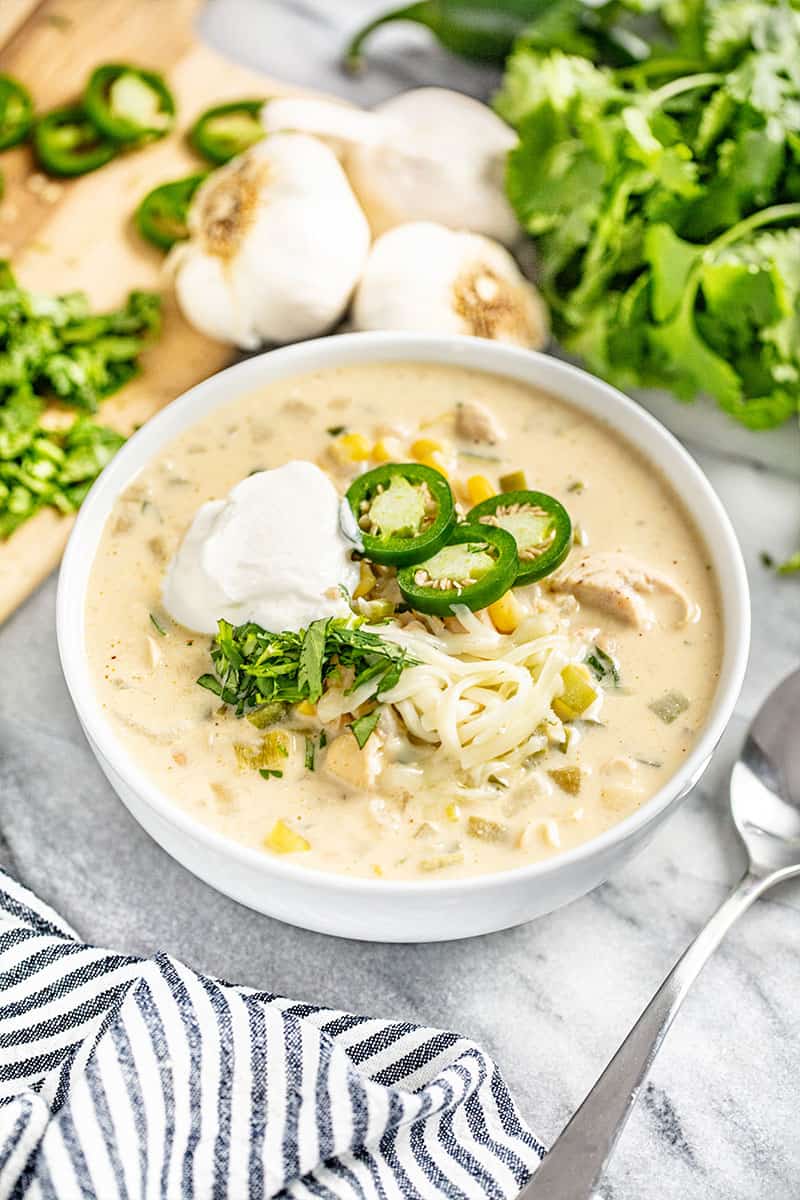 If you're loving the season of chili recipes, here are some variations on the wonderful western goulash that might turn your head:
Watch the video below where Rachel will walk you through every step of this recipe. Sometimes it helps to have a visual, and we've always got you covered with our cooking show. You can find the complete collection of recipes on YouTube, Facebook Watch, or our Facebook Page, or right here on our website with their corresponding recipes.