This Instant Pot Chili recipe is full of meaty goodness in this easy to make recipe that utilizes the hottest kitchen appliance trend: the electric pressure cooker.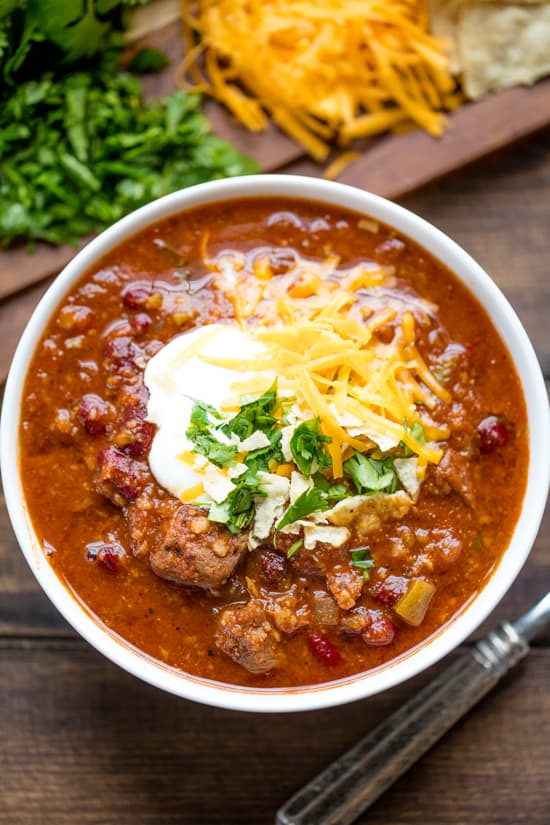 This recipe comes from the fabulous new Electric Pressure Cooker Cookbook from my friend Barbara Schieving over at www.PressureCookingToday.com . She sent me over a copy of her cookbook to review and I have to say: I love it! This cookbook is the best guide I've seen for using your electric pressure cooker. It comes with detailed instructions and tips for using any brand of electric pressure cooker and teaches you how to maximize this fabulous kitchen appliance. It also contains a full collection of amazing recipes.
Chili Con Carne is a classic chili option that can really hit the spot on a cold day. It's full of meat, beans, and a whole lot of flavor. Tortilla chips are used as a thickening agent in this chili which is pretty genius because tortilla chips also make a great garnish for chili as well.
If you like this recipe, you may also be interested in my recipe for Instant Pot Beef Barbacoa.
Which electric pressure cooker is the best?
Instant Pot is a brand name for an electric pressure cooker and has become a commonly used term much like Crockpot is used in place of Slow Cooker. . There are quite a variety of electric pressure cookers available on the market today, with more slated for release. There is a wide range of prices and features available depending on the brand and model you purchase. Features and models are constantly changing so it is best to read customer reviews before purchasing. You can view Amazon's complete current listings and reviews HERE.
Can I cook dried beans in the Instant Pot?
Yes! Dried beans can easily be made in the Instant Pot. For this recipe, add 1 cup of dried red kidney beans to your electric pressure cooker along with 1 quart of water. Select high pressure and 1 minute of cook time. When the cook time ends, turn off the pressure cooker and let the beans sit for one hour. Remove them from the pot and proceed with the recipe as directed, re-adding them to the chili with the seared beef.