Hearty chunks of beef make up this amazing Slow Cooker Texas Beef Chili. No beans, just flavor! This is a chili everyone will love!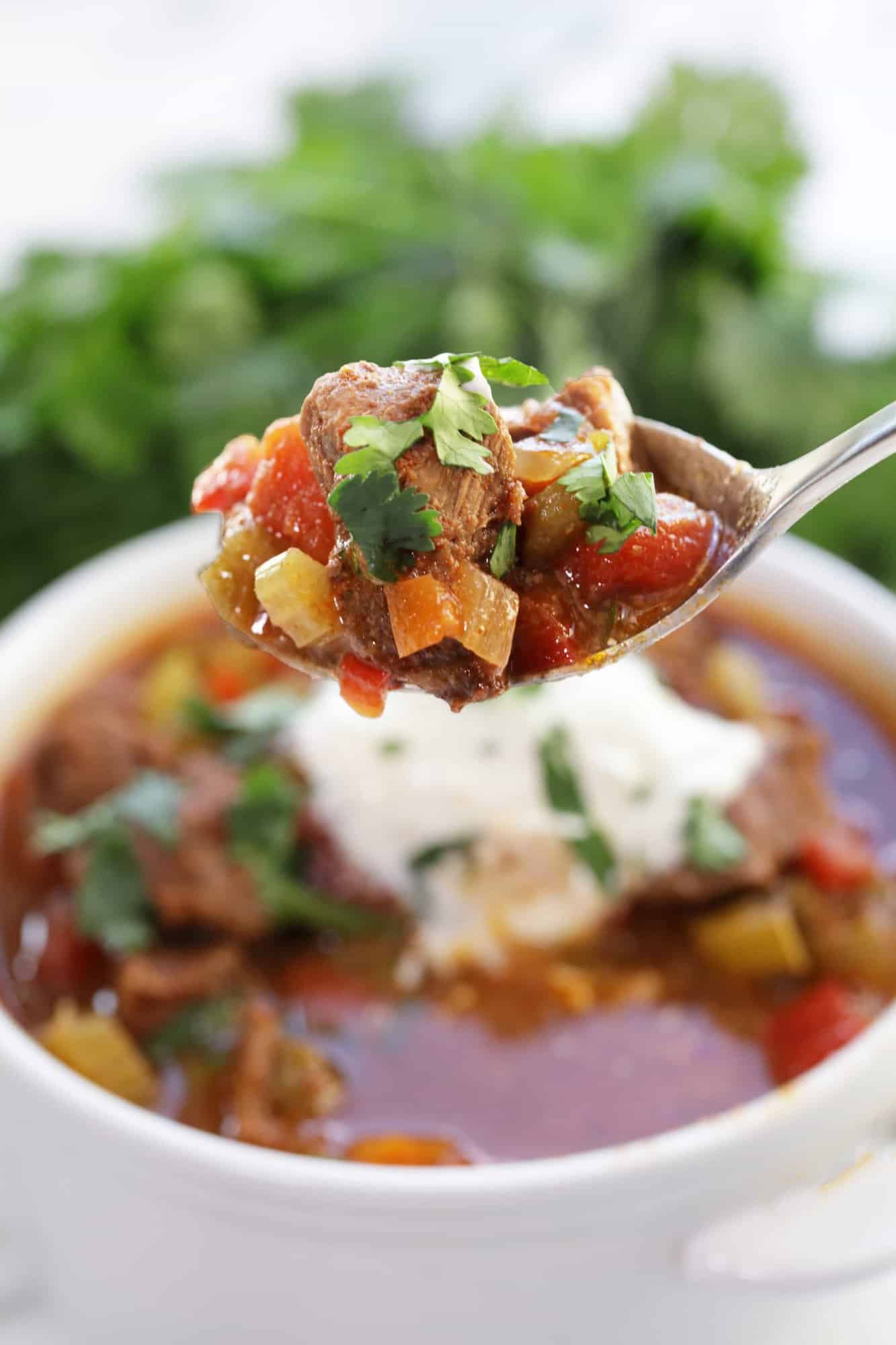 It's that time of year where chili cook-offs beg your entry, and the thought of sitting down to enjoy a delicious homemade chili sounds drool-worthy. I love a good Texas chili. No beans. Just beef and the veggies. I love cooking it in a slow cooker so it can stew all day and fill the house with that to-die-for smell. By the time I sit down with the bowl I'm absolutely ravenous.
This chili is so hearty and soul warming, perfect for a crisp fall evening. And it's the perfect excuse to eat
cornbread
which is always going to be amazing. This is my take on Texas Chili. There are, of course, many version of Texas chili out there, but the important part is that there's just beef, and no beans: the definition of a good Texas style chili.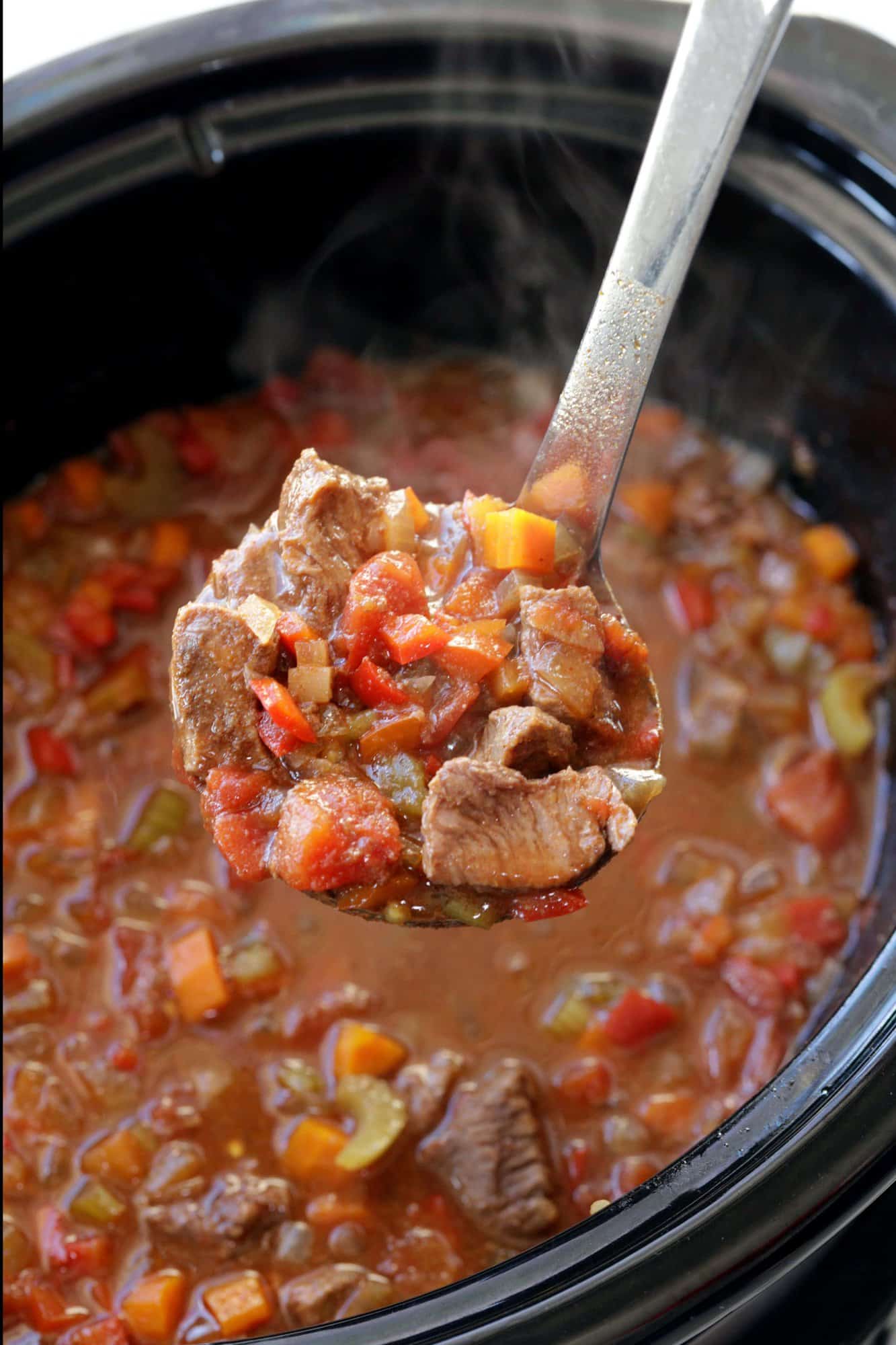 If you like this recipe, you may be interested in
my cookbook
. This recipe is in there as well as 119 more slow cooker delights. Everything from breakfast and appetizers, to dinners, soups, breads, and desserts. You'd be amazed what you can make in the slow cooker!
Watch the video
to see just how I make it, including some great tips. You can also check out the rest of my
YouTube channel
where I have my own cooking show!
Slow Cooker Texas Beef Chili
Slow Cooker Texas Beef Chili
Hearty chunks of beef make up this amazing Slow Cooker Texas Beef Chili. No beans, just flavor! This is a chili everyone will love!
Author:
Rachel Farnsworth
Ingredients
2 pounds beef chuck, cut into ½ inch cubes
1 white onion, small dice
2 red bell peppers, small dice
2 large carrots, small dice
2 stalks celery, sliced
2 tablespoons worcestershire sauce
1 cup beef broth
15 oz can diced tomatoes
7 oz can diced green chilis
2 tablespoons tomato paste
1 tablespoon chili powder
2 teaspoons cumin
2 teaspoons paprika
1 teaspoon onion powder
1 teaspoon garlic powder
1 teaspoon salt
1 lime, juiced
Toppings (optional)
shredded cheddar cheese
sour cream
chopped cilantro
Instructions
Heat a large non-stick skillet over high heat. Sear the beef cubes on all 4 sides, about 60 seconds per side. Remove from the pan and place directly in a slow cooker.
Place the diced onion, red bell peppers, carrots, celery, worcestershire sauce, beef broth, diced tomatoes, green chilis, tomato paste in the slow cooker. Add in the spices (chili powder, cumin, paprika, onion powder, garlic powder, and salt).
Cook on low for 8-12 hours.
Stir in the lime juice before serving. Serve with toppings if desired.

MY OTHER RECIPES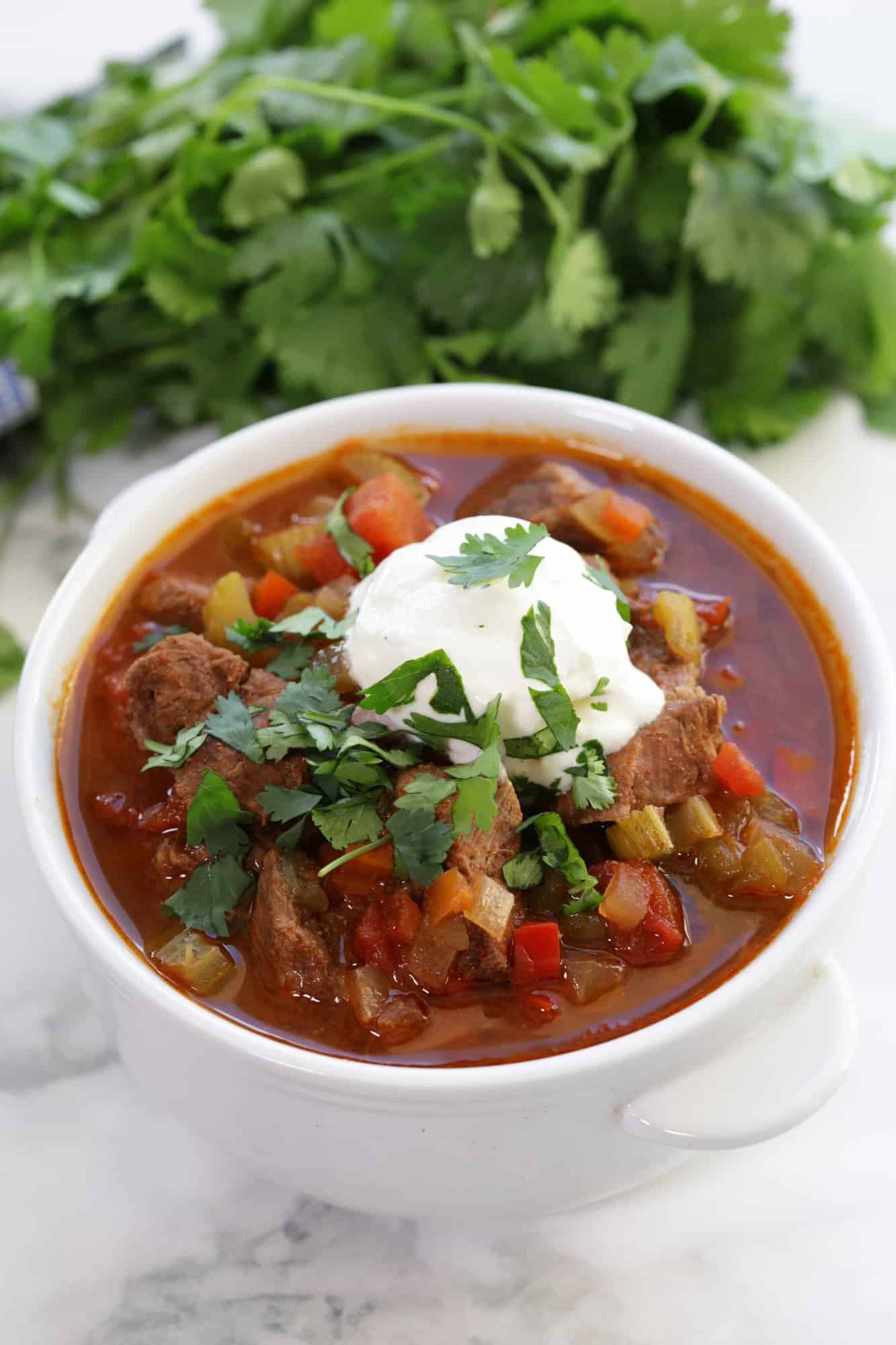 This recipe first appeared on The Stay At Home Chef on October 24, 2013.