This Creamy Cucumber Salad is a classic, family favorite recipe. Thinly sliced cucumbers and onion are tossed in a creamy vinaigrette for an easy side dish that is sure to please.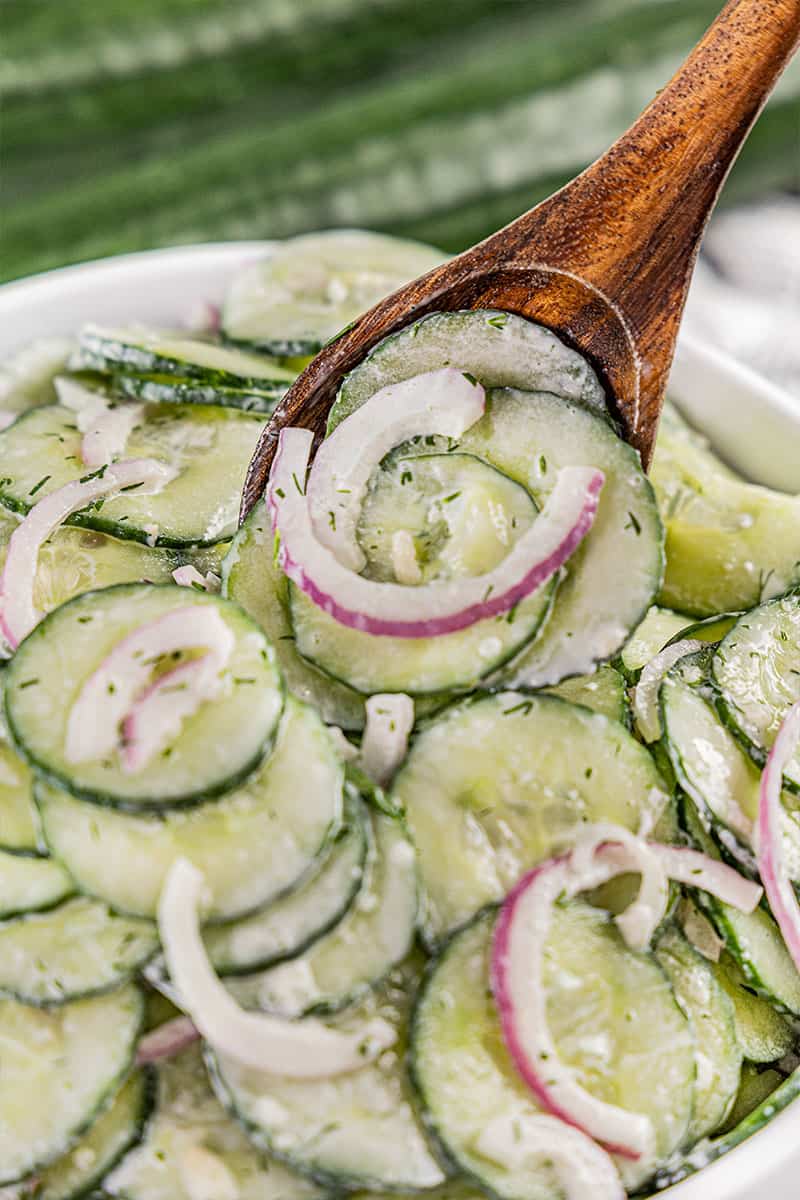 We've always liked cucumber salad. It's never been our favorite thing to choose at an outdoor barbecue, but we'll eat it if it's there. It's fine. However, everything changed once we tried creamy cucumber salad. We are all about creamy dressings, and this does not disappoint. Whether you are going to a backyard barbecue, or simply making lunch on the weekend, you are going to love this salad!
What kind of cucumber should I use for Easy Creamy Cucumber Salad?
English cucumbers have more flavor and less seeds and are perfect for making cucumber salad. If you don't have access to English cucumbers, you can use regular seedless cucumbers. Since they are smaller, you will need to double the amount that you use. We do not recommend using cucumbers with seeds in this recipe.
Should you peel the skin off a cucumber?
There is nothing harmful about the skin of a cucumber. In fact it can be a great source of fiber and nutrients. If you don't like cucumber skin, feel free to take the time and effort to peel it. But for those of who love it, just give your cucumber a quick rinse and get to slicing!
Fresh vs. Dried Dill:
Fresh dill is strongly preferred in this recipe as it has a better flavor. If you can't find fresh dill or don't have access, you can use dried dill, but you'll need to use it in smaller amounts. 2-3 teaspoons of dried dill is all you'll need.
Storage Instructions:
Store any leftovers in an airtight container in the refrigerator for up to 5 days.
Don't like the creamy version of cucumber salad? Be sure to check out our recipe for Classic Cucumber Salad too!
If you like this recipe, you may be interested in these other delicious summer salad recipes: