These Chocolate Turtle Cookies are ultra decadent, soft, and delicious. Any chocolate lover will go crazy for this delicious cookie recipe!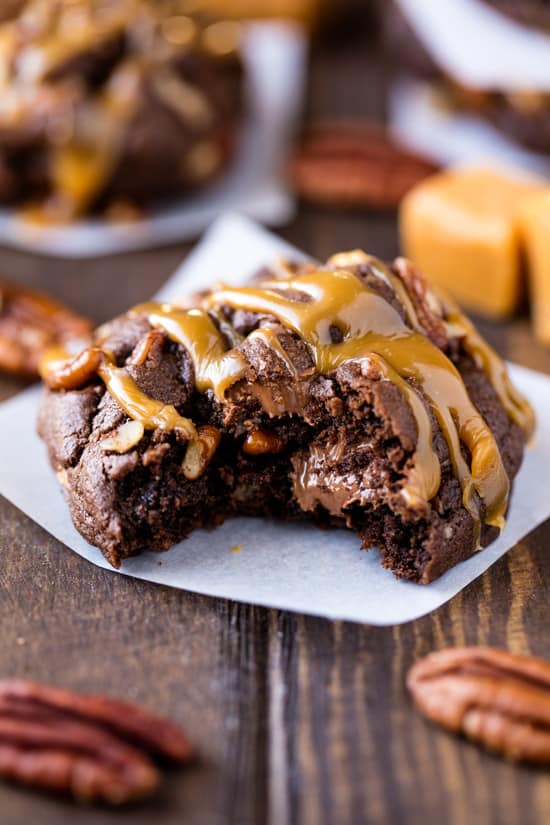 Chocolate turtle cookies are a hit all year long, but we especially love them in the fall. The chocolate cookie base in this recipe is an incredible mix between a brownie and a cookie, and it is decadently divine. Just when we think we've found our new favorite cookie recipe, we are always blown away by another one. So, at least for today, chocolate turtle cookies are our new favorite cookie, and we are sure you will agree!
Caramel Options in Chocolate Turtle Cookies:
You can use unwrapped caramel candies in this recipe (as show in the photos) or you can use caramel bits. Caramel bits are little round bits of caramel that are easily melted. Sometimes you can only find these in your grocery store during the fall–holiday baking season–so be on the lookout!
Nuts:
If you want to make it clear that there are nuts in these cookies, I recommend placing some halved pecans right on top in a decorative fashion. Not only will this be a clear indicator of nuts, it also adds a bit of style to them.
Are walnuts optional?
The price of nuts is always fluctuating. You can easily substitute walnuts in this recipe for a similarly delicious cookie treat. I guess they won't technically be "turtle" cookies at that point, but your secret is safe with me!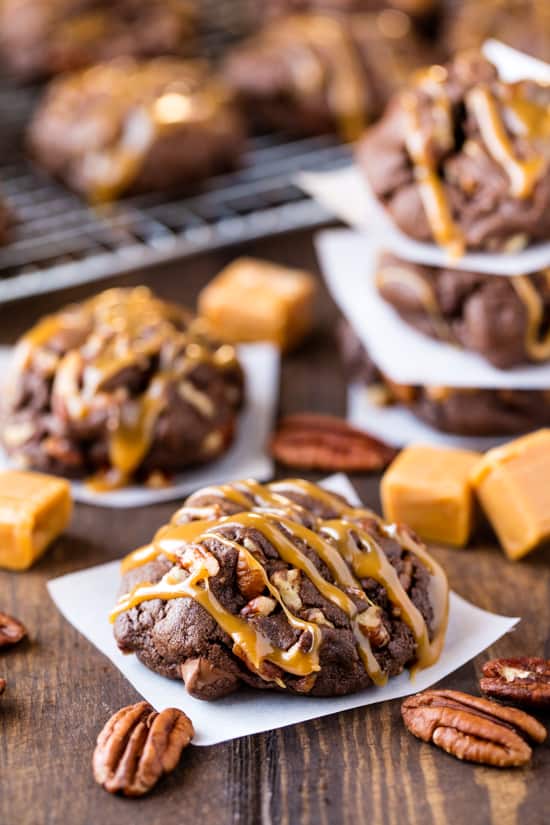 Storage Instructions:
These cookies should be stored in an airtight container once cooled. Be sure to cool the cookies completely before storing. The cookies should be stored in one layer to prevent the caramel from being transferred off the tops and onto the bottoms of other cookies. You can easily do this in a plastic bag, or you can use a Tupperware container.
If you like this recipe, you may be interested in these other delicious cookie recipes:
Watch the video below where Rachel will walk you through every step of this recipe. Sometimes it helps to have a visual, and we've always got you covered with our cooking show. You can find the complete collection of recipes on YouTube, Facebook Watch, or our Facebook Page, or right here on our website with their corresponding recipes.