Chicken Satay with Peanut Dipping Sauce marinates in the most amazing coconut and curry sauce, before being grilled to perfection and served with a to-die-for peanut dipping sauce. You are going to love it!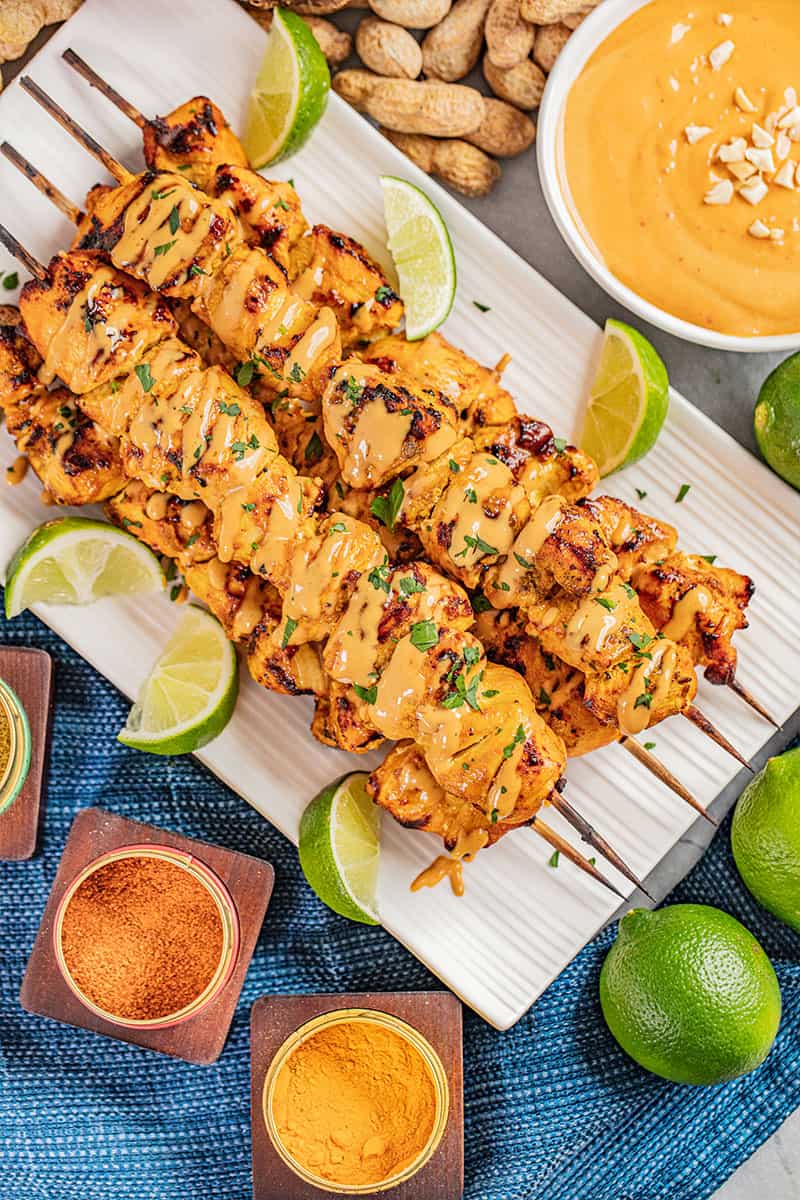 If you have never had peanut sauce, you are in for a treat. It can only be described as heavenly. It has the perfect blend of sweet and savory and we just can't get enough of it. The marinade alone on this recipe is already fantastic, but adding this peanut dipping sauce just takes it over the top. This is one of those things you're just going to have to trust us on. Don't worry though, we know you'll be hooked!
Chicken Satay with Peanut Dipping Sauce is not an authentic Thai recipe, but rather a typical American version of Thai-American takeout restaurants. The Stay At Home Chef uses ingredients that are easily accessible for most people in the United States and Canada so that anyone can easily celebrate world cuisines even if their opportunities for travel or access to regional ingredients are limited.
Fish Sauce:
Fish sauce adds a balance of flavors and we highly recommend you include it. However, you can substitute it for 1 additional tablespoon of soy sauce.
Coconut Milk:
You will want to use canned, full-fat coconut milk in this recipe. The coconut milk in the refrigerated plant based milk section of your grocery store simply won't do.
Chicken Cut Options:
We know that there are strong opinions out there about chicken breasts vs. thighs. You can use whichever you prefer, and both options will taste amazing! If you do use chicken thighs, make sure to cook until an internal temperature of 175 degrees Fahrenheit. That extra cooking time to get to a higher temperature gives it a nicer chew. For even more chicken cut options, this marinade would taste amazing on chicken wings and drumsticks as well. Give it a try!
Cooking Options for Chicken Satay with Peanut Dipping Sauce:
We always prefer the flavor from grilling, but you can always cook indoors on your stovetop in a heavy duty skillet or grill pan.
OVEN: Preheat your oven to 450 degrees Fahrenheit. Prepare the recipe as usual. Bake the kabobs on a lightly greased baking sheet for 12-15 minutes, turning half way through, and then broil on high for 3-4 minutes to brown the edges.
STOVETOP: Alternately, you can also make kabobs on the stovetop using a grill pan or heavy skillet. Just like the grill, you'll preheat the skillet to high heat. Pan grill the kabobs in high heat for about 10 minutes, until the meat is cooked through, rotating every few minutes. Be careful not to crowd the pan.
Serving Suggestions:
Jasmine or coconut rice would pair beautifully with this dish, as well as your favorite steamed veggies.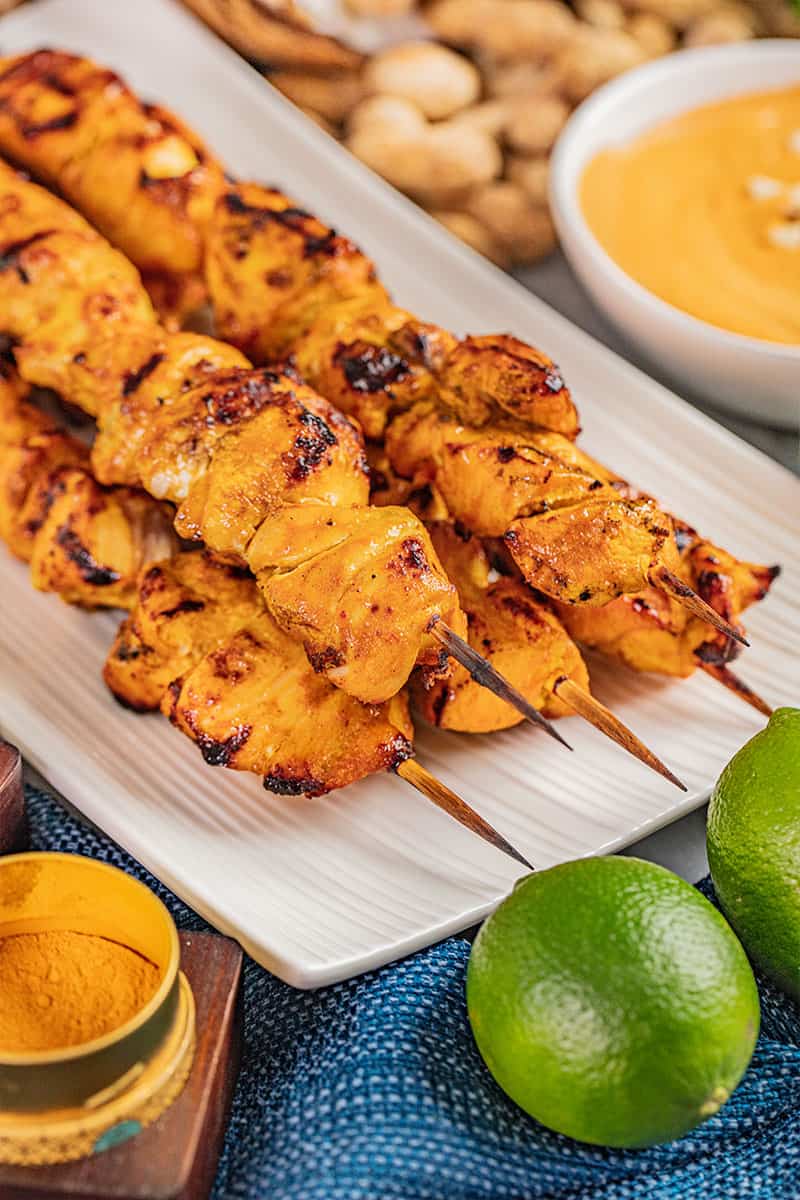 Storage and Reheating Instructions:
Store any leftovers in an airtight container in the fridge for up to up to one week. To reheat, remove chicken from skewers and place in an oven safe dish. Bake in an oven preheated to 350 degrees until warmed through.
If you like this recipe, you may be interested in these other delicious Asian inspired recipes: