Loaded cheeseburger casserole is beefy, cheesy, and full of your favorite burger toppings! It is the ultimate quick and easy dinner that is sure to please even the pickiest eaters.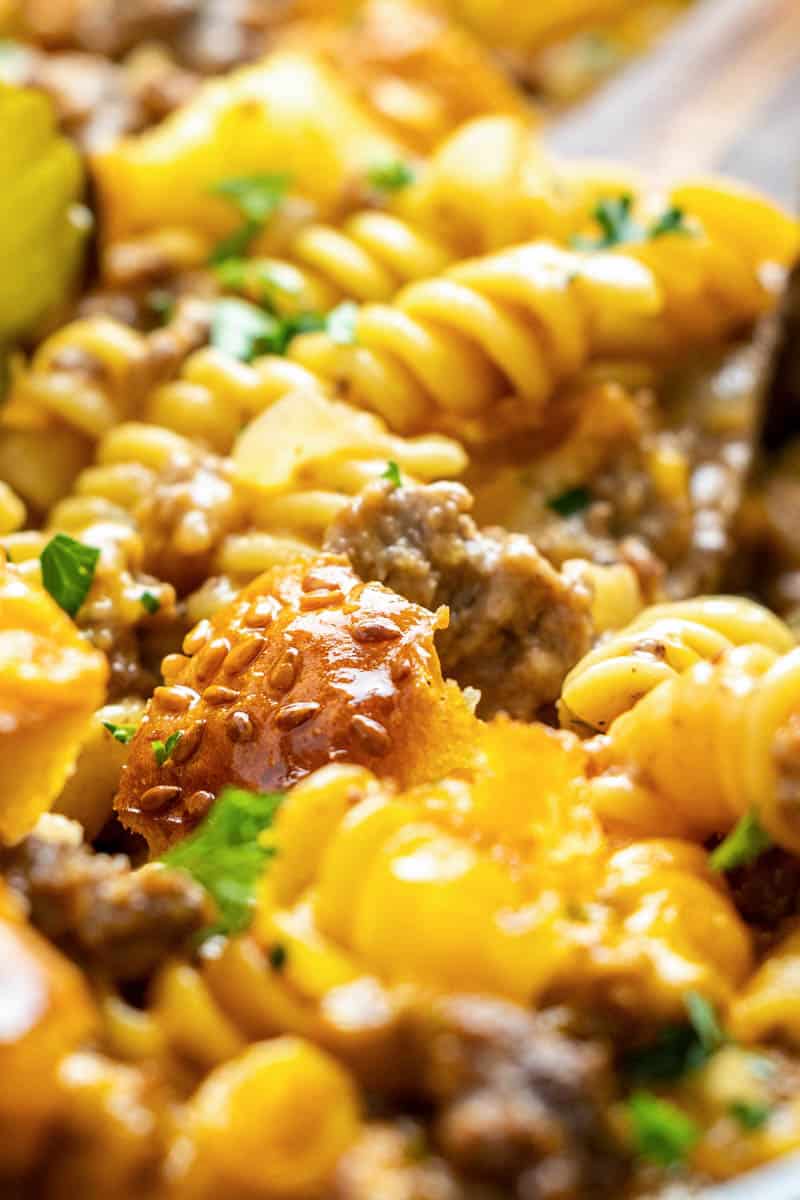 Cheeseburgers are one of those meals that make a regular appearance on our table — especially during barbecue season! But, we'll be honest…once the temperatures start to drop, it is hard to find the motivation to stand out in the cold in front of the grill. Our solution became a cheeseburger casserole! We have to admit, it's a lot heartier than your regular old burger. With a little bit of prep work to build the casserole, and a little bit of patience as it cooks, you'll be chowing down in about an hour. We highly recommend getting creative with your toppings. Pick and choose from our suggestions, or create something that is totally your own!
Choose Your Favorite Toppings
One of the best parts about our easy cheeseburger casserole is that you can really play around with the topping options. We're huge onion lovers, which is why we load our version with plenty of them. If you love pickles, feel free to double our suggested quantity! There are just a few examples of some other toppings you can use:
Sautéed mushrooms
Bacon
Fresh tomatoes
Onion rings
Sliced avocado
Banana peppers
Get creative, and make this cheeseburger casserole exactly how you want it! We recommend that you add these extra toppings to the melty cheese layer once it comes out of the oven for the best results.
Meat Options
We like working with 90/10 lean beef best. You can also replace it with any of the following:
Ground chicken
Ground turkey
Plant-based ground meat substitute
Use Your Favorite Pasta:
One of the most important parts of any good casserole is the pasta! We use rotini ourselves, but you can use whatever you like best. Here are some other fun options to choose from:
Elbow macaroni
Shells
Bowtie pasta
Fusili
Do I Have To Use Bread?
We love the added touch of using cubed hamburger buns on top of the rest of the cheeseburger casserole. That said, if you want to make this recipe a bit lighter, you can always skip the buns or even use a whole wheat bun. Again, this recipe is very versatile, and you can definitely play around with the ingredients as much as you want!
Can Cheeseburger Casserole Be Made In A Slow Cooker?
You may be wondering if you can load up your slow cooker and make this recipe in your crockpot. While we're also huge fans of set it and forget it cooking, unfortunately, you can't make this recipe in your slow cooker. The bread and cheese need to brown, which is why you must bake it in the oven. The good news is that while you can't cook this in a crockpot, it is practically a one-pan meal. And, if you prepare it on the stovetop in an oven-safe cast iron skillet, it can be!
Can I Make This Casserole Ahead And Freeze It?
Absolutely! If that's the case, we do suggest that you bake your easy cheeseburger casserole in an aluminum dish. This will make the freezing process a lot easier as you'll be able to slip the entire pan into your freezer. Make sure to tightly wrap it in plastic wrap, then place a layer of aluminum foil on top. When you're ready to eat, let it thaw overnight in the fridge and heat at 350 degrees for 15-20 minutes, or until the cheese starts to bubble.
Storage and Reheating Instructions
Got leftovers? No problem! You can store them in an airtight container in the fridge where they should last for about 2-3 days. You can reheat single servings of cheeseburger casserole in the microwave in 30-second intervals until warmed through. You can also reheat in the oven at 350 degrees until warmed through, about 15 minutes.
If you like this recipe, you may be interested in these other delicious casserole recipes: