Easy Citrus Ceviche is a simple and flavorful fish dish. Raw white fish is bathed in tropical juices and topped with cilantro and red onion. Simply delicious!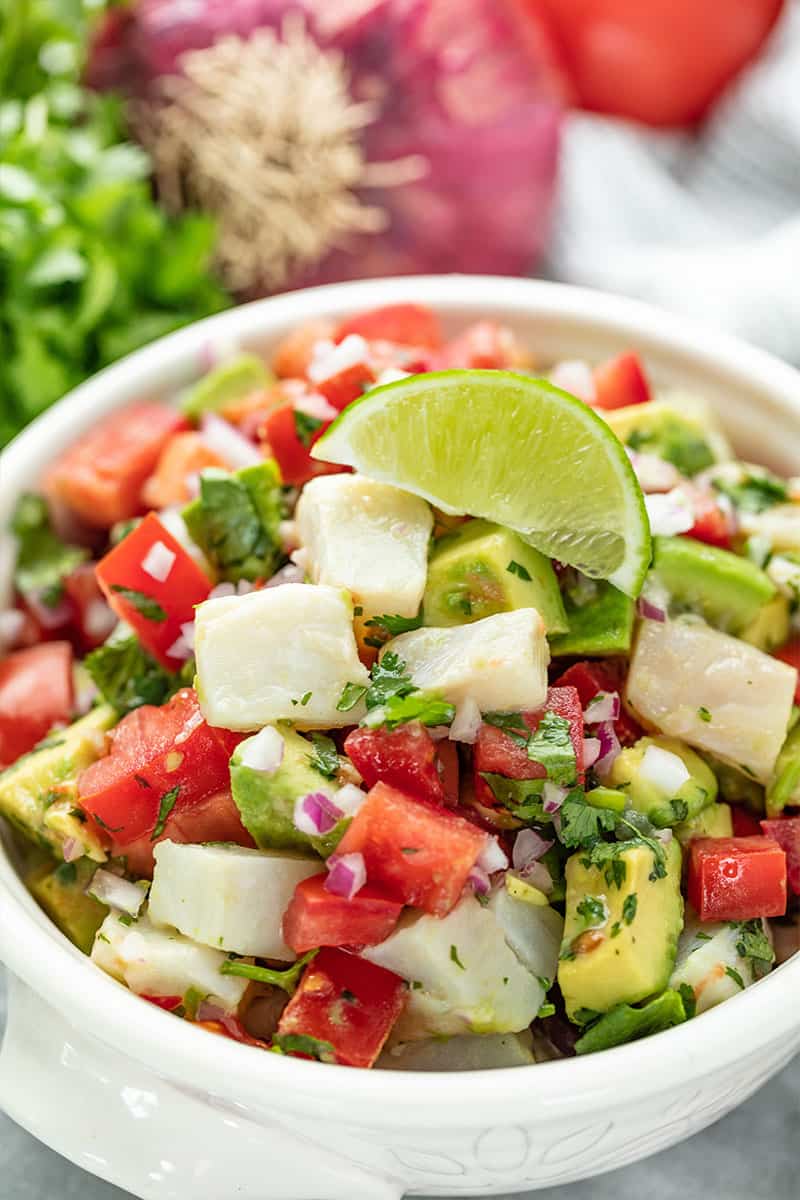 My Easy Citrus Ceviche is a super simple and easy to make dish that sea-food lovers will adore. It's great as a light dinner, or serves up beautifully as an appetizer. I like using a nice white fish or sea bass, but any firm, white fish will work. You can even use frozen fish, although I always prefer and recommend fresh.
Ceviche or Seviche is a South American dish originating in Peru. My recipe draws on those origins by using passion fruit along with lime for the acid juices the fish soaks in. If you are worried that the flavor will be too fishy, don't. This Easy Citrus Ceviche is light and flavorful, and when served fresh, isn't overly fishy. It also has an exotic feel, so it's fun to make for small get-togethers with friends.
Isn't it bad to eat raw fish? Is ceviche cooked or raw?
If fish is clean and prepared correctly, eating it raw is fine, and preserves the flavor and delicate texture. Ceviche is an un-cooked fish dish, but there are ways to prepare it that make it "less raw." The acid in the juice that the fish soaks in denatures the protein in the fish which effects a change something like cooking. The fish is still considered raw, but the texture, as it sits in the lime juice becomes more of a cooked one.
If you are worried about parasites or bacteria, you can opt to blanch your fish in boiling water. I don't recommend doing this, as the acids in the lime juice should kill any bacteria, and blanching the fish can overcook it, if not done correctly. If you choose to cook it, blanching it is best. Simply boil the fish for 1-2 minutes before placing in lime juice.
What can I serve ceviche with?
Ceviche can be eaten alone, atop fresh greens, or with something more substantial. Traditional Ceviche is often eaten with boiled potatoes, yams and corn. You can stick with a seafood theme for a main dish and serve it along lobster, shrimp or scallops, or, you can serve it as an appetizer with chips or crackers and avocado.
What kind of fish is best for making ceviche?
When making ceviche you want to use a fish that is fresh. Firm and semi-firm white fishes that come from the ocean tend to work the best in terms of flavor and texture. Look for fish like sea bass, halibut, grouper, sole, or flounder. When in question, feel free to ask at the fish counter for which fish will work the best for ceviche and is the most fresh. Fish that is frozen is also considered a fresh fish option. Frozen fish is flash frozen shortly after the catch to maximize freshness. It's best to use frozen fish as soon as it is thawed for maximum freshness.
PRO TIP: To keep your fish chilled while you are making it, place your mixing bowl into a larger mixing bowl that is filled with ice. This will keep your ceviche chilled and fresh.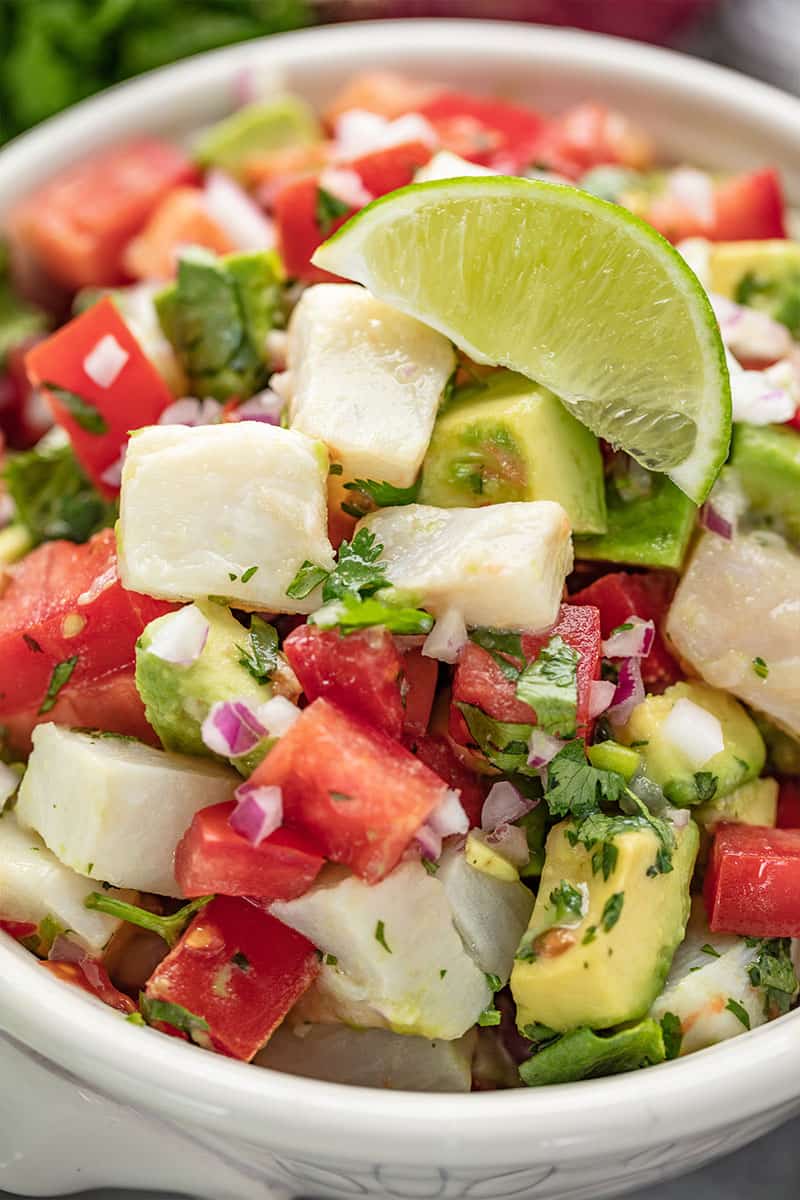 If you like this recipe, you may also be interested in these other delicious seafood recipes:
Watch the video below where Rachel will walk you through every step of this recipe. Sometimes it helps to have a visual, and we've always got you covered with our cooking show. You can find the complete collection of recipes on YouTube, Facebook Watch, or our Facebook Page, or right here on our website with their corresponding recipes.