The Most Amazing Carrot Cake Cupcakes are moist, fluffy, and full of delicious spiced carrot cake flavor! This easy one-bowl cupcake recipe includes our favorite cream cheese frosting.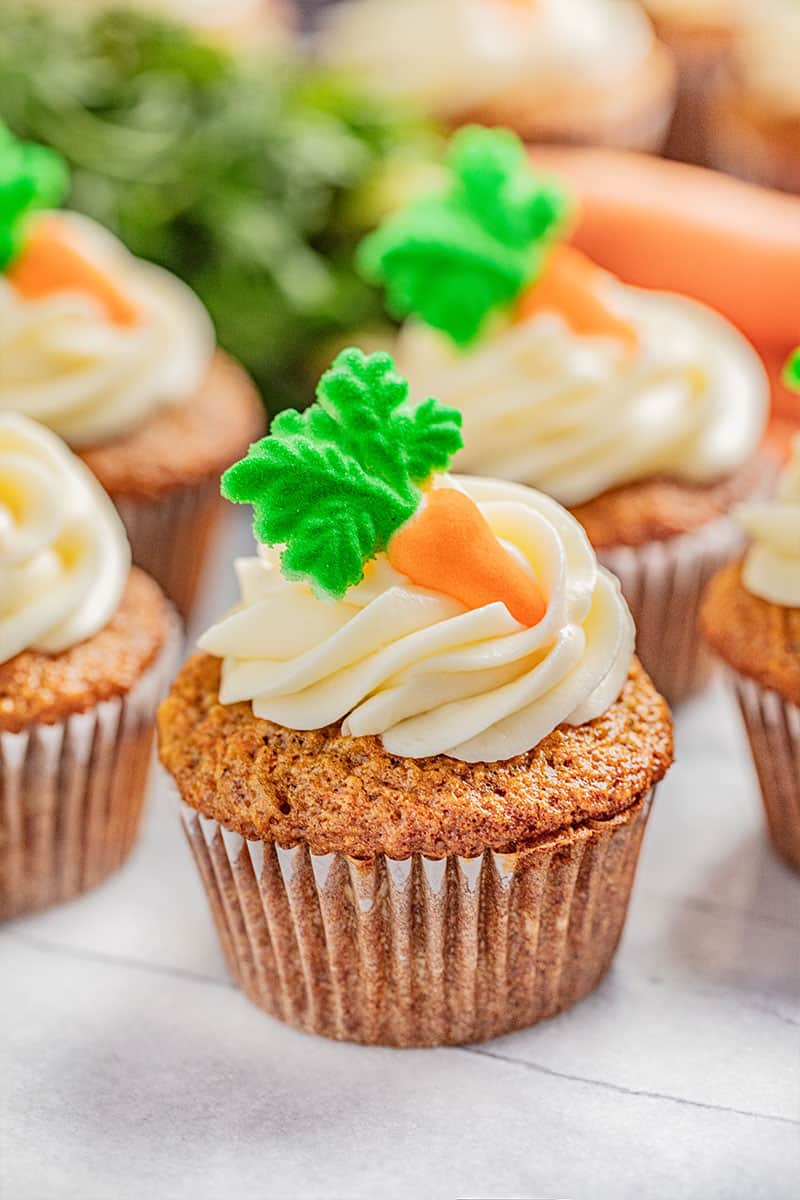 How is it that carrot cake is so often left behind, while everyone around us is chowing down on white or chocolate cake? We get it, there are carrots in your cake and some people find that strange. But please, listen closely because we are here to tell you all that carrot cake is absolutely delicious. It's tastes like a spiced cake, which is already amazing on its own, and adding that cream cheese frosting on top makes this SO much better than a standard white or chocolate cake. Making a cake always feels like so much work, so we are bringing you this amazing recipe cupcake style. We love how cupcakes are their own perfectly portioned desserts. Honestly though, who's going to notice if you take 2? We won't tell.
Nuts Vs. No Nuts in Carrot Cake Cupcakes:

Whether you have a nut allergy or simply don't love nuts in your baked goods, nuts are always optional in carrot cake cupcakes. You do not need to replace with anything else, you can simply omit them.

Raisins:

If you want to make this recipe as close to the traditional and original dating way back to Medieval times, then you should definitely add raisins. However, we're not one to keep tradition just for tradition's sake, so you do you! If you love them, keep them in! If you don't love raisins, go ahead and leave them out.

Egg replacement Options:

There are many egg replacement options that work well in cake baking:

1/4 cup of plain yogurt per egg
1 tablespoon vinegar+ 1 teaspoon baking powder whisked together per egg
1/4 cup mashed banana per egg
1/4 cup unsweetened applesauce per egg
How to pipe frosting:

If you have pastry bags and decorating tips, that is awesome! Go ahead and grab those, fill your pastry bag with frosting, and use either a 1M, 2A, or 2D tip. Make one large swirl on the bottom, covering the entire top of your cupcake, and then continue that swirl, making it slightly smaller as you add height to your frosting until you reach your desired height.

If you do not have pastry bags, do not fret! You can fill a gallon size Ziplock bag with frosting, squeeze the air out, and then cut a small tip in one of the bottom corners. Squeeze your frosting through that tip in the same swirling, circular motion as in the above instructions.

Storage Instructions:

Cream cheese frosting does need to be refrigerated, so any leftovers will need to be stored in a container with a well fitting lid. They should last for up to a 5 days.
If you like this recipe, you may be interested in these other delicious cupcake recipes: