This is seriously the Best Baked Ziti Ever. Your family is going to love the homemade meat sauce, and that ricotta and cream cheese topping takes it to the next level!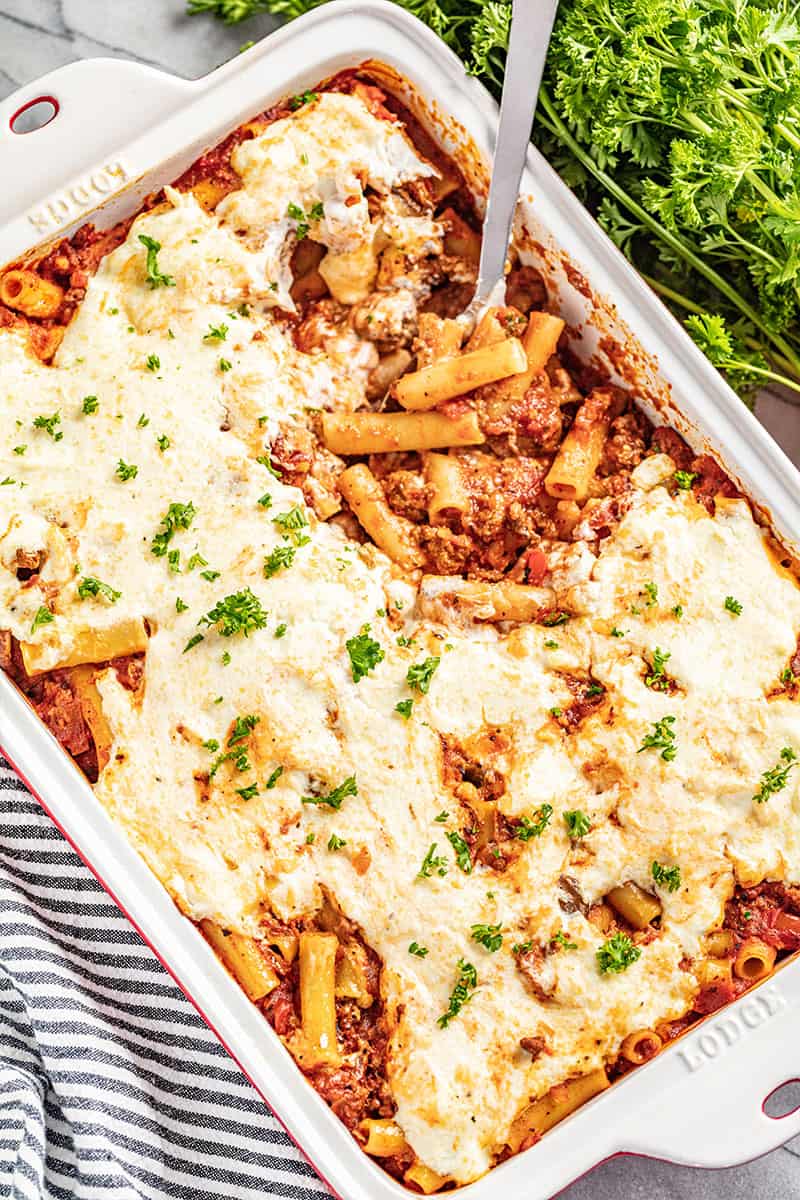 Baked pasta dishes are something special; they are in their own classification of comfort food, because they are just that dang good. Ziti has been a tradition since the Renaissance, served commonly at special gatherings, weddings, and celebrations. Also known as Ziti al Forno, this traditional oven-baked pasta is more of a method than an exact science. Depending on the region of Italy, it could be a veggie heavy meal, or it could be loaded in hearty meats and fat.
This classic Baked Ziti is all about the simple, whole ingredients. Ziti can be hard to find in stores, but there is something special about the history of Ziti pasta. Made from scratch meat sauce might seem tedious and unnecessary, but make no mistake, your time and effort will be worth it once you take that first bite. Go ahead and serve this up with some garlic bread, and you have yourself a feast!
Does baked ziti need mushrooms?

Not Necessarily. We love the added flavor and texture from the mushrooms, but you can absolutely omit them if you don't love them.
Can I use low-fat cheese?

There are some things that just shouldn't be messed with, and whole-fat cheese is one of them. In all seriousness, do what you need to do in regards to cheese, but the flavor and texture of whole milk cheese can't be beat!
Pasta Options:

Ziti is the traditional pasta that's been used for this dish, but we know how difficult it can be to find! If you need to substitute, head for the Penne pasta or rigatoni. They are both a similar shape and size, and will work well in this dish.
If you like this recipe, you may be interested in these other amazing pasta recipes:
Watch the video below where Rachel will walk you through every step of this recipe. Sometimes it helps to have a visual, and we've always got you covered with our cooking show. You can find the complete collection of recipes on YouTube, Facebook Watch, or our Facebook Page, or right here on our website with their corresponding recipes.