These Andes mint brownies are thick and fudgy! They're homemade brownies with a layer of Andes mints right in the middle.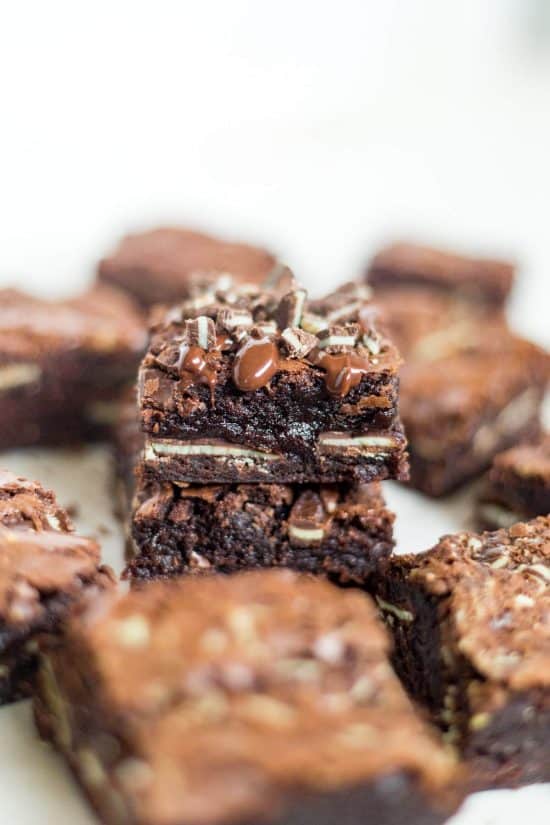 Thick and fudgy is the name of the game here. Filled with so much chocolate, these andes mint brownies will satisfy all the chocolate cravings. They're delicious and homemade too! I supposed you could use a boxed brownie mix if you run short on time. Given it is the holidays and all! I'm still trying to figure out how to get more hours in my day so let me know if you figure that out!
But if you do have the time, these made from scratch Andes mint brownies should be at the top of your list.
Such a fun activity to do with kids! Throw on a Free Form Christmas movie, preheat that oven and let your kiddos mix in the chocolate (or lick the spoon). It's such a fun holiday activity to do together!
I added these Andes mint brownies to my cookie tins for co-workers. Cookies aren't the only holiday recipe people enjoy! I've found people like to have a mix of different things so I included some of my classic cookie recipes, peppermint pretzel bites and these Andes Mint Brownies.
I made my jars way in advance and stuck them each in the freezer until I was ready to share with my friends and family. Everything in them, including these andes mint brownies freeze really well so it saved me so much time!
I can never turn down a warm, chocolate brownie with a giant scoop of vanilla ice cream. It's my weakness. Anything with ice cream, really.
The best part of these is the layer of Andes mints right in the middle of the brownies. You bite into it the chewy brownies and are pleasantly surprised by a layer of Andes mints. And it's super easy to get in them!
How to Make Andes Mint Brownies
To make these Andes Mint Brownies start by by making the brownies batter. It's like traditional brownie batter because we're using cocoa powder and chocolate chips. Mix all of the ingredients by following the directions in the recipe and start layering your brownies.
Pour half of the brownie batter in a parchment lines pan and spread it out evenly. Once you're done layer it with Andes Mints. Unwrap them and place them next to each other until all of the brownie batter is covered. I used about two full packs of mints to cover them.
Once you lay down the Andes Mints, pour the rest of the brownie batter on top and spread evenly to cover them. Then they're ready for the oven!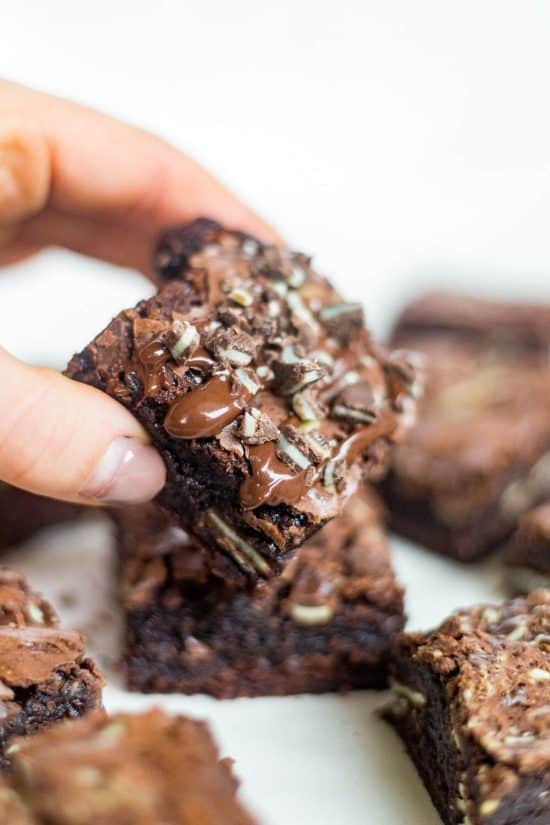 The Andes Mints will will melt and get extra gooey in the oven but they'll set again once the brownies cool for some time. Because of this, give the brownies a solid hour to cool so they can set before you cut into them.
Once you do you'll be ready to serve them or put them in a container for the freezer.
How to Freeze Andes Mint Brownies
To freeze these Andes mint brownies bake them as directed and allow them to cool completely. Once they're cooled cut them into squares and place them in an air tight container. From there you can place them in the freezer for up to 3 months.
To thaw them, place them in the refrigerator overnight or leave them at room temperature. Or even warm them back up in the oven and serve them with ice cream!