Andes Mint Brownies are thick, fudgy and so delicious! These homemade brownies have a layer of Andes mint right through the middle that will keep you coming back to the pan for more!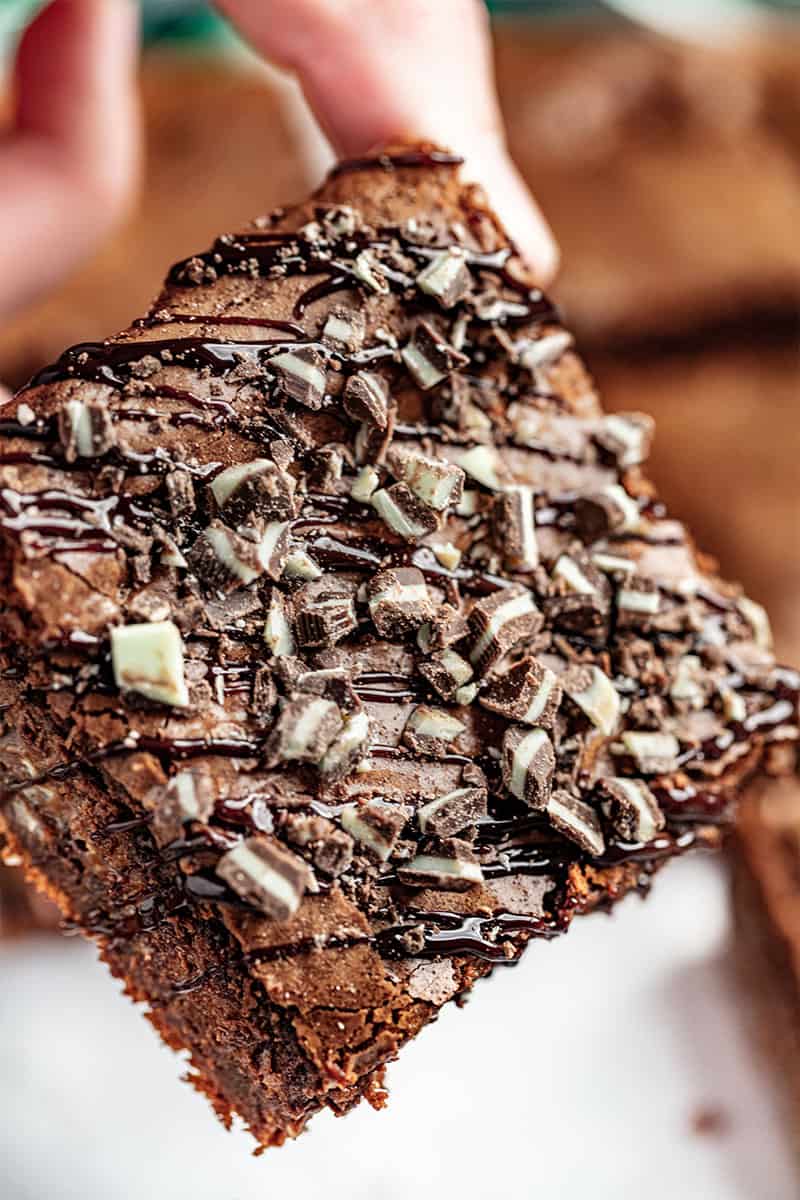 Thick and fudgey is the name of the game here. Filled with so much chocolate, these Andes mint brownies will satisfy all the chocolate cravings. We love everything made from scratch, so it shouldn't be any surprise that this recipe calls for only whole ingredients. You will not find a box mix in the ingredients list on this one! The best part of these is the layer of Hershey's chocolate and Andes mint right in the middle of the brownies. Mint is not something expected in your every day brownie, so these give a pleasant little surprise when you bite into them.
Adding mint to dessert is one of our favorite ways to turn an ordinary treat into a holiday themed treat. The layer of Andes mint make this an amazing addition to any holiday cookie exchange or neighbor gifts. This is how you make friends for life: brownies, peppermint pretzel bites, sugar cookies, yum! However, this will require you to not eat every last brownie yourself, and that has proven to be quite the challenge in our household. We highly recommend making a double (or even a triple!) batch if you plan to give some away. If you don't…well, you can't say we didn't warn you!
Should I use a glass or metal baking pan?

There definitely are some differences in baking between the two, but it shouldn't significantly alter your brownies and you really can use either a glass or metal baking pan for this recipe.

How to Freeze Andes Mint Brownies:

Bake your brownies as directed and allow them to cool completely. Once they're cooled cut them into squares and place them in an air tight container. From there you can place them in the freezer for up to 3 months.

To thaw, place the container in the refrigerator overnight or leave at room temperature. You could even warm them back up in the oven and serve with ice cream!

Storage Instructions:

Store any leftovers in an airtight container or bag at room temperature. Brownies will dry out after a few days, so you do want to freeze anything that you can't eat within 3-5 days.
If you like this recipe, you may be interested in these other delicious holiday dessert recipes: