Homemade gumdrops are a fun and tasty science experiment you can easily make at home. Give this colorful candy making a try!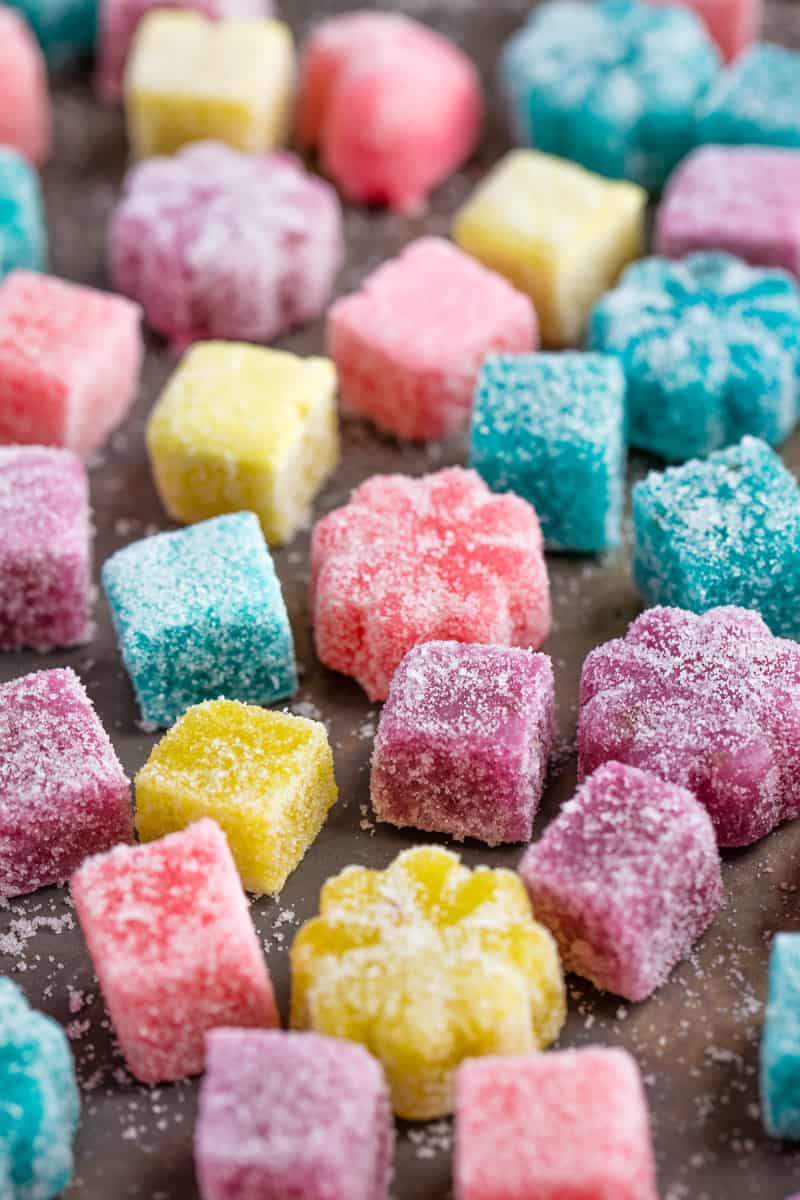 Gumdrops are something I recommend every home cook make at least once. Not only are they fun and cute, it's actually really good practice in the science of cooking. Lots of different chemical reactions are happening in this recipe and it is a fun experience to watch the process as it moves along. Sure, you can't eat the candies for a few days, but it's a great kitchen experiment. Kids will love watching the process as well as eating the results. I do love some good, clean kitchen fun!
What kind of flavoring should I use?
This candy can easily be customized using various flavored clear extracts. We enjoy traditional citrus flavored gumdrops using orange extract or lemon extract, but you can also get creative and use any other flavored extract as well. We have found that vanilla extract is a bit to subtle of  a flavoring and is not recommended. It is important that the extract is clear so that it does not taint the color of the candy.
What kind of food coloring should I use?
You can use any kind of liquid food coloring in this recipe. Gels and powdered food coloring work in this recipe, but we have found that it is much easier to use liquid food coloring for this particular recipe. In the photos and video we used McCormick Neon Liquid Food Coloring.
What kind of candy mold should I use?
Gum drops are best made using silicone candy molds. DO NOT use plastic molds as the will melt and deform. You can use a square silicone mold and then cut each square into 4 pieces so that the candies would be bite sized, but there are lots of other options. Everything from squares and circles to cartoon, bugs, and robots. In the video and photos we've used the squares as well as a heart shaped mold and a fluted round mold. You can even find lego shaped molds!
THERMOMETER PRO TIP: We recommend the use of a good thermometer in this recipe for an accurate texture. Our favorite thermometer is the ThermapenMK4 which is what can be seen measuring the temperature of the candy in the video below.
If you like this recipe, you may be interested in these other delicious Christmas treats:
Watch the video below where Rachel will walk you through every step of this recipe. Sometimes it helps to have a visual, and we've always got you covered with our cooking show. You can find the complete collection of recipes on YouTube, Facebook Watch, or our Facebook Page, or right here on our website with their corresponding recipes.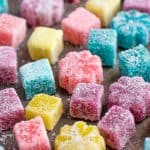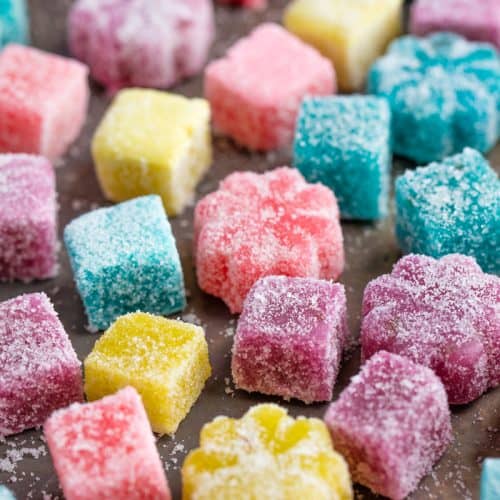 Homemade gum drops are a fun and tasty science experiment you can easily make at home. Give this colorful candy making a try!
Ingredients
6

envelopes

unflavored gelatin

4 tbsp + 1 1/2 tsp

1

cup

cold water

1 1/2

cups

boiling water

4

cups

sugar

2

tsp

flavored extract

lemon, orange, peppermint, etc

12

drops

liquid food coloring

1

cup

sugar

for coating
Instructions
In a large pot (yes, a large stew pot, you'll need it!), stir together the gelatin and cold water. Let sit 5 minutes.

Meanwhile, let the additional water come to a boil in a small saucepan or in the microwave. Pour the boiling water over the gelatin mixture and stir until dissolved, about 1 minute. Stir in the sugar.

Place the pot over a burner at medium-high heat. Bring to a boil, then reduce heat to medium-low. Let simmer until the mixture reaches 240-255 degrees F, about 25 minutes, stirring constantly and scraping sides to avoid burning any sugar. The mixture will get quite thick.

Remove from heat and stir in the flavor extract of your choice. Next, add food coloring, or divide the mixture among bowls and add food coloring for multiple colors.

Pour gelatin into silicone molds. Let sit at room temperature, 12 hours.

Remove candy from molds. If you need to cut the candies, run your knife under hot water before each cut to avoid sticking. Roll in extra sugar to coat.

Place on a wax paper lined tray. Cover with a tea towel and let sit at room temperature for 48 hours to crystalize.
Notes
Want sour candies? Instead of rolling the candies in plain sugar, add a tablespoon or two of citric acid to the sugar mixture.
Stays good for up to 4 weeks. 
Nutrition
Calories:
2117
kcal
|
Carbohydrates:
399
g
|
Protein:
145
g
|
Sodium:
343
mg
|
Potassium:
27
mg
|
Sugar:
399
g
|
Calcium:
94
mg
|
Iron:
2.1
mg